Per usual, I've holidayed several years into the future, to allow for a unique playing environment. I have loaded the top leagues in Belgium, England, France, Germany, Greece, Italy, Serbia, Spain and Sweden as active, with a large database/pool of potential players, including all internationals worldwide and all players from clubs in European, African and South American continental competitions.
By the time June 2023 rolls around, we've got a few changes to the football world…at least, for our purposes.
---
Champions League Review, 2019/20 – 2022/23
In 2019/20, Pep Guardiola's Manchester City claimed the Champions League title, with a 1-nil win over Maurizio Sarri's Juventus. (I for one would like to think that urCristiano did me a solid, here, ensuring that I wouldn't have to manage City…)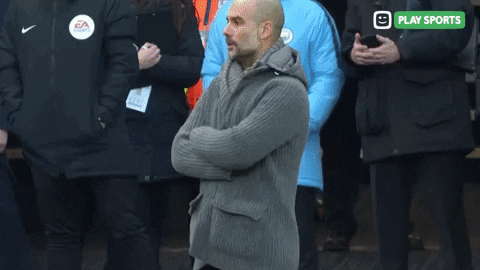 But that's not even the best part. Pep resigned from City in June 2021 after failing to win his 4th straight Premier League title…finishing 2nd behind Unai Emery's Arsenal left him a broken man.
In a move designed to astonish, inspire and offend in equal measure, City promptly hired Jose Mourinho to replace him.
Pep has steadfastly refused to comment directly on this decision, instead choosing to speak only in Suessian riddles to voice his displeasure.
Sarri would claim some small measure of redemption the following year, as Juventus defeated Jorge Jesus' Atlético in the 2020/21 final (Simeone was sacked in May 2020).
In 2021/22, Unai Emery's Arsenal beat Massimiliano Allegri's Bayern Munich, a feat which…if we're being honest…might be the most ridiculous thing to happen in this entire save. Just shut it down, lads. We can't top this.
First, he wins the Premier League. Then, the very next year, he brings home the Champions League?!
In real life, Unai will be lucky to still have a job next Tuesday and get out of the Big Smoke with his kneecaps intact.
In this world, however, Unai will forever be an Arsenal FanTV legend.
Finally, in 2022/23, Diego Simeone's Liverpool beat Ole Gunnar Solskjaer's Manchester United, 3-1.
Boooooring.
---
2022 World Cup Review
In a beautifully-insane 2022 World Cup, Mexico defeated Switzerland on penalties after a 4-4 draw in the final. That means that the Swiss are officially eligible for the save…which is, quite frankly, amazing. I'm so excited.
Full credit as well to Belgium, Cameroon, Mexico and Portugal, all of whom reached the quarterfinals.
---
European Leagues Review, 2019/20 – 2022/23
In the domestic leagues…Michel's Real Madrid have won two straight titles, after Albert Celades' Valencia shocked the world in 2020/21. As already noted, Manchester City have won 3 from 4 in England, under the unholy managerial twosome of Pep the Bald and Jose the Grumpy. Sarri's not sorry in Italy, as Juventus dominates domestically, with Antonio Conte's Inter stealing a title in 2020/21. Erik ten Hag's Leverkusen dethroned Bayern in 2022/23, with Allegri getting the sack as a result. PSG did PSG things in France. In Greece and Serbia, Pedro Martins' Olympiacos and Murat Yakin's Crvena zvezda have done their best PSG impressions, respectively. Belgium has been a bit more unpredictable, with Alex Pastoor's Club Brugge taking the title this year. The Allsvenskan has also been unpredictable, with Andreas Alm's BK Häcken taking 2 from 4.
---
Ok, that was a lot of background. Just give a shout in the comments if you want any specific screenshots or information beyond what is above.
Throughout the save I'll be updating a tracker, to show our overall progress in redeeming the Nearly Men. This is where it sits, as of June 2023:
And now…finally. The stage is set. Our hero is in the wings, waiting for his cue.
If you've stumbled upon this post and are finding yourself a bit confused… Don't worry.  The basic concept behind the Nearly Men save is explained here.  Just need to catch up? Each installment in Nicolaj Bur's story can be accessed through the Nearly Men Archive.
And if you just can't get enough…join us for The Ballad of Toothless Bob, a series that explores the world of Nicolaj Bur, away from the pitch. What is Project Arcturus? What lies beyond the twisted redstone door, deep in the bowels of the Santiago Bernabéu?
---