Panathinaikos AO – March 2025
This is what I'm talking about, lads. What did I tell you?! The Flame and the Void. That's the secret.
Zlatan calls it the Oneness. He clearly knows something about mental focus and preparedness…but I'm not sure we should trust his judgment on everything. Just yesterday he was screaming at Jesse about how the Moon doesn't really exist, it is just the back of the Sun.
Credit where credit is due, though, he did institute "Taco Tuesdays" which have been a revelation in terms of team morale. Taako, for one, has been intrigued by the culinary innovations on display each week, furtively taking note and harassing the club chefs for their "secrets."
Maybe it's the grapefruit delivered to the players each morning…maybe it's the tacos…maybe it's the special milkshakes that Bozidar passes out after training. Whatever the reason, we're clicking.
Unbeaten in the SuperLeague since September, we've opened up a 10-point lead over PAOK heading into the Championship Group Stage, 12 points clear of #Olympiac-rap. Yeah, I'm not so sure about that hashtag, either. Zlatan has been trying to get it trending on Twitter to distract from the incident with that ballboy who was vaping. No, don't ask. He's taking PR advice from Bozidar — they both deserve whatever they get.
And we need to focus. 10 weeks left. 10 SuperLeague matches. A Cup semifinal against Nuno Espirito Santos' men, and a date with Gent in the Europa Conference League.
All to play for.
We're on the rampage in Greece, playing brilliantly after a few modest tweaks to our strikerless/libero tactics.
What changed, you ask? Quite simple, really. I just added "work ball into box" to both PM Krigsherre and PM Laenket, while switching to low crosses (instead of mixed) in all three tactics. Both make sense and have been included in the strikerless tactics I've used in prior editions — I didn't see any real benefit to these tweaks during initial tests on the beta ME. Regardless, I'm seeing it now.
The results speak for themselves:
We've managed thus far to stave off interest in our players, even though I've had to hand out some new contracts to keep people happy.
The Managing Director initially went over my head to accept an $11.5M offer for Sourdis the day after our transfer window closed…which they promptly backed off of when confronted by Zlatan. (Frankly, I think "remonstrated" is a rather polite way to describe what Zlatan threatened to do to his daughter's pony. But that's neither here nor there.)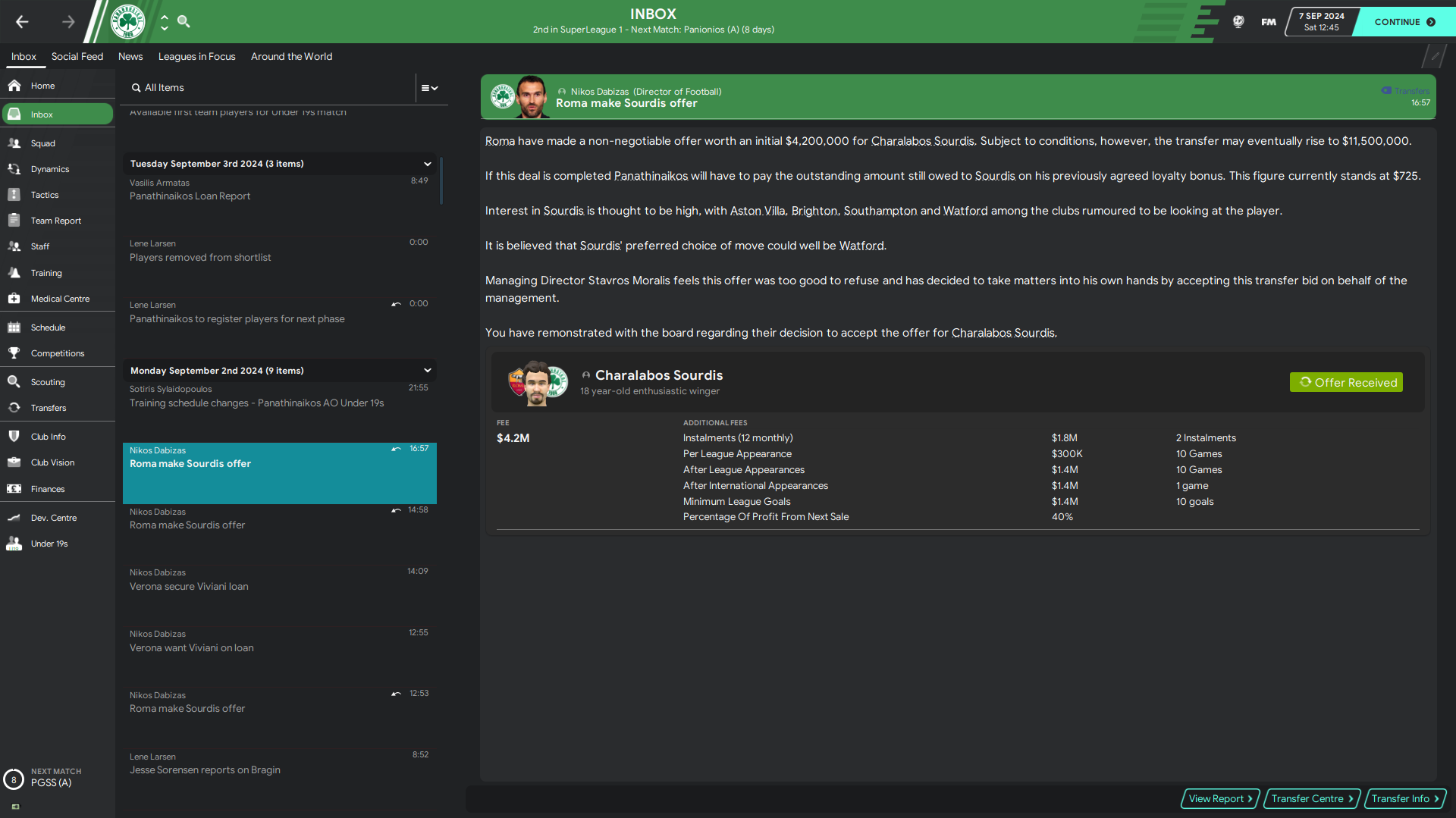 I may look to move him on in the summer — Masek is much better, and I could easily find a talented, young inverted winger for less than ~$10M. We'll see what happens in the summer. I'm also looking to move Mota on (he's been after a new contract), especially since Gazim Lleshi ($3.7M from Rad) will arrive in the summer.
Bottom line, we're flying. In every respect. If we can maintain anything near this form over the run-in we'll be playing in the Champions League next year…and that's when things will really take off.
I'll leave you with something I'm really excited about — the first in a series of podcasts from Nicolaj Bur's namesake. Click. Listen. Enjoy.
we beat Young Boys and drew with Atromitos
, but nevertheless
remain 10 points clear of PAOK
(even if Olympiacos is now only 10 back). And,
we drew Dinamo for the Europa Conference League
…which is great, as we owe them. Ugh.]
If you've stumbled upon this post and are finding yourself a bit confused… Don't worry.  The basic concept behind the Nearly Men save is explained here.  Just need to catch up? Each installment in Nicolaj Bur's story can be accessed through the Nearly Men Archive.
And if you just can't get enough…join us for The Ballad of Toothless Bob, a series that explores the world of Nicolaj Bur, away from the pitch. What is Project Arcturus? What lies beyond the twisted redstone door, deep in the bowels of the Santiago Bernabéu?
---