Panathinaikos AO – 2025/26 Open Thread
---
August 2025.
All told, it was a decent summer of business. I was able to keep the players I wanted to keep, and to ship out the ones who needed to leave. Light a candle for Panionios, though, from whom I nabbed 3 of the best young players in Greece in Skoufalis, Xenitopoulos and Bekris. [Editor's note: for legal reasons, we must note that no children were kidnapped in the making of this post.]
Lleshi, as previously noted, is in from Rad to replace Mota.
Last, we landed Thanos "I Am Inevitable" Kallidis from PAOK, albeit at a slightly inflated price. This kid looks like the business, and not in a "I will destroy half the universe" kind of way. But…I'm a little worried that the inflated transfer price is going to his head. He showed up for the first day of training wearing a single metallic glove, and refuses to take it off because he thinks it makes him look he's in a Marvel movie.
Zlatan, naturally, has made it is his life's mission to instill some humility in young Thanos — a good plan, even if his methods are suspect (e.g., calling him "Jacko" and demanding that he do the Moonwalk before he's allowed to take water breaks during training).
The way I look at it, this will end one of two ways: either Thanos will murder us all in our sleep, or he'll win the Ballon d'Or.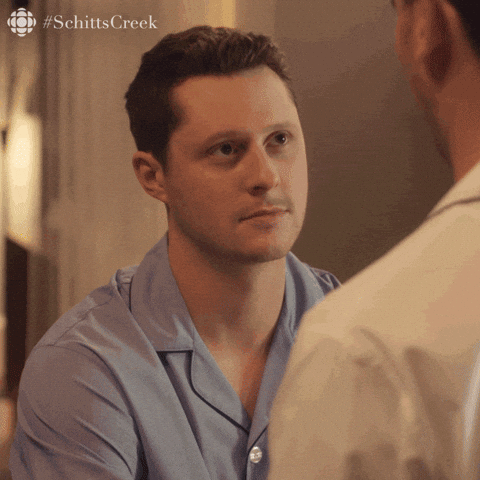 ---
September 2025.
As the season begins in earnest with trips to Olympiacos and then Manchester City, we need an edge. Something to take us to another level.
For better or worse, Zlatan and Bozidar claim to have had an idea during the international break.
"What is it, guys? I don't have a lot of time. We've got Olympiacos on Saturday."
Zlatan chuckles. He just can't take Olympiacos seriously.
Bozidar appears much more earnest, and tries to explain. "Boss, your Bozidar no sleep. Spent long weekend, looking into the mirror."
This sounds unusual, so I need to play it casual. "Oh, right… A bit of soul-searching, was it?"
Bozidar scoffs, looking disgusted with me. "Cocaine, Boss. Cocaine."
I sigh. That explains quite a bit, if I'm being honest.
Zlatan laughs out loud, shaking his head, before stepping into the conversation and nudging Bozidar away.
"Boss, the Zlatan will explain. Then, you will the understand. And then, we will do."
I nod, waiting to hear what insanity they've cooked up this time. Wait, they haven't been cooking…no, we're not in 'Breaking Bad' territory, here. Not yet. Unless we drop points to Olympiacos, that is. The Board is getting demanding in light of our early success, but I've tried to put my foot down with Bozidar — he's no Walter White, no matter how much he plays with that kids' chemistry set that he picked up at the Aegean gas station down the street.
"Just two words the Zlatan has for the you: Marginal. Gains."
I wait. It's never "just" two words. Not with these two.
"Is simples, Boss. If the Panathinaikos can make the one percent improvement in multiple areas, the overall improvement is being very Zlatan."
This is a remarkably concise, albeit Zlatan-esque way of distilling the concept.
"I've read about this, Zlatan. And we're obviously doing a lot of this already, everyone is. What are you thinking?"
"We the Panathinaikos are already doing much of this, small thing. Controlling the diet, the sleep, the rest. The Zlatan controlling the music on the bus."
I nod at him to continue. We've been over this. Every club in the world is doing this already on some level.
"The bottom line is this–"
Bozidar laughs, like an 8 year-old child. Zlatan snaps at him, "oh, that's right. It is always about the… The Zlatan knows what you do with the electric toothbrush, and the … bum stuff."
Bozidar somehow manages to look both proud and ashamed at the same time, a wry smile across his face.
Zlatan mumbles incoherent Swedish noises under his breath before continuing. "The Zlatan and the Bozidar have idea, to improve more of the little things. Make big gains. Very Zlatan. We will do the showing of Olympiacos who is the Boss."
Bozidar chimes in again. "Actually, I've been watching a lot of Who's the Boss? There's something you overlooked, Zlatan…"
Zlatan cuts him off. "Fool, we does not have time for that now. Is rhetorical question, anyways. We can show the Nico the Wall later."
Zlatan is right. I really don't have time for this. "Guys, that's enough. I've got work to do. If you want to implement a few things to try and get a bit more from the side, just…just do it."
Zlatan and Bozidar share a look.
"Nothing illegal," I insist.
Zlatan and Bozidar share another look. Bozidar gestures with his hands, but Zlatan cuts him off with a curt shake of the head.
I'm going to regret this, aren't I?
---
September 2025.
The sounds of revelry echo through the tunnels of the Etihad stadium, the scene of Panathinaikos' triumphant win over Chelsea just a few short months ago.
A wild celebration is once again raging in the Panathinaikos locker room, long after the Manchester City squad have left, unsure of what has happened.
City's Manager, Unai Emery, sits alone on the floor of the showers in the home locker room, fully clothed, rocking himself slowly back and forth, singing softly, the tears flowing down his face masked by the cascading water.
"Butterfly in the sky, I can fly twice as high! It's in a book, take a look, Reading Rainbow…"
[Sobbing intensifies.]
---
September 2025.
I have to admit, I had my doubts when Zlatan hired staff to hold the players' utensils during meals on matchday and pre-chew their food. Ensuring we had a good night's sleep at a hotel, with a comfortable ride to the stadium…that was one thing. This? Something else entirely. A different level.
But now that Jorge Jesus has been left a broken wreck of a man, like Unai Emery before him, Zlatan is only growing more confident in his methods, more determined to find an edge on our opponents.
"Forget thinking outside the box, Boss. That is hippy-dippy silly-season, motivational tactic. What if the Zlatan told you there is no box. Let the Zlatan show you how deep the rabbit hole goes."
With results like these, even Jesse — usually the calm voice of reason — has to admit it. We're on to something here.
(For those who are new to the blog, the tactics we're using are described and can be downloaded here: Three Tacos Are Four Tacos Too Many. We played PM Laenket against both City and Atletico, with "work ball into box" and "low crosses" ticked.)
---
October 2025.
After Thanos scored the winner against Atletico, I asked Zlatan to spend some time with him, and teach him a little humility. I don't think they're taking it very seriously.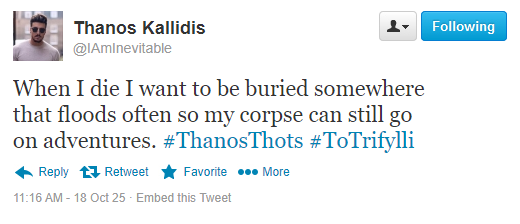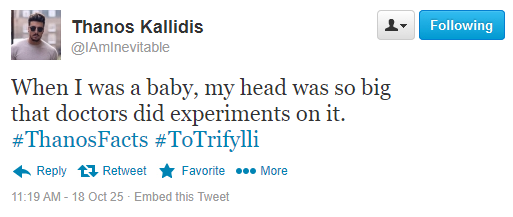 ---
December 2025.
Zlatan was never one to lack confidence. But to see he and Bozidar now…with their scheming paying off in spades… I hesitate to ask what's next, as they seek to push the boundaries beyond what is possible. Thankfully, I managed to stop them from implementing their latest idea, spinning off of the "pre-chewed food" plan. Pre-drank water? Just, no. I had to put my foot down.
The bright lights of Europe have seduced us, fully. With wins against Shakhtar, we went into Matchday 5 on top of the Group against an angry City. We held them at bay at the Spyros Louis, barely. And with a magical night in Madrid, we topped the Group based on head-to-head results against City. A dream return to the Champions League for this historic club.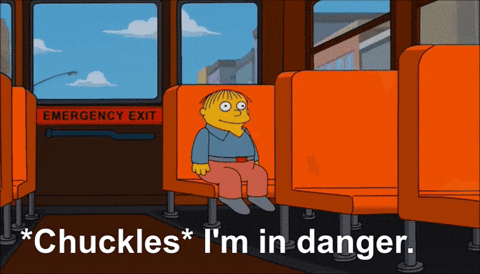 But we've let our focus slip domestically. Or, perhaps, we've put too much pressure on the 2nd XI. 4 draws mean that we're sitting 2nd, 4 points off PAOK. The Board isn't pleased. Carelessly dropped points are never a good thing, not when expectations are so high. Things must improve…
And we've drawn PS-****ing-G in the Champions League. We can't really complain, though — if you want a seat at this table, you have to take it. No one is going to give it to you.
But for now, it's Christmas. Time to relax with friends and…well…the ever-present Selene. She grows on you… Like a fungus. She wants to take us out to some newly-discover archaeological site over the holidays. So I've got that going for me.
---
December 2025.
A cold day, chillier than most, even for this time of year. That meant that the public viewing points at the archaeological site were virtually deserted when Nicolaj Bur, Zlatan Ibrahimovic, Jesse Sorensen and Selene arrived.
The only one who seemed interested was Selene, although Nicolaj had recently begun to notice that she was so much more than another pretty face around the clubhouse. She had a way about her that was captivating. An ageless, timeless quality that Nicolaj found hard to describe. Tall, with ivory-pale skin, contrasted sharply with long, dark hair and black eyes.
As they round the final corner before the viewing platform, Nicolaj is momentarily distracted by a wry comment from Zlatan. But then his eyes catch the glitter of the setting sun, reflecting on something in a deep pit. Something large. Something very large.
Zlatan and Jesse continue on with their laughter, not having noticed. Selene and Nicolaj, however, advance slowly. Speechless. The reflecting light is brighter than sunlight on water.
As they approach the railing, Nicolaj can see that the excavation pit is at least 10 times as wide as it was deep, with dozens of men swarming around the excavation far beneath them.
From the bottom of the pit, an arm rises, carved from stone, the hand holding a giant crystal sphere that shines with the last light of the sun.
Some distance away, a large stone face also rises from the bottom of the excavation, proportionate in size to the hand. The solemn, bearded face wears a look of quiet dignity. Of wisdom and knowledge from another age.
Neither Nicolaj nor Selene speak. Unsummoned, the Void forms in Nicolaj's mind. Whole and complete in an instant. The light reflecting from the sphere fills him. He can almost remember…something…about the sphere.
Selene, for her part, is not looking at the statue. After all, she had claimed to have been here before. Instead, she is watching Nicolaj intently, as if looking to measure his reaction to the colossus below.
"I think I could find my way down there," whisper Nicolaj, his eyes fixed on the crystal sphere.
Nicolaj moves to climb the rail, but Selene takes his arm in hers, pulling him away. Reluctantly, Nicolaj turns his eyes towards hers, the reverie broken.
"This is dangerous," Selene whispers. "Come away, Nico. You are not ready…for this."
As they leave, arm in arm, Nicolaj looks back. The sphere still reflects the last light of the sun, as if captured inside somehow, but a shadow now sits within the sphere, intertwining with the light in a smooth, seductive dance.
Zlatan and Jesse finally notice that their friends are leaving, and leaving together.
"Are they finally together? It's about time."
Zlatan just nods. It is long past time. "They are the belonging together. Their love is a timeless one, to last through the ages. The Nico just did not know it yet."
Jesse is a little taken aback at Zlatan's insightful comment.  Looking at Nicolaj and Selene, though he can see how that might be the case. 
But even Jesse has notice that something is off about Selene. He just can't put his finger on it.
---
February 2026.
Suffice to say, the broader footballing world is taking notice of what's going on in Athens. We're flying, albeit level with PAOK at the top of the SuperLeague.
The winter transfer window saw offers come in for Aymen Mejri, Marko Botic and Erwin Amberg, in particular, with RB Leipzig throwing big money on the table for Mejri. The good news is that the infusion of cash and prestige from our European campaigns (and early efforts to reduce the wage budget) mean that we have had the flexibility to reject these offers, while also keeping players happy with new contracts.
We're going to lose players at some point. That's a given, as a smaller side with talented youngsters. I'm hopeful that our ahead-of-schedule success in Europe (with the obvious knock-on effects) can help us keep those losses to a minimum.
We're also living by the adage of "fix your roof while the sun is shining," and making moves to strengthen the squad with additional youth. Patryk Leszczynski and Herman Othérus have arrived to replace Hreiðarsson and Athanasakopoulos, with Uros Susnjar arriving in the summer.
Leszczynski will serve as Mejri's understudy in the Shadow Striker role, while Othérus will be the shadowganche in our 2nd XI.
(Note: the shadowganche is our AMC, which uses Guido's patented targetganche setup. In Guido's "classic" strikerless setup (and derivations that I have played with in prior years), this player would serve as the fulcrum through which our attacks flowed. In the current setup, however, the attacks typically flow through the wingbacks, mezzala and inverted winger, with the AMC finishing more attacking moves than instigating them…hence the name change even if the role/duty/PIs are the same. I may write up a separate post about this, if there is interest.)
---
March 2026.
No, I don't want to talk about it.
Bottom line, this result was frustrating but not unexpected. PS-***ing-G punished our mistakes in the first leg, and the tie was over. We looked much better in the 2nd leg, obviously, but there's a lot of work to be done in Athens.
Now, our attention will turn back to the domestic campaign — we've already secured Champions League football next year, with a top 3 finish. (Yes, you read that correctly, Greece have 3 Champions League spots going forward, with the top 2 seeded into the Group Stage.)
Anything less than a domestic double will be a severe disappointment.
Coming soon…the 2025/26 Season Review.
As you may have noticed, I'm trying out a new format for the in-season mini-updates so they will include all of the irreverent tomfoolery that would normally be confined to the forums. Let's hope that this doesn't go the way of Unai-Emery-at-Arsenal, eh?
If you've stumbled upon this post and are finding yourself a bit confused… Don't worry.  The basic concept behind the Nearly Men save is explained here.  Just need to catch up? Each installment in Nicolaj Bur's story can be accessed through the Nearly Men Archive.
And if you just can't get enough…join us for The Ballad of Toothless Bob, a series that explores the world of Nicolaj Bur, away from the pitch. What is Project Arcturus? What lies beyond the twisted redstone door, deep in the bowels of the Santiago Bernabéu?
---