Panathinaikos AO – 2026/27 Open Thread
---
July 2026.
The best thing about the summer of 2026?
It's a World Cup year.
More specifically, it is the first time in the save that 48 teams will be vying for the title, and I'm holding out hope that another country will become eligible.
At least, I was holding out hope.
It didn't happen.
It was close, though. Regen-led Ghana and Miguel Cardoso's Portugal both reached the semifinals…but it was Dieter Hecking's Germany and Gustavo Alfaro's Argentina who contested the final.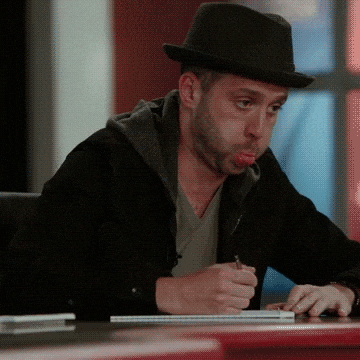 And what a final it was. 6 shots on target, between the two teams.
Let's be clear. I don't have anything against Ze Germans or Argentina. But watching Ghana and Portugal come that close and not make it was like a kick in the teeth. I can't wait to dig into international management.
---
July 2026.
The lads returned for training in good spirits.
Thanos showed up wearing a plaid zoot suit on our first day back, leading to a fair amount of banter among the lads. That is, until Zlatan got involved, pointing out that young Thanos looked like the bassist from the Mighty Mighty Bosstones. (An accurate, albeit dated reference.)
Young Thanos didn't really know what to make of this, until one of the lads Google'd it. Then, and only then, were a few harsh words exchanged, leading to a bit of wrestling…which ended with Zlatan biting Thanos' ear to assert his dominance.
A good first day? I guess so. Only egos were bruised, temporarily. Zlatan and Thanos left the training ground fast friends, already exchanging insults ahead of the Mario Kart tournament the lads have planned for later this afternoon.
"Thanos, let the Zlatan speak you the truth. You could not drive an elevator with two buttons."
"Zlatan, you're so old, you couldn't drive miss Daisy."
"You could not the drive a bus full of children to the zoo!"
"Because I'd be distracted by you, Zlatan! You'd be sitting up front in your special helmet, trying to hump my leg!"
"You could not be the driving of Thelma and Louise off a cliff!"
"You drive like a blind man with no legs, Zlatan."
"You drive like the Bozidar's grandmother!"
"Dude…Zlatan… That's disrespectful, bro."
"Yeah… Sorry, brother. The Zlatan took it too far."
---
August 2026.
The Summer transfer window has yet to close, but we've done the business so far.
Lucio Carlos is out, off to Genk, replaced by Jean-Michel Martinet from AIK. An immediate upgrade to our 2nd XI with significant long-term potential.
The big issue all summer has been whether Mejri will stay or move on. He demanded a transfer, and wouldn't take no for an answer. So, mindful of the remaining years on his contract, I agreed…and set his value to $120 million.
The good news was that when offers were coming in from some teams (e.g., RB Leipzig), I'd get a message saying he wasn't interested in going there, but was more interested in Liverpool. Or Barcelona. So, I just kept on rejecting massive bids (albeit nowhere near my asking price) and he didn't get upset. This was fantastic.
Until Liverpool made a bid. $84 million up front, $26 million in installments. (That's $110 million, for those of you counting on your fingers.)
And I rejected it.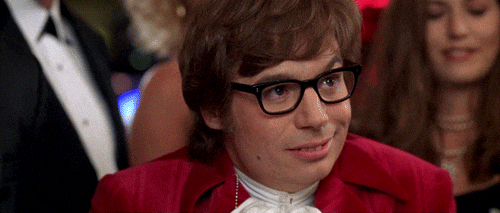 Suffice to say, Mejri threw his toys out of the pram. I'd broken my promises, etc.
But there was an option in the chat…oh, there was an out, if only I could thread the needle.
I did what any reasonable manager would have done in that situation.
I promised Mejri that we'd make the "later stages" of the Champions League. This year.
And he agreed to stay, provided that we make good on my promise.
Ever since, I just reject transfer offers and Mejri doesn't seem to care one bit. Not even when I rejected a $110 million bid from Chelsea.
No, no, his manager told him this team is going places…he's happy as a pig in ****.
So, I've got this year to uphold that promise… And if I can't…well, his contract still runs through 2029, plus the 3-year option I can still invoke.
This could get interesting…
---
August 2026.
The best thing about our exploits in Europe thus far?
No, not that. Get your mind out of the gutter.
Greece's league reputation has risen enough so that: (1) three Greek teams now enter the Champions League, with two seeded directly into the Group Stage; and (2) more importantly, the SuperLeague champions are an automatic 1st seed.
Yes, that means we're a first seed, years ahead of when I thought that would happen.
Life is good in Athens.
Jose Mourinho's Arsenal, regen-led Sporting, and urCristiano's Club Brugge?!
Yes, please.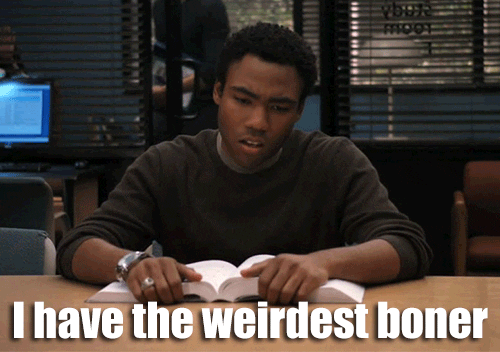 ---
October 2026
For a time, Thanos was so busy fooling around with Zlatan that they'd both forgotten all about the club-imposed social media embargo.
This made our new press officer very happy — both Zlatan and Thanos were distracted, and neither of them was on Twitter. Although talking with the new press officer did make me wonder again, just where did Selene disappeared to… No one seems to know.
Of course, all good things must come to an end. Zlatan took away Thanos' Tamagochi after he showed up late for training last week, leading to all sorts of chaos in the locker room. I finally had to bring the two of them into my office for a chat.
"Bottom line, there's no excuse for either of you to act like this. This ends today. Sort it out."
Thanos is on the verge of tears. He can't even look at Zlatan. "He starved to death, Boss. Starved!"
Zlatan is trying not to laugh. I just sigh, trying to figure out a way out of this.
Zlatan tries to explain, but I don't want to hear it.
"Why does everything have to be a competition with you, Zlatan?!"
"That is not the true, Boss, the Zlatan–"
I cut him off. I've had enough. "Zlatan, just last night you and Jesse were have a toothbrushing battle."
"The Zlatan must kill the plaque good and dead, Boss. The gingivitis is no joke."
I'm not getting anywhere.
Tears are now flowing down Thanos' face. "Sometimes, late at night, I can still hear my Carlitos beeping… He just wanted a salty snack… Those were his favorites…"
We're away to Jose Mourinho's Arsenal in 10 days. I need Thanos to get over this. There's only one thing to do.
Lift the embargo on Twitter.
What could go wrong?!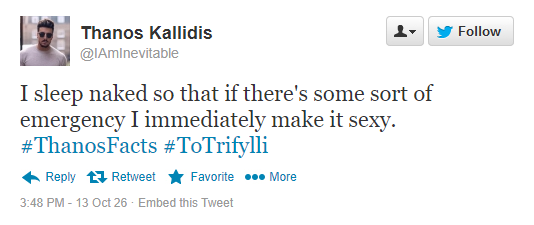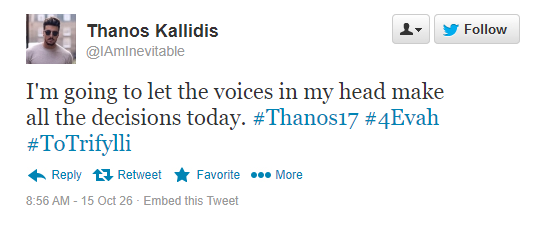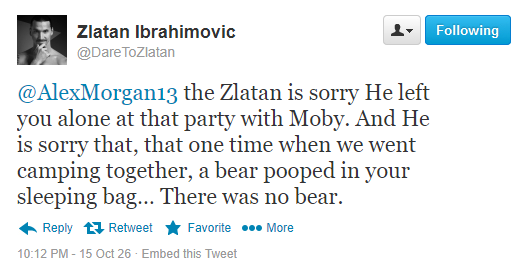 ---
November 2026.
The season seems to be flying by and, if you think there's been a lack of updates…well, you're correct. A bit less madness at the moment. But never fear. That's only because we're cooking something up in the background…
For now, though, let's take a look at how Panathinaikos are doing in the Fall of 2026. Frankly, it looks a bit like last year. 1 point off PAOK in the SuperLeague, after the 2nd XI drew against both Panachaiki and Panaitolikos — utter domination, but they simply couldn't finish. In Europe, the 1st XI has done us proud, securing qualification to the knockout rounds ahead of both urCristiano's Club Brugge and regen-led Sporting.
We're in great shape…just need to keep the good times rolling.
---
December 2026.
Another year in the books. There's a big question among some of the pundit class, as to just how far we can go.
I, for one, am offended that they assume we've peaked. Peaked? Let me tell you something, we haven't even begun to peak. And when we do peak, you'll know.
Because I'm gonna peak so hard that everybody in Europe is going to feel it.
---
January 2026.
Nicolaj is half-convinced that our scouts are having a laugh…
But I'm not going to lie. I'd try to sign this kid even if he was crap. The name alone is worth the transfer fee. Good thing he's also a fit for our tactics…which are being tweaked as we speak. #StayTuned #Soon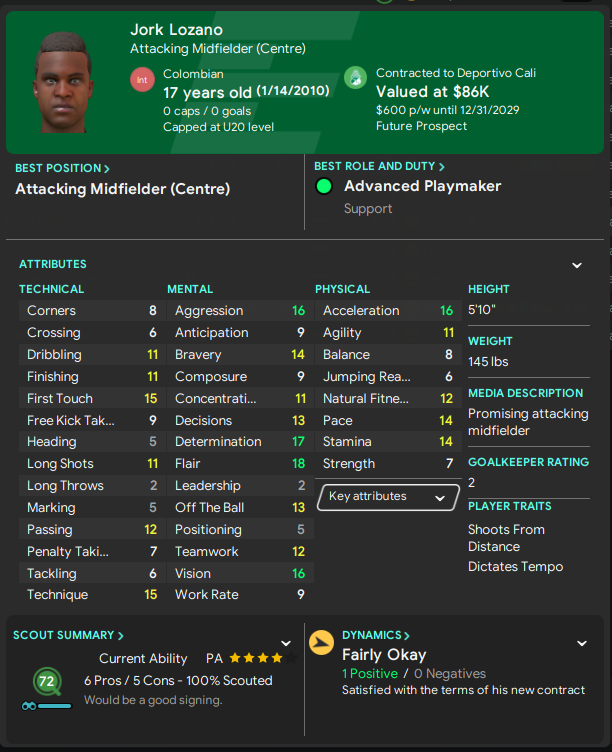 ---
February 2026.
After a wild transfer window which saw Amberg leave for China for big money, it was nice to get back on the pitch in the Champions League.
Give the lads a taste of the promised land, and all that we're working towards. Mejri and Schou were pushing for a transfer earlier in the year, but signed new contracts at the close of the January transfer window. Thanos also signed off on a new deal.
I'm not naive enough to think that the transfer battles are over. The squad's continued happiness is undoubtedly premised upon our continued progression in Europe. But for now the future looks bright.
A beautiful night in Athens. We played well, but didn't take our chances. We could have won 3-1. Now, we've got a job to do in Turin.
---
March 2027.
An incredible result. But we got lucky. We need reinforcements. Some of our XI just aren't good enough for this level.
There's only one cure. We must dip into the market.
We've drawn Antonio Conte's Manchester United. Out of the frying pan, into the fryer.
---
April 2027.
Madness in Athens. Antonio Conte has been sent back to the airport with his tail between his legs, hounded every step of the way by rapid Panathiniakos supporters. We have United just where we want them, having to chase the game back at Old Trafford.
---
April 2027.
United set out to attack, but wary of our ability to hit them in transition. We held firm in the early minutes, before giving up a goal in the 34th minute…called back by VAR for offsides. United had the bit between their teeth, though, and were rewarded for their persistance, grabbing the opener just a few minutes later.
Nightmare just before the half, when a devastating United counterattack caught us out. 2-2 on aggregate, all to play for…
…until a bit of magic from Lleshi, serving up a swerving cross to Masek on the back post, who heads in off the underside of the bar, De Gea helpless in the United goal.
3-2 on aggregate. The flight back to Athens passes in a blur. Champions of Greece, now into the semifinals on the greatest stage. The second straight away trip on the Continent where we've battled uphill, against the odds, to obtain a result.
---
April 2027.
Gutted. That's the only word to describe it. One goal called back for offsides, in first half injury time. And then, denied by Donnarumma in the 89th minute, with Ze Germans grabbing their 2nd off of a counterattack from the ensuing corner.
We've got a job to do in Athens.
---
May 2027.
I'm not angry, lads. I'm just disappointed.
---
Mejri blew 3 clear chances in the first half. Our best player had his worst match of the season. If only he'd put one of them away… If only Donnarumma hadn't come up huge in the 89th minute of the 1st leg… If only…
So close, yet so far.
Not that I'm too disappointed.
This was a monster year for us. But there's no resting on our laurels. We need reinforcements.
You know the old adage — if you can't beat Ze Germans, buy one. Meet Germán Zárate, who will be trained as a libero.
Yes, Karen, I know he's Argentinian.
It was a joke.
---
Another addition to the squad, one I've long wanted to announce:
I still can't come up with a hashtag that isn't NC-17, though.
Coming soon… the 2026/27 season review.
If you've stumbled upon this post and are finding yourself a bit confused… Don't worry.  The basic concept behind the Nearly Men save is explained here.  Just need to catch up? Each installment in Nicolaj Bur's story can be accessed through the Nearly Men Archive.
And if you just can't get enough…join us for The Ballad of Toothless Bob, a series that explores the world of Nicolaj Bur, away from the pitch. What is Project Arcturus? What lies beyond the twisted redstone door, deep in the bowels of the Santiago Bernabéu?
---