The Aim
I should start by saying that I really did have high hopes for my previous save, which was supposed to be a trophy-grabbing conquest of all the Nordic nations, but ended up being a nine-year stay in the first country on the list, Greenland, as no matter what I did, I couldn't find a way to get my hands on the outdoor championship that would have allowed me to leave. I ragequit decided to end the save following the ninth season, and while I hope to return to the concept of that save someday, I was left at the crossroads that is the new FM release day without a save to play but determined to find a new one on whichever version felt best. Having downloaded the FM20 demo, I liked the club vision feature but didn't see much of an overall difference between the new game and FM19, which I still feel I haven't got my money's worth of yet. So I've decided to forgo buying FM20 for this cycle, and have returned to FM19 with a new save in beautiful Prague, with a historic club I see a lot of forward potential in. Slavia Praha impressively reached the last eight of the Europa League in real life last season, giving eventual winners Chelsea a hell of a fight at that stage before bowing out. Domestically, they won a league and cup double in what was a magnificent season for the club. That's a high bar set for the first season, but I'll give my best shot towards replicating or exceeding it.
My goals for this save will be pretty straightforward. I'll be looking to establish dominance over the Czech game as soon as I can, though that may be difficult in a league with two other major contenders in archrivals Sparta Praha and Viktoria Plzen. Once that is done, I will look to turn Slavia into a Champions League mainstay and eventually win the Champions League and Club World Cup. I'm not going to impose any rules on myself this time, but I will focus on buying and developing young players from central and eastern Europe, whilst keeping the sort of experienced players needed to win titles in a competitive league. Two players I'd like to keep hold of in particular are Mick Van Buren and Peter Olayinka, who I've decided to include as characters in the narrative portion of this save.
Game Setup
Top two divisions playable in Czechia, England, Spain, Germany, Italy, and France. Top division view-only in Portugal, Netherlands, Belgium, Russia, Ukraine, Turkey, Austria, Switzerland, Croatia, Serbia, Poland, Romania, Slovakia, Slovenia, Hungary, and Bulgaria. Medium database with all international players.
The Club
From Wikipedia:
Sportovní klub Slavia Praha- Fotbal, commonly known as Slavia Praha / Slavia Prague, is a Czech professional football club in Prague. Founded in 1892, they are the second most successful club in the Czech Republic since its independence in 1993.
They play in the Czech First League, the highest competition in the Czech Republic. They play the Prague derby with Sparta Prague, an important rivalry in Czech football. Slavia has won 19 titles, several Czech cups and the Mitropa Cup in 1938. The club has won five league titles since the foundation of the Czech league in 1993. They have also reached the semi-finals of the 1995–96 UEFA Cup and qualified for the 2007–08 UEFA Champions League group stage for the first time in their history. In 2019, Slavia qualified for the 2019–20 UEFA Champions League group stage for the second time in their history.
In addition to their men's squad, Slavia Prague has reserve, youth, and women's teams.
The 20,000-seater Eden Arena, also known as the Sinobo Stadium, will hopefully become our fortress, bolstered by passionate, pyro-wielding Ultras on derby days and in Europe.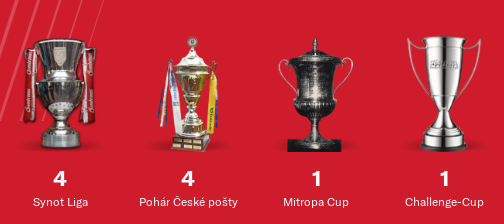 We've won 4 league titles and 4 cups post-independence, with a further 14 leagues and 4 cups coming during the Czechoslovak period for a total of 18 leagues and 8 cups altogether. Not too shabby a trophy case to be starting out with.
We have a significant link with second-tier Prague club Viktoria Zizkov, as we can loan players to them any time, which the club uses pretty often to develop youths in real life, and which I will certainly take advantage of here. We also have links with Croatians Hajduk Split (whose stadium I visited this summer) and Chinese side Beijing Guo'an (likely because the club has Chinese owners), which gives us an interesting recruitment opportunity in Asia.
We've got a good thing going in all categories for our facilities, though junior coaching could certainly be better than "good" and youth recruitment could be better than "established".

We've got a good amount of money in the bank, and we're projected to be turning profit this season and two seasons from now. Sounds promising. I've turned off first window activity, so no transfer budget for now. I really have a good feeling about this club and their potential, so I think this save will be a keeper.
The Squad and Tactics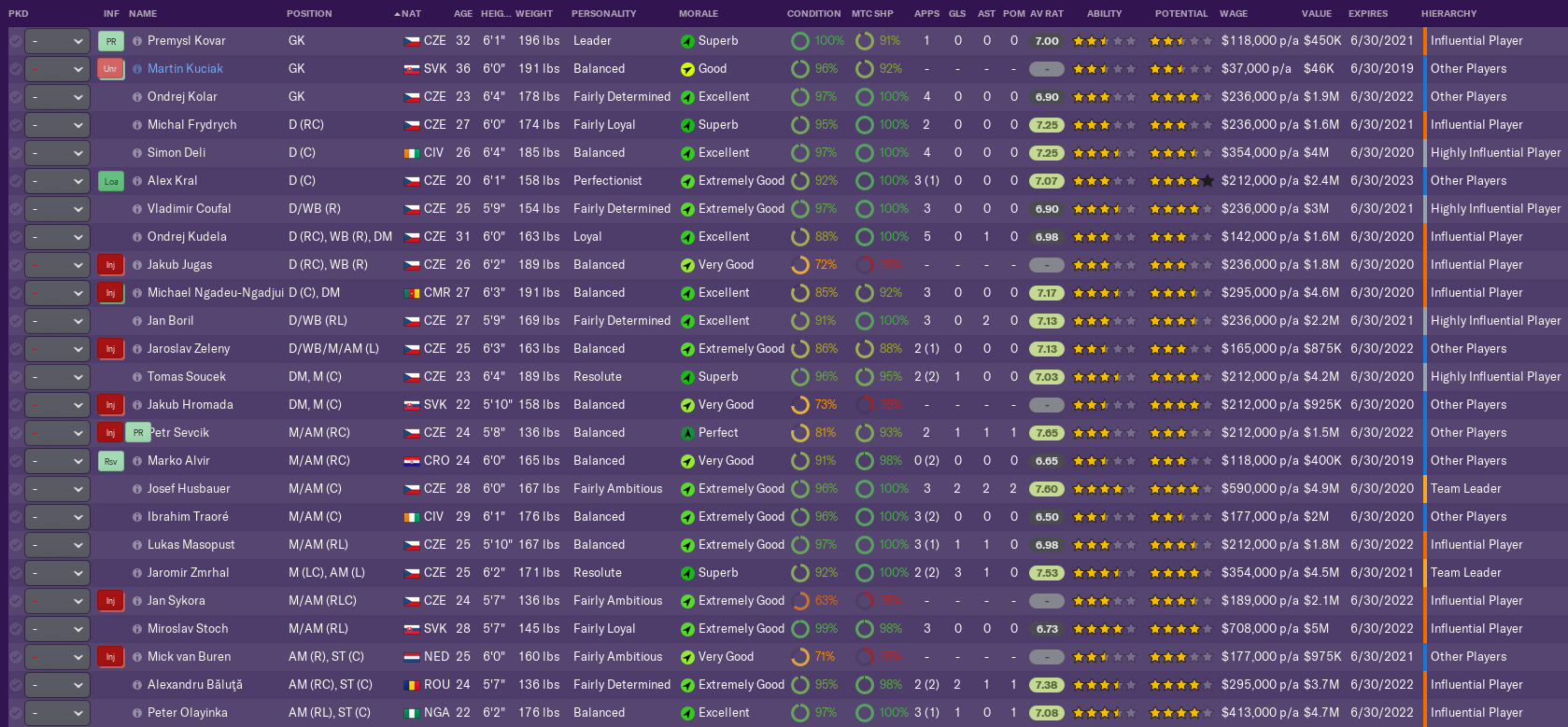 As you can see, we have quite a big squad at the moment, with many more players out on loan down in the U21s that I'll have to assess next season. We have depth in most places, except for left back and defensive mid, so I might look to strengthen there in January. We don't have many old players in the senior side, but also not many young ones as well. Most of our players are currently in their prime, which is great for right now, but we need to make sure we are continually building for the next generation, likely the one that will take us further on the continental stage. You might also notice that we have a lot of injuries, which is annoying, but the squad is large enough to cope with it for now. I'd be looking out for the following players to make a big impact this season and beyond:
Simon Deli| Michael Ngadeu-Ngadjui| Tomas Soucek| Josef Husbauer| Jaromir Zmrhal| Miroslav Stoch| Peter Olayinka
I've always liked the idea of using two different starting XIs for when a team has European and domestic commitments to deal with, as used to great success in Seattle Red's Nearly Men threads, so that's something I'll try to be doing here, using the first XI in all European and two thirds of league games, with the second XI tasked with the remaining third of the league games and all cup matches. I don't think I have the depth in all the right places to use a completely unique second XI yet, so that's something I'll be working towards creating over the next couple of transfer windows. Overall, I think we have a strong unit ready to compete on all fronts this season.
Tactics
I'm planning to use an aggressive press in games in which we're favored, and a flat 4-4-2 to counter with when we're not favored. Husbauer should be the most important player on the pitch in both systems, driving forward to attack himself as a Mezzala in the press tactic, and sitting back as a supporting playmaker to find the wingers and strikers in the counter tactic. Two other important roles in the press will be Kudela at DLP, as he'll need to balance supporting quick attacking moves with providing cover for the two center halves, as well as Boril/Zeleny at WB, who will push high up the pitch and overlap Zmrhal to ping crosses into the box.
We're set up to succeed this season, the question will be whether we can perform with enough consistency and prevent our injury problem from getting the better of us. I'm looking forward to finding out the answer.
The Manager

Ladislav Masuc- Day 1
Here I am, sitting at a giant table in the nicest room in the stadium, surrounded by smiling faces. I'm their coveted signing, the one they want. That's a good feeling, but with it comes pressure to perform, to meet expectations of all kinds. Sure, I might have been well-known as a player, but this is still my first job in management. There will be a lot to get used to, but I'm not one to back down from a challenge. I put the pen to paper, my hand moving seemingly autonomously across the dotted line. They start clapping, all 20 or so of them, most of them part of the cohort of the Chinese owner, who I still know only as "Mr. Chen", and before I know it, I'm up and shaking all of their hands for a second time within the hour. Then they all exit the room, single-file, one at a time. Except for one. Jaroslav Tvrdík, the widow's-peaked club president with thin glasses and what might be described as a suspicious-looking mustache. He's stayed seated near the head of the table… he must have something he'd like to say to me, in private. Confirming my senses, he closes the door behind the last of the other brass, then beckons me to join him at the head of the table. Once I've sat next to him, he leans in and says, "Let me tell you something, Ladi. Something no one else at that meeting would have told you."
"Go on."
"There is… another side to this job."
 With that, he clicks a button in his hand, and suddenly the entire room starts to transform into something else. The rectangular, wooden table opens up in the middle, folds in on itself, and becomes a circular, steel one, surrounded by dozens of futuristic-looking metal chairs. The walls retract, revealing dozens of television screens. An enormous circular light fixture descends from a newly-opened space in the ceiling. When before this had simply looked like an oversized conference room, it now looks like the war room from "Dr. Strangelove". Naturally, I'm a bit confused.
"What… what's going on here, sir?"
"It's best that I show you it all now. This is the 'War Room', something that I've taken on pretty much on my own, with the help of a few friends. The owner and his team know about it, but they just think it's for decoration. The real purpose, however, is for something they just wouldn't understand. But I know you will."
"What am I supposed to understand?"
"Well, listen. You know what's been going on in this city. Something's changing. Those erm… Eastern gentlemen, bless their hearts, might not be able to pick up on it. But locals like us, Prague born and Prague bred, we certainly can. And we've got to adapt to it."
Indeed, I know what he's talking about. I was out for my nightly jog when the crown-shaped lightning formed and the blood rain started to fall. But to be honest, that's the first sign I've received that something might be wrong. I hadn't sensed anything amiss beforehand. And I certainly don't understand why it requires the formation of a war room.
"Well, yes, I'm aware of what's been going on, but what does it have to do with us? This is a football club. We're not supposed to be involved in such things. Whatever they might be."
"That, my friend, is an opinion you might soon have to change. You know how important sport is to people here. Don't underestimate the power we have."
"Okay… what's your point, sir?"
"My point is, we have to be extra careful now. This club has rivals, enemies even, within our own city. You know how fierce the derbies with Sparta, Dukla, and Bohemians can be. And from what I've been hearing from my sources in the Ultras groups, we potentially have a lot to be worried about from them. So in addition to your managerial duties on the pitch, I need you to be at the helm of something much more important off the pitch. This club must protect itself, by any means necessary. We must remain a step ahead of our enemies, by any means necessary. And we must win games, by any means necessary. I've set up a meeting with Lukas and Jan, the leaders of the two Ultras factions, who will be your most trusted associates when it comes to this side of things. You'll soon come to know them by different names. In the meantime, I think you'll find this room quite handy for planning your tactics. All you need to do is push the button."
With that, he tosses me a small red push-button, like something out of an arcade. I have so many questions for Tvrdík, but before I can come up with the words to voice any of them, he's gone. I'm in disbelief. How could they not have told me any of this before I took the job? This has come out of nowhere. I already have enough on my plate, this being my first managerial job and all. Now I have to become some sort of military general too? It defies explanation. But I've never been one to quit, never one to turn down a big challenge, as I said before. If this is what I have to do to succeed, then this is what I'll have to do. I have no idea how to do it, and I have no idea what I may or may not be up against, but I'll have to give it a go. I've waited years for my first crack at management, and I'm not going to pass it up. Coach, manager, commander, whatever I might be called, I'll give it my best shot.
And if I weren't already convinced of the trouble this city was in, suddenly the bank of TV screens turn on, seemingly unprovoked. They all show the same news broadcast, announcing that Štěpán Černý, the mayor of Prague, has gone missing under "mysterious circumstances". This is too much for me to process right now. I press the red button, and everything goes back to normal. Oh, how we all wish that button could work on Prague itself.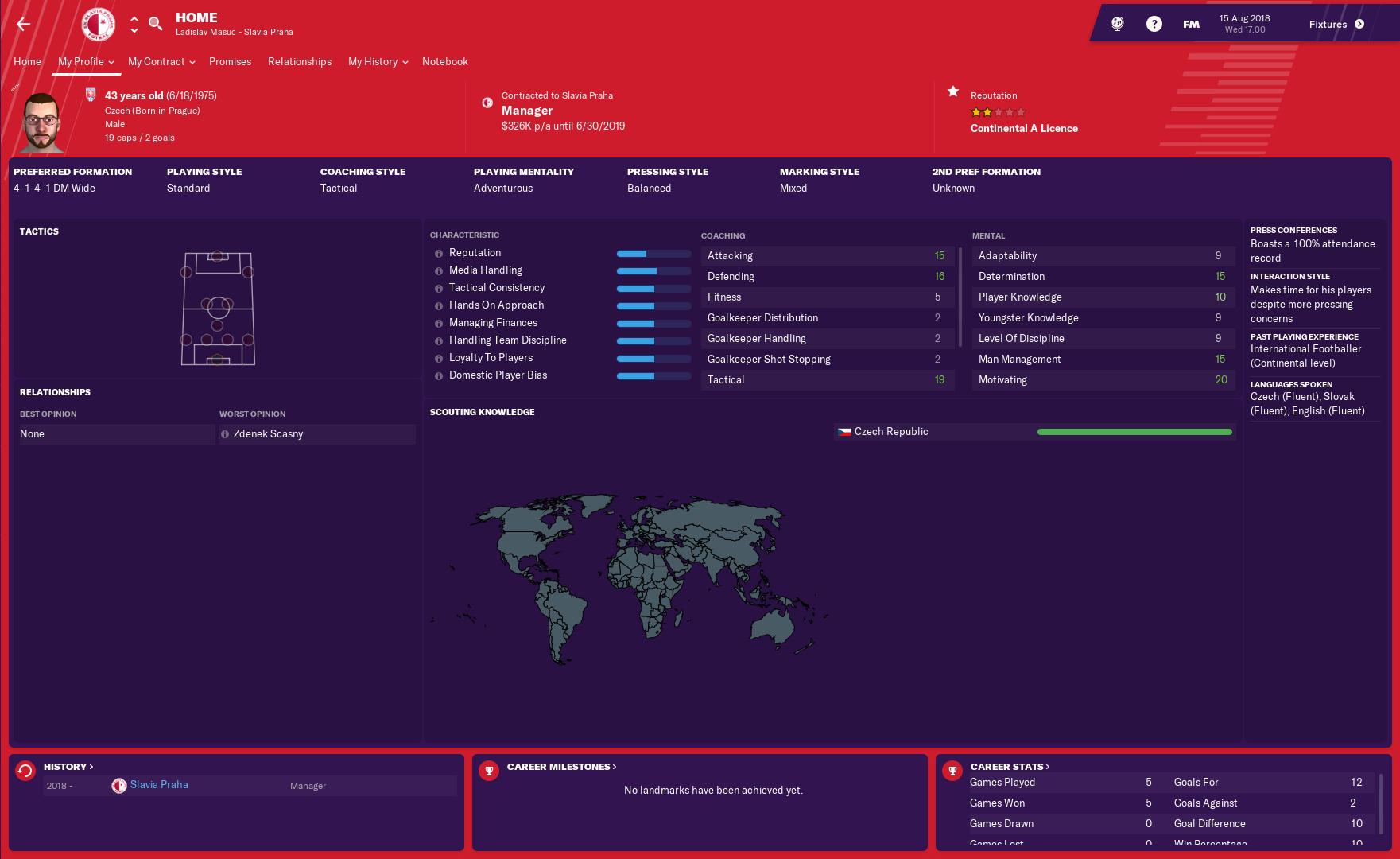 I've given myself the highest playing experience possible, but one step off the best coaching badge possible. I'll look to pick up the Continental Pro license as soon as I can.
(Cross-posted on FMCU)