Milanello Training Complex, 1 September 2021 0500hrs
Marcus groaned. 5am? Why had Paolo scheduled the meeting this early? He sipped at his morning espresso. The little coffee shop just down from his spacious apartment in the centre of Milan wasn't open this early, so he had to make do with his machine at home. Damn, he thought, the Italians do things right. He'd become accustomed to visiting before going to the stadium/training ground and the people there were ALWAYS ready to talk football with him.
He pushed open the door to the complex. Paolo was there, ready to greet him. "Marco! Buongiorno! Come, come! We have lots to talk about! Giovanni is waiting for you!" He turned on his heel and walked smartly all the way to Marcus' office. Marcus shut the door and took a seat.
Paolo sat down, got out his phone, clicked through and handed it to Marcus, who took it and looked at the screen.
So, the Corriere dello Sport were on the fence about his transfer window, were they, thought Marcus, we'll show them. Paolo took his phone back and said "Well, Marco. Questions are being asked. Do YOU think you have had a good transfer window?" Marcus tentatively agreed and let Johnny take over. "We've not done badly, Paolo. When we arrived at the club, we were not impressed with the recent squad makeup. So we needed some immediate surgery. Out went players like Mateo Musacchio to Norwich City; Rade Krunic moved to the outskirts of the city with Atalanta and goalie Antonio Donnarumma departed for Greece with AEK Athens. We also sold a few prospects with buy-back clauses and finally we sold Suso to our previous club Everton for £54m, beating all other sales bar Kaka!"
Paolo smiled. He steepled his fingers as he spoke "The sales themselves were impressive. We, as a hierarchy, are happy with the deals you have made for player sales.. Your incoming players though?" Marcus looked towards Johnny. "We're happy with those, Paolo" Johnny began. "We started off by raiding our previous club Everton for central defenders Ryan Astley and Dylan Thompson on loan. Due to the previous administration's ignoring of defenders, we also had to swoop for FC Bayern Munchen's young defender Lukas Mai on loan too. We were looking weak at the youth level too. So there was a deal struck to bring back full back Raoul Bellanova from Girondins de Bordeaux, where he had been sold for £850k a few seasons ago. Sadly, we needed to part with £7.5m for him and I think we all recognise that we overpaid for him. But both Marcus and I believe he is worth the money. We then went back to FC Bayern to pick up attacking midfielder Oliver Batista Meier for £550k, Marcus believed in his talent, so I think it's worth the deal, especially as even if we sell him, it'll be for more than half a million!" Paolo nodded. Johnny continued "We took a young Italian attacker on loan from Paris Saint-Germain, Emanuel Vignato, before paying a mere £110k for a Portuguese midfield star in the making from Portimonense SC, Joao Figueredo. Finally, we sealed a deal for Arsenal starlet Emile Smith-Rowe for £12.25m. Marcus and I are huge fans of his and tried many times to sign him for Everton. The finances weren't right before, but this represents a great deal for us!"
Paolo smiled "I see your passion for this. Which others in the media may not. You have convinced me of your plans. See that it remains so." Paolo shifted his weight and then continued. "We have played two games so far in Serie A. Not a huge body of work, but maybe you can talk me through your results?" Marcus sat up and began to relate the story of the embryonic season so far. First up, they'd faced AS Roma in a matchup they had dominated. To the extent that the triumphant tweet from the official Twitter account read like this
First off, Andrea Belotti headed a Kessie cross at the Roma keeper on 43 minutes, which he contrived to fumble over the line to put them 1-0 up at HT. Then came a moment that all managers and players wish for. A new signing making an impact. Emile Smith Rowe picking up a pass by Romognoli from a recovered corner, taking a step and curling a beautiful strike into the top corner from 20 yards on 61 minutes to make to 2-0
It finally fell to Smith-Rowe again to put a gloss on the score, as he tapped home into an empty net with his second opportunity after his first shot was blocked. 3-0 was the final score and well deserved. Paolo nodded eagerly, his eyes crinkling in a smile. "Yes, it was an excellent result. Our other match?" Marcus took a gulp of rapidly cooling coffee and explained. They played S.P.A.L next, and it was another dominant performance, with two standout moments.
First was youth academy product Andrea Sottil's first goal for the club, a header across the goal and down, leaving the keeper no chance to put them up 2-0 midway through the second half.
Second was a stunning finish from Franck Kessie on 70 minutes. Theo Hernandez broke forward on the left and passed inside to Kessie. Kessie continued inside and unleashed a curved shot from 20 yards which nestled into the far corner to put Milan 3-0 up and the tin hat on it all.
"A very good start!" said Paolo. "And how does Europe look?" Marcus handed over this dossier to Paolo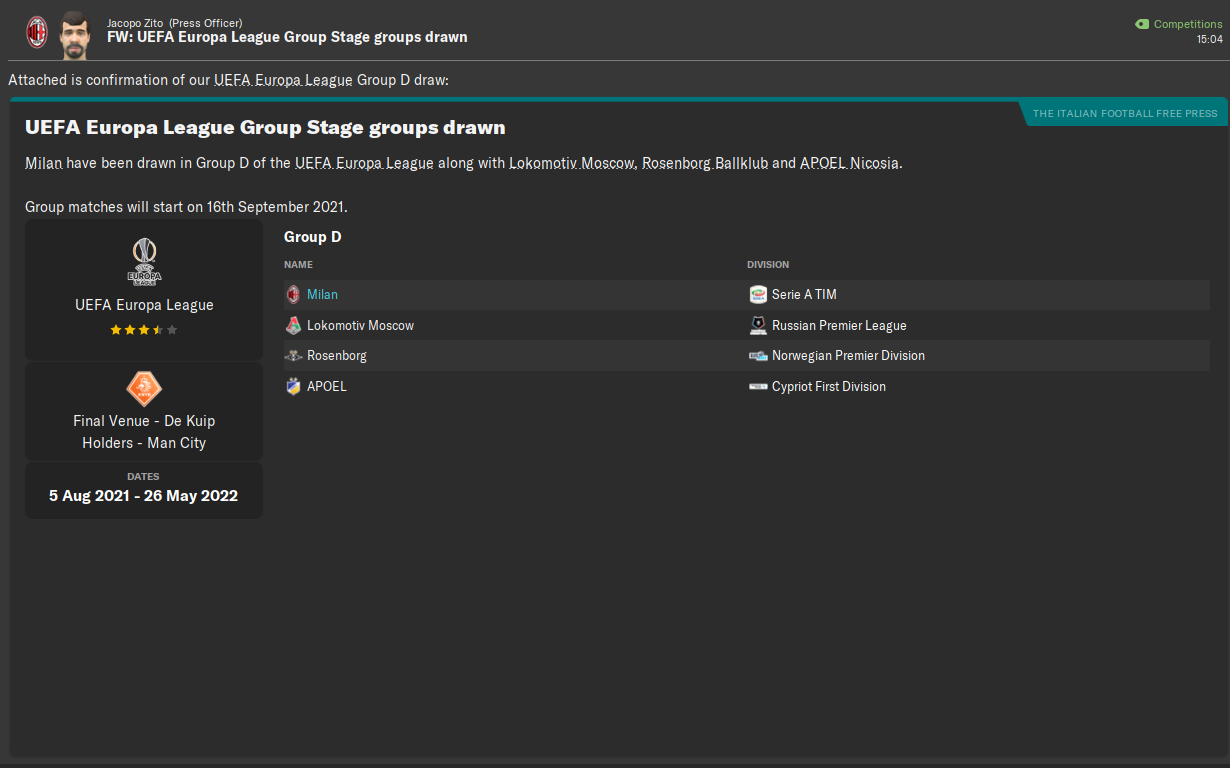 "Hmm.. your thoughts?" asked Paolo. Marcus replied that it was an interesting group which should pose no real problem to us. "Should. I have known many ships to beach and founder on the word 'Should'.." answered Paolo, wryly.
"In the meantime, here are your targets this season. Judging by the start here, you should have no problems.." Paolo passed Marcus a sheet of paper. Marcus took it and scanned it thoughtfully.
"Nothing else to add? Then, thank you for your time. It is a successful start for you here. I hope that it carries on! Addio!" Paolo got up and exited the office. Marcus exhaled. These were some heavy demands. Especially with this squad. He needed to get onto the training pitch as soon as possible…