Slavia Praha- 2018/19 Open Thread
---
Pre-Season
We're predicted to finish 2nd in the league, just behind defending champions Viktoria Plzen and just ahead of rivals Sparta Praha. Fellow Prague clubs Dukla and Bohemians are predicted to stay up, while both newly-promoted clubs (ignore the markers on Sigma and Baník) are projected to be in relegation danger.
A rip-roaring set of friendlies… our U19s really didn't stand a chance, and neither did any of the other teams we faced. In the highest-profile fixture, we beat our Croatian affiliates Hajduk Split 3-1, which is a decent sign for our Champions League qualifying campaign later this summer. Zmrhal, Olayinka, and Traoré all impressed.
---
July 2018
Lukas Masopust got our scoring for the season off the mark after just five minutes against newly-promoted Pribram, flicking in a header from Josef Husbauer's corner delivery. We waited until later in the second half to pad our lead, when a push on Peter Olayinka in the box prompted a VAR review and penalty decision by the referee, which Husbauer lifted into the top-left corner for 2-0. We added a third and iced the three points in stoppage time in style, as Tomas Soucek speared Masopust's cutback into the top-left from the edge of the area. Couldn't ask for a better first game.
We faced our first Prague opposition in Bohemians at home, and despite a dire game, we came away with another three points. Our goal came with pretty much our first clear opportunity of the game, as a push on Miroslav Stoch in the box gave us our second penalty in as many games, to which Husbauer again stepped up and slotted home. We had a couple of chances to put Bohemians to the sword in the second half, and a potential second penalty was denied by VAR, but this ended up a comfortable 1-0 victory, as our opponents offered nothing in attack.
---
UEFA Champions League- Third Qualifying Round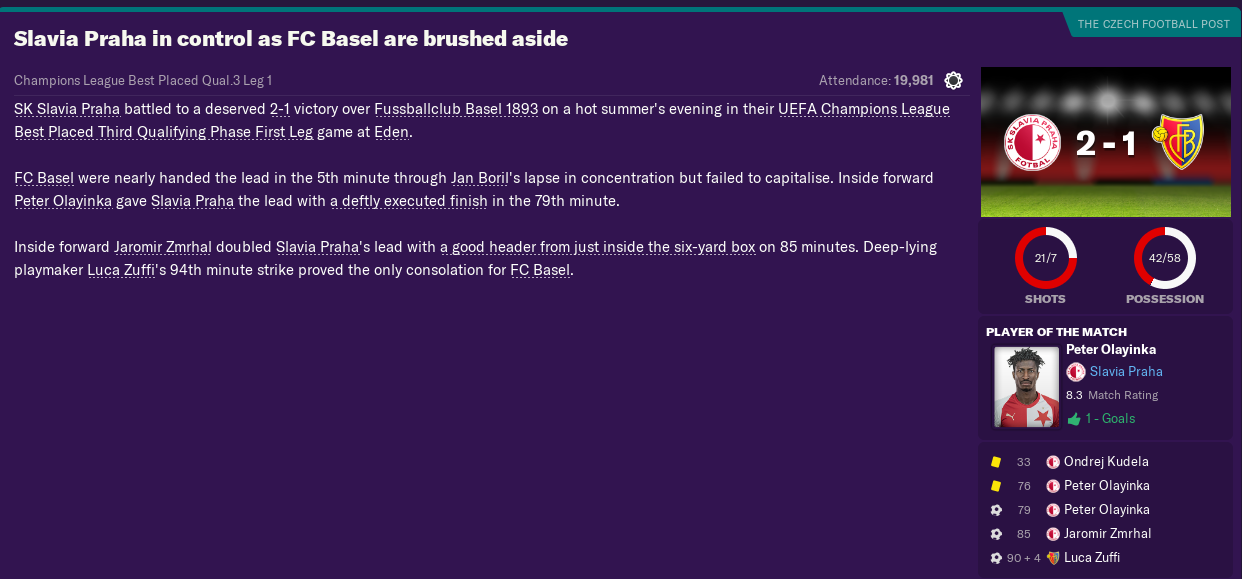 We took control of our Third Qualifying Round tie against Swiss runners-up Basel in the home leg, albeit needing some sort of a positive result in the second leg to avoid being overturned on away goals. We had a heart-in-mouth moment early on, as Jan Boril gave away the ball to Aldo Kalulu just a few yards away from goal, who somehow contrived to shoot the ball straight at Ondrej Kolar in the ensuing one-on-one, which diverted onto the post and away. We would hit the woodwork twice ourselves through Stoch and Masopust in a first half that finished at 0-0. We had to wait until deep in the second half to find our chance, but we took it when it arrived on 79′. A perfect counterattack started from the back, as Boril took Kolar's long throw in stride, driving forward 15 yards before playing a beautiful seam-ripping ball to Olayinka, who blasted the ball past Martin Hansen and into the right side of the net. We wasted little time in doubling our advantage on 85′, as Jaromir Zmrhal rose above his marker and powered in a header from Husbauer's corner. Luca Zuffi would ensure Basel had the last word four minutes into stoppage time, however, as he found himself unmarked 20 yards away from goal and used that space to fire in Fabian Frei's pass from the wing. A small lapse in concentration at the end of an otherwise good performance, that hopefully won't hurt us too much in Switzerland.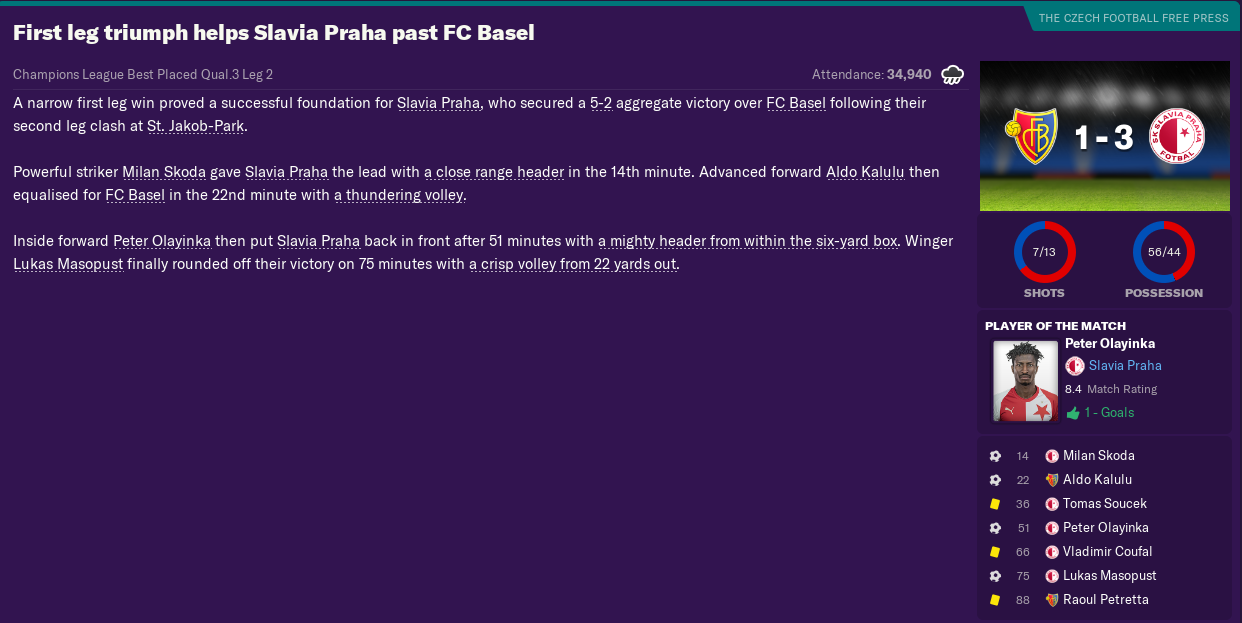 I'm happy to say we took care of business in the away leg, putting three past Basel to advance as clear winners. We got the all-important first goal on 14′, as another Husbauer corner was thumped home at the back post by Milan Skoda, taking full advantage of some dreadful marking by Basel's back line. Things were brought back into question on 22′, when Kalulu brought Basel level on the night, a brilliant volleyed finish making up for his big miss in the first leg. Still a goal to the good on aggregate, we refused to panic and continued to sit back and look for opportunities on the counter, which we were rewarded for on 51′. A gorgeous through ball from Husbauer was latched onto by Zmrhal, who played a gorgeous cross onto the head of Olayinka, who provided the- dare I say it -gorgeous finish to restore our two-goal aggregate advantage.

Is this the Czech version of 'Jogo Bonito'?
We weren't done quite yet, as Olayinka would tee up Masopust for a crazy volleyed finish from outside the area on 75′ to make it 5-2 on aggregate and effectively secure safe passage to the Playoff. A wonderful night in Basel, one that showed any future opponents that Masuc's Slavia are not to be taken lightly.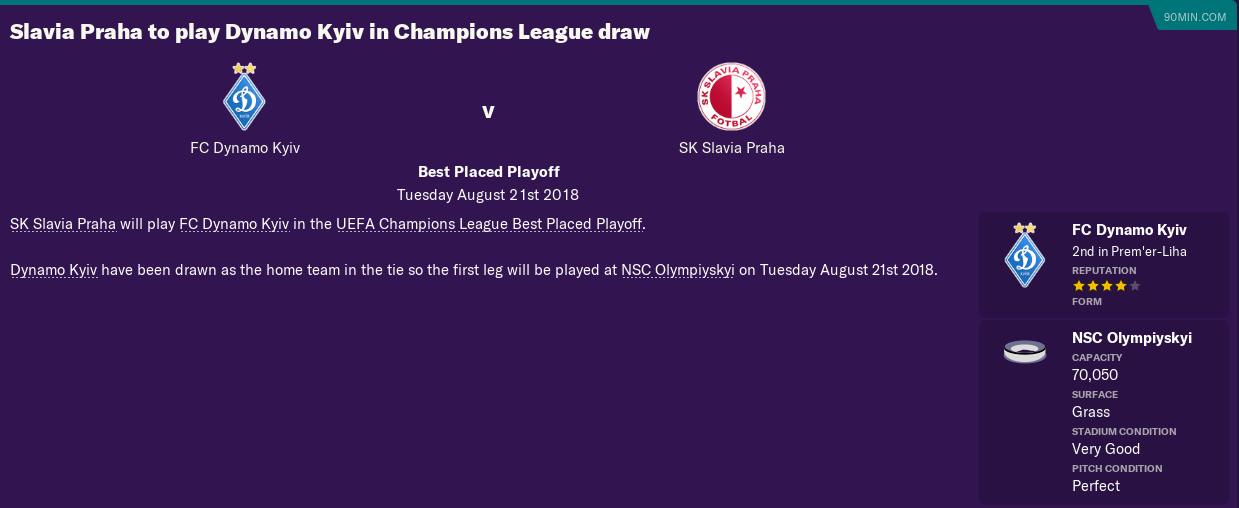 We've drawn Ukrainian runners-up Dynamo Kyiv in the Playoff, in what should be a hard-fought and evenly-matched tie. We will go away first this time to the Olympiyskyi, before returning to Prague for a second leg which will hopefully see us secure a place in the Champions League proper for just the second time in this club's history.
Jít! Jít! Jít!
---
UEFA Champions League- Playoff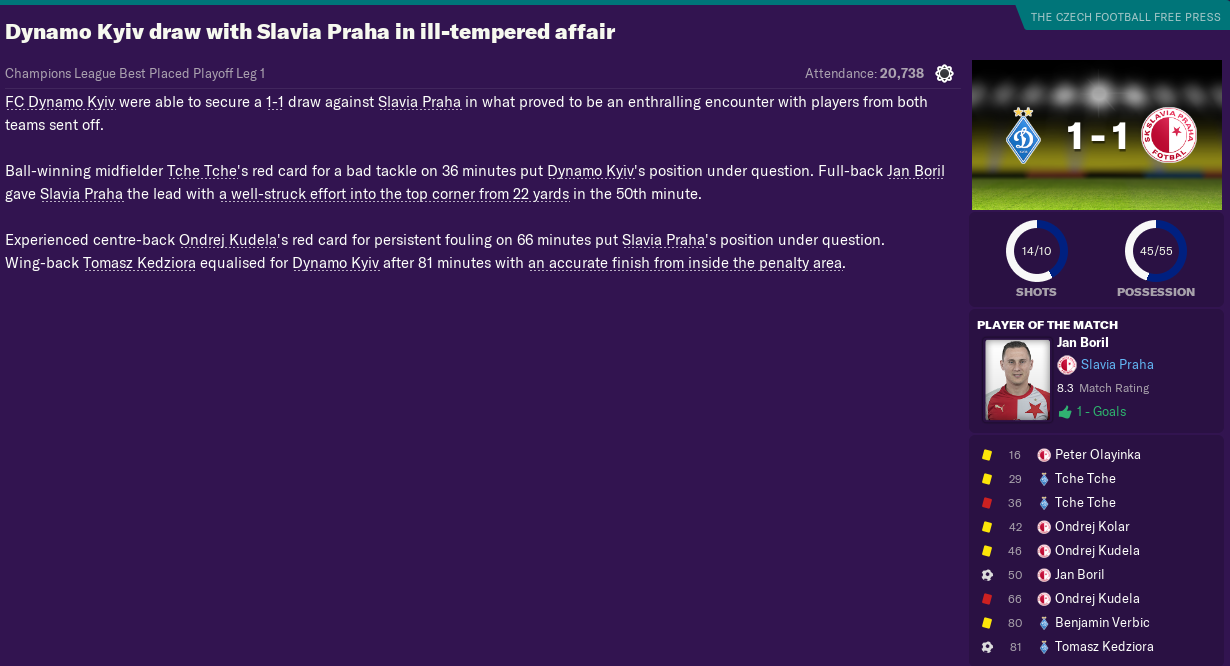 An eventful first leg in Kiev, as we take the slimmest of advantages home to Prague by way of an away goal in a testy 1-1 draw. Dynamo took control of proceedings early in the match, but relinquished that control when Brazilian midfielder Tche Tche was sent off for two yellow cards in rapid succession on 29′ and 36′, allowing us to push forward by switching from our counter tactic to our press tactic. We reaped the rewards of this switch not long into the second half, as marauding wing back Jan Boril smashed home an absolute beauty from outside the box into the top-left corner on 50′ to give us a vital lead and away goal. We might have been too aggressive in pushing for a second goal, however, as holding midfielder Ondrej Kudela was also sent off for two yellow cards on 46′ and 66′, eliminating our man advantage… and eventually our goal advantage. The restoration of parity allowed Dynamo an avenue back into the game, and they got their equalizer on 81′ through Polish right back Tomasz Kedziora, who latched onto a deep cross from his opposite full back Vitaliy Mykolenko and beat Ondrej Kolar at his near post. It was disappointing to have let our opponents back into the game after having them on the back foot for so long, but we would have gladly taken the away draw before the match, and we have reason to be confident for the home leg at Eden.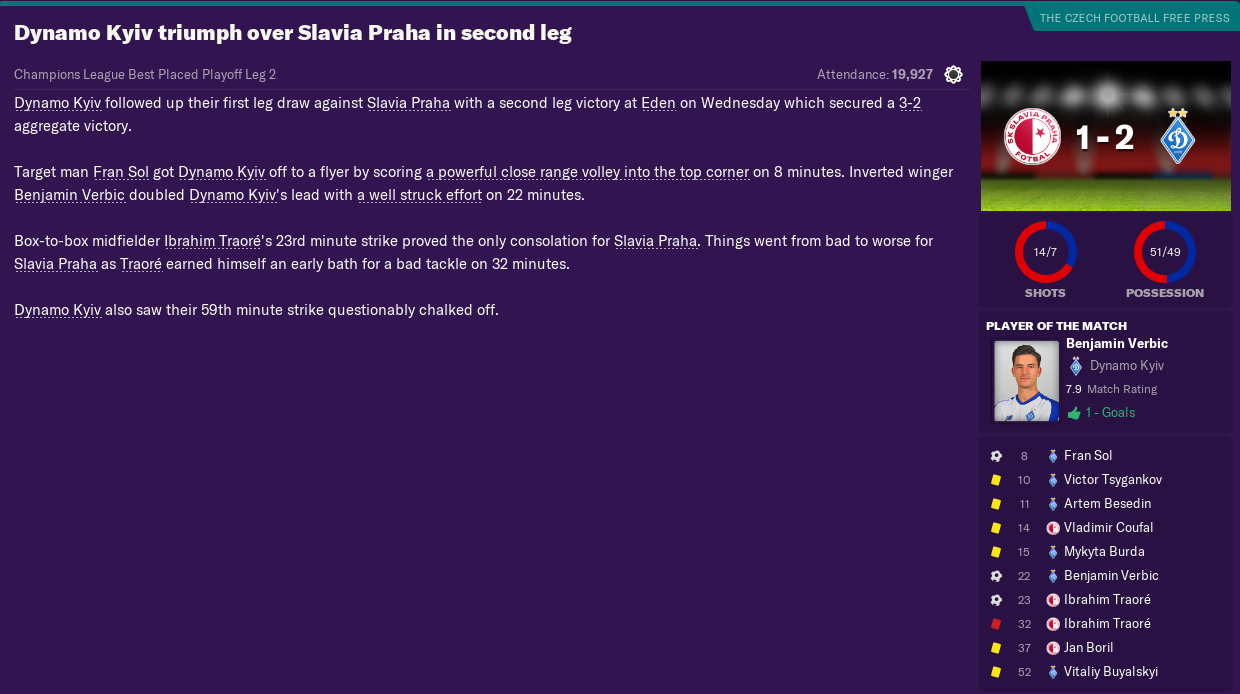 Unfortunately, we slipped up at home, and missed a good opportunity to reach the Champions League proper at the first time of asking in what became our first loss of the season. Our defense started off poorly, conceding to Dynamo's opening two efforts of the game. On just 8′, Slovenian winger Benjamin Verbic found dangerous Spanish striker Fran Sol unmarked with his cross, and Sol made no mistake from ten yards out. On 22′, Sol would flip the script, sending in a wicked deep cross for Verbic to smash home at the back post. Now needing three goals to progress, we got one of them back immediately through Ibrahim Traoré's 20-yard drive, but the same player would effectively end our chances just nine minutes later, earning himself a straight red for a botched two-footed tackle. Though we didn't completely wither after going a man down- we didn't concede again and still managed to outshoot and outpossess Dynamo- it was simply too much to ask to get a further two goals, and the final whistle blew to confirm our participation in the Europa League rather than the Champions League in this first season.
---
UEFA Europa League- Group Stage Draw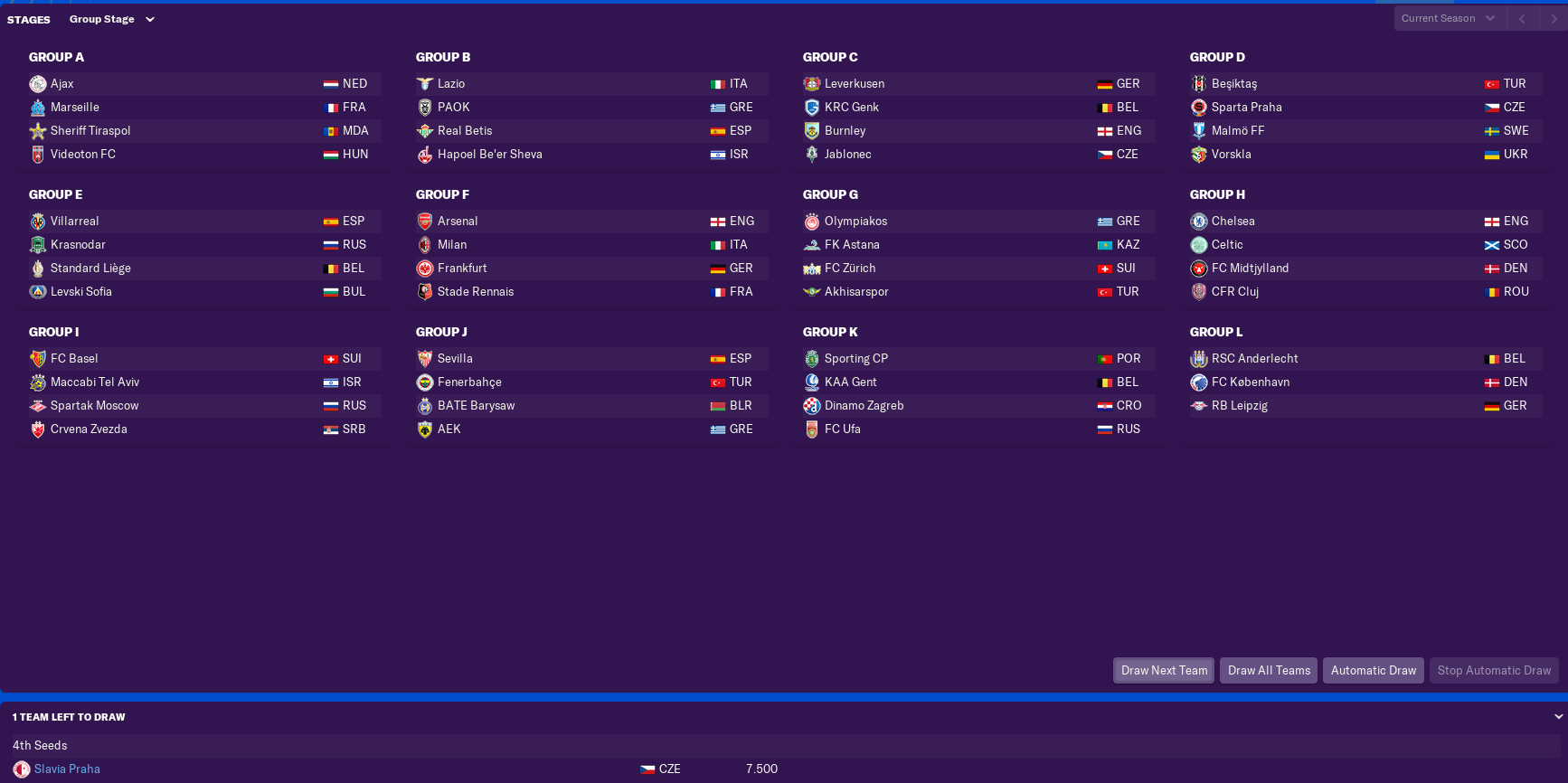 We end up as the last team out of the hat, as the fourth seed in Group L. We'll be facing Belgian giants RSC Anderlecht, Danish giants FC København, and German upstarts RB Leipzig, which is definitely a more difficult slate than I would have hoped for, but it's not the worst of the groups we could have been drawn in either (I'm looking at you, Group F). The board expects us to progress from the group stage this season, which means I'll need to be targeting positive results against Anderlecht and København, as I think Leipzig are too strong an opponent for us to be expecting wins off of at this early stage of the journey. I think we can just about get through, but it certainly won't be easy, and I won't be too disappointed with failing to progress, provided that we at least give a decent account of ourselves in all six fixtures. We'll see what happens in due time.
---
August 2018

We opened the month with a convincing victory over Baník Ostrava away from home. It was a dream day for both of our wingers, as Jaromir Zmrhal and Alexandru Baluta each bagged a brace and recorded an assist. Zmrhal started us off early on 10′, drilling a free kick into the top-left corner. Baluta would get our second just two minutes later, heading in from close range off of Zmrhal's corner. Baluta was fortunate to get another on 26′, as Petr Sevcik's deflected effort fell right to his feet to knock in at the back post. Baník had few chances in the match, but they did take one of them late in the game, hitting us on a counter that ended with an unmarked Martin Fillo blasting one past a helpless Premysl Kovar on the run. They wouldn't have the last word, however, as Zmrhal got his second from Baluta's brilliant low cross in stoppage time, capping an emphatic victory in Moravia-Silesia.
In between the two legs of the Basel tie, we took care of business against newly-promoted Opava at home. Things actually started quite poorly when Ibrahim Traoré missed a penalty on 4′, hitting it straight at Vilem Fendrich in Opava's net. We wouldn't let that rattle us, however, as we would get on the scoresheet later in the first half, Milan Skoda expertly thrashing home Jan Boril's cross on the volley on 37′. We got our insurance goal on 56′ through a wonderful goal from Petr Sevcik, who used his first touch from Ondrej Kudela's ball to wrong-foot the closest defender, then his second to fire the ball into the bottom-right corner from just outside the area. The rest of the match was rather uneventful, as we were happy to protect a two-goal lead and Opava struggled to create much after missing their only clear chance of the game in the first half. An easy win to continue our 100% record domestically.
Our last league fixture of the month came between the legs of the Dynamo tie, and I'm happy to say we countered our elimination from the Champions League with a 5-0 smashing of Slovácko at Eden. Our center backs took center stage in the first half, as youngster Alex Kral opened the scoring on 31′, taking an inadequately-cleared corner off his chest and ripping the ball into the back of the net on a half volley from 12 yards out, then his partner Simon Deli scored in the exact same manner and position on 45′. We got our third on 52′, as Miroslav Stoch cut inside from the left and blasted one past Michal Danek in the Slovácko net. The best goal of the day would come seven minutes later, as Stoch found Ibrahim Traoré in plenty of space outside the area, who then proceeded to laser one into the top-right corner from 20 yards out. We still weren't satisfied, as we added our fifth on 79′, Stoch's free kick finding Kral at the back post to head in from close range, capping a magnificent day for both players. Complete domination over a team who I thought might have given us a close game before the match.

---
September 2018

A poor first half of fixtures in the month began away to Mladá Boleslav, who handed us our first league defeat (and dropped points) of the season. The football on display was less than impressive, as our only goal came through a fluke and both of Mladá's goals lacked imagination too. That fluke gave us the lead on 20′, however, as an attempted clearance from Jiri Valenta ricocheted off of Miroslav Stoch and flew into the back of the net from a few yards out. The lead was far from secure, though, as lethal striker Nikolay Komlichenko equalized for Mladá from close range on 50′, somehow evading five of our defenders to tap in his own rebound from a woodwork-rattling header. The result was pointing the direction of a bore draw up until the dying moments of the match, when Tomas Soucek illegally halted winger Ewerton's incisive run in the box, prompting the referee to give a penalty that Komlichenko thundered into the top-left corner to condemn us to our second consecutive defeat in all competitions. A very disappointing day in Central Bohemia.
We would drop points again in our next match, this time at home to struggling Slovan Liberec. After Peter Olayinka's gilt-edged headed chance was well saved by Filip Nguyen in the first minute, Slovan hit us on the counter in the 20th. Full back Matej Hybs found Jan Pazler up front, who stayed a step ahead of our defenders and beat Ondrej Kolar in a one-on-one. We continued to go on the attack in search of an equalizer, one we eventually found early in the second half. Jaromir Zmrhal centered to Soucek from the wing, who belted in a brilliant finish from 20 yards out. There was no way we were going to be satisfied with only a point at home, but despite our continued domination of proceedings, there was nothing more we could do to breach Slovan's defense, and the away side came away with a precious- albeit mostly undeserved- draw to frustrate us further.
The roughest result of the month came in our first Europa League group match against RB Leipzig, who showed us the most quality of any side we've played this season. The match went from on to over in a space of three minutes, as Leipzig exploded for an equal amount of goals in that span. The 18th minute saw Timo Werner stick one in at the back post from a ball Vladimir Coufal should have dealt with, the 19th saw Yussuf Poulsen slam in a header seconds after the restart, and the 21st saw Poulsen score again, turning past Simon Deli and firing one into the bottom-left corner past a helpless Kolar. Things thankfully slowed down after that, but we still allowed Poulsen to claim his hat trick and Leipzig's fourth in the second half, as an attempted clearance from Coufal ending up serving the Danish international a chance on a platter, which was easily tucked away on the volley from six yards out. We would at least have the last goal, as Soucek again worked his magic from outside the box, ripping the best goal of the day past Yvon Mvogo from 20 yards out in the last minute of normal time. It was a good footnote to a poor day at Eden, and Soucek's strike at the very least helps our goal difference in the remainder of the group fixtures, which we will be eager to move on to after this showing.
We got back on a winning track against Sigma Olomouc in Moravia, though we made it harder than it needed to be. We got on the board first on 15′, as Alexandru Baluta picked out the run of striker Stanislav Tecl, who fired past Milos Buchta with his first touch and celebrated his first goal of the season following a lengthy injury layoff. We doubled our lead on 35′, as Soucek scored for the third consecutive game, once again from outside the area, kissing one off the underside of the bar and in. Sigma would pull one back five minutes later though, as Jan Sterba's 30-yard free kick beat the wall and Kolar, though the latter should definitely have done better than he did. We carried that narrow lead into the half and through most of the second period, until we got on the scoresheet again on 75′ through Baluta, who was teed up first through Josef Husbauer's free kick, then through Milan Skoda's strong header, which found him at the back post to volley in our third. But Sigma ensured this one finished nervy, as poor marking on an 81st-minute corner allowed Martin Nespor ample space at the back post to head in the home side's second. We were able to prevent an equalizer, though, and came only a few inches away from a fourth when Husbauer's free kick rattled the crossbar deep in added time. A good performance overall, but we need to do a better job defensively if we want to get back to winning games consistently.
Our first cup fixture of the season saw us host Vitkovice– a side at that time bottom of the second division standings- and our top-tier quality shone through in this one, as we thrashed them 6-0. This was a great day for our 2nd XI to prove their worth, as we put out a heavily rotated side but still cruised to victory. Holding midfielder Ondrej Kudela got us started on 9′, scoring his first of the season with a low drive into the bottom-left corner. Backup Croatian midfielder Marko Alvir then took center stage, first driving home a beauty from outside the box into the bottom-right corner on 14′, then steering in a volley following a game of head tennis in the box on 39′. Our three goals in the first half would be followed by another three in the second. Alex Kral powered in a header from Jaroslav Zeleny's free kick on 51′ to bag his third goal of the season from the back, the substitute Zmrhal scored a header of his own on 85′ from Stoch's assist, who then repaid the favor in stoppage time by teeing up Stoch to score from close range and cap a magnificent day for the Slovakian, who had set up three goals in total and bagged our sixth for himself. A confidence booster if there ever was one, as we coast into the Fourth Round of the Pohar, the tie set for Halloween night… tasty indeed.
We ended September with our first meeting against local rivals Dukla Praha, and just as with Bohemians, we opened our season series with them with a home victory. Though we again dominated proceedings- as per usual domestically- this also ended up being a hard-fought win. Stoch carried his form from the cup game into this one, as he got our first goal of the day on 28′, cutting inside from the right wing and outpacing Dukla's defenders before sliding the ball past Filip Rada. But Dukla responded in shocking fashion, breaking our high line straight from the kickoff and setting Vojtech Hadascok loose on goal, who slammed his finish past Kolar with Dukla's first effort of the game. We made sure we didn't lose our cool following the setback, but we had to be patient to find our winning goal, which came two minutes short of the hour mark. Jan Boril's byline cross met the head of Olayinka, whose first effort was saved by Rada, but the Nigerian won the race to the rebound and scrambled the ball over the line from close range. We seemed much more confident after the second goal than we did after the first, as Dukla didn't register a single shot after that point, and finished with only two total. After the two disappointing results in the league to start the month, this derby win at the end of it was especially important.
Tables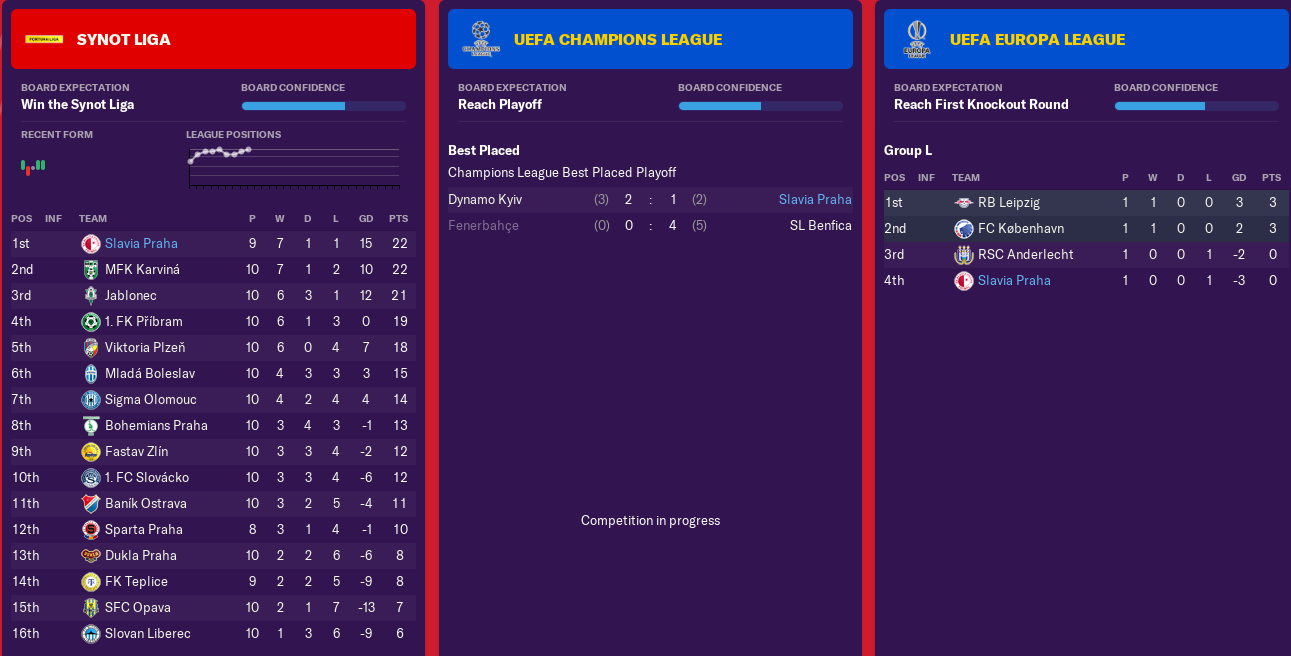 The good news at the end of this month is that we're leading the Synot Liga on goal difference with a game in hand, after having dropped to third following the Mladá loss. The rest of the table is where there lies some interest. The team closest to us is Karviná, a small club on the Polish border who were predicted to finish 13th in pre-season. We'll play them at their place in our first league match of October, in what should be a cracking game. Jablonec and another surprise package in Pribram have also started well, whilst Plzen and Sparta have already lost four games apiece, the latter looking completely lost near the foot of the table, albeit with two games in hand. That draw to Slovan looks especially bad considering they're rock bottom with just one win from ten games, which is odd considering that they usually finish in the European places and were champions as recently as 2012.
We're also last in the EL group after one game, which was to be expected after the 4-1 loss. Worse yet, København beat Anderlecht in a match which I was hoping would end in a draw. This means that we'll likely need to beat the Belgians in Brussels on Matchday 2 to be in contention for advancing from the group. Bring it on.
---
October 2018

(Cross-posted on FMCU)