17th December 2021
Bryan Klug hurried along the corridor of Milanello. Training had finished for the evening and he was going to a meeting with the boss about his youth intake preview for the 2022 intake.
He reached the door, took a deep breath, and stepped into Marcus' office. He was sat in his usual position, with Johnny in the corner. So far so good. Marcus gestured to him to sit and asked him if he wanted a drink. "No, thanks. I just want to get this over with." said Bryan, sweating for a reason which had nothing to do with the temperature.
Marcus moved to pick up a piece of paper and hand it to him. Johnny piped up, "The boss wonders if you could explain this to him?"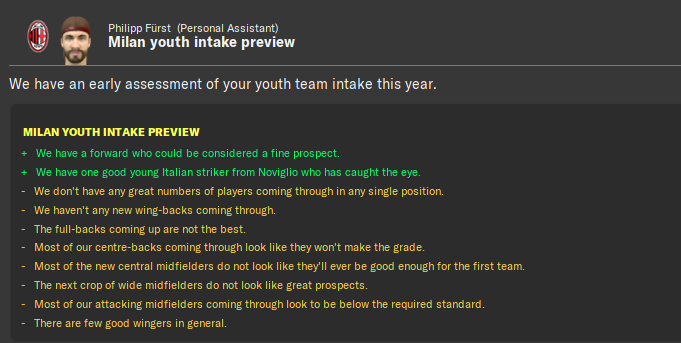 "Well, I sent it to your assistant first. But, yes, it's a very poor intake. I think the biggest issue is that our squad is so good in places that the intake looks bad compared to their current level.." said Bryan, "But you'll notice we have a good striking prospect on our hands. Certainly should develop in the time it takes for Belotti, Andre Silva and Piatek to become surplus to requirements. Don't forget we have Rafael Leao on loan in Germany doing well…"
Marcus sat in silence, listening. He then asked a question. "Well, yes, it does look like most of the intake won't make the grade here. Although, there is one who may… 6'4″, Nordic bro, Uncut." Marcus nodded. May as well have been talking Nigerian, he thought.
Marcus then intimated that the money that had been plowed into the youth development team was substantial and that both Milan and him would require some form of return on this. "A-a-absolutely, boss. This is just the first intake. See how this striker goes and we'll see!" Marcus paused for a second, then nodded. He then dismissed Bryan, who was only too happy to get out of there.
Johnny piped up from the corner "It's a very poor start to his career here. Do you think we should replace him?" Marcus dismissed the suggestion with a wave of his hand, saying he'd give Bryan one more chance.
"I'll drink to that!" said Johnny, raising his glass..