October 2018

We didn't get the ideal result against Anderlecht at the Stade Constant Vanden Stock. This was a poor game of football, with only two key highlights in the entire contest, but we had the better of the small amount of chances on offer and denied Anderlecht any shots on target. Our best opportunity fell to Petr Sevcik in the second half, who narrowly missed the bottom-left corner from long range. It would have been favorable to win this to get our group campaign truly off the mark, but at least we kept a clean sheet and took a point away from home, which is nothing to be ashamed of.
In what should have been a blockbuster league fixture against our closest challengers Karviná, our trip to Moravia-Silesia unfortunately failed to live up to the implications of a top-two clash, again finishing 0-0. We almost hit the front after 12 minutes, as a dangerous through ball from Ondrej Kudela found Peter Olayinka in behind the defense, but his effort was too close to Martin Berkovec, who stuck out a hand and deflected it onto the post and away. Karvina also rattled the woodwork ten minutes later, which might have foreshadowed a high-scoring second half, but the match instead went dull after the restart, even as we ramped up the pressure on the home side's goal. Not the ideal result again, but if nothing else, we made sure things stayed as they were at the top, with our name first on the list.
At home against competitive rivals Viktoria Plzen, we knew we needed to get a win to satisfy our fans, and we did just that, running out to a 3-0 victory in one of our best performances of the season to date. Just six minutes on, we took the lead in stunning fashion, as Josef Husbauer took control of his own cleared free kick from 25 yards out and slammed the ball past two onrushing defenders and the goalkeeper into the top-right corner. We wouldn't have to wait long to grab a second, as Stanislav Tecl brilliantly dispatched Michal Frydrych's venomous cross on the volley on 20′. Tecl then had a goal from a corner ruled out by VAR nine minutes later, after Kudela was adjudged to have fouled his marker as the ball came in. We didn't let that decision prevent us from eventually getting a third, however, as another corner on 87′ would see the ball find the back of the net, this time very much legally, as Plzen's keeper Matus Kozacik could only parry Husbauer's delivery into the fray of outfielders before him, which Alex Kral immediately stuck in past the now out-of-position Slovakian to net his fourth of the season from the back. A comprehensive victory for us that got us back to our scoring and winning ways.
We then gained an arguably more important victory at the Telia Parken, taking down København 3-1 to earn a crucial first win of the group stage. We sat back in our 4-4-2 counter formation for this match, which worked to near perfection here. After expectedly sustaining some pressure from FCK throughout the first half, we hit them on the counter on 41′, as a run spearheaded by Miroslav Stoch ended with Tecl cutting a deflected cross back for Milan Skoda, who determinedly slotted past Jesse Joronen, who had prevailed in a one-on-one against him earlier in the half. FCK came out swinging to start the second half though, and they were rewarded with an equalizer on 54′, as center back Michael Ngadeu-Ngadjui dealt with William Kvist's cross inadequately, his touch diverting right onto the boot of Peter Ankersen, who steered home on the volley. Thankfully, we would respond just three minutes later, as Tecl absolutely smashed in Stoch's brilliant looping free kick delivery to hand us back the lead. We knew that if there was going to be another goal in the match, it was going to be decisive, so we were delighted that it was ours. Some excellent side-to-side play resulted in Jaroslav Zeleny's cross being poorly cleared by Pierre Bengtsson, which fell straight to Skoda, who lashed his volley into the top-right corner and give us a massive two-goal advantage with 15 minutes to play. That advantage would be more than enough, as we held on to put us right into contention to advance from the group after a slow start.
We returned to league action just three days later following the big European win, where we recorded a routine victory over out-of-form Fastav Zlín. While we didn't play quite as well as we had in the previous two fixtures, we still ensured our opposition weren't going to cause an upset at Eden. Our chances were pretty much exclusively coming from long range in the first half, but with the quality in our squad, it was no surprise that we found the back of the net with one, as Skoda set up Ibrahim Traoré to drill a 20-yard daisy cutter into the bottom-right corner just before the half. We started the second period on the prowl for a second, and we got it on 53′, as a wayward clearance found midfielder Jan Sykora on the left flank, who skillfully ripped his finish past Stanislav Dostal at his near post, scoring his first goal of the season in just his third appearance following a lengthy injury. Zlín's chances were few and far between, and their best one of the game from Robert Matejov was saved by Ondrej Kolar on 80′ to maintain the clean sheet and keep us rolling at the top of the table.
After what could only be described as a successful first 30 days of October, we left it until Halloween to get spooked by Baník Ostrava in the 4th Round of the Pohar. Our 2nd XI took the pitch just as in the previous round, but this time were unable to get the job done on a frustrating night in Ostrava. After spurning multiple decent chances in the first half, we took the lead through an in-form Tecl on 58′, as he reacted very quickly to Marko Alvir's blocked shot and struck a volley past Jan Lastuvka from 18 yards out. However, our inability to find a second goal proved to be costly, as Baník struck back on 84′, a deep cross from Jiri Fleisman finding Dame Diop (thanks to Jan Boril's missed header) to apply a volleyed finish. The match headed to extra time, where we were the better team but couldn't find a way through. So we had to try our luck on penalties, which is probably where our rotation hurt us most, as the full-strength Baník side sunk all four of their penalties, whilst misses from backup defenders Ngadeu-Ngadjui and Vladimir Coufal condemned us to defeat and elimination from the Pohar much earlier than expected. A very tough result to take, but we still have much to look forward to this season.
Tables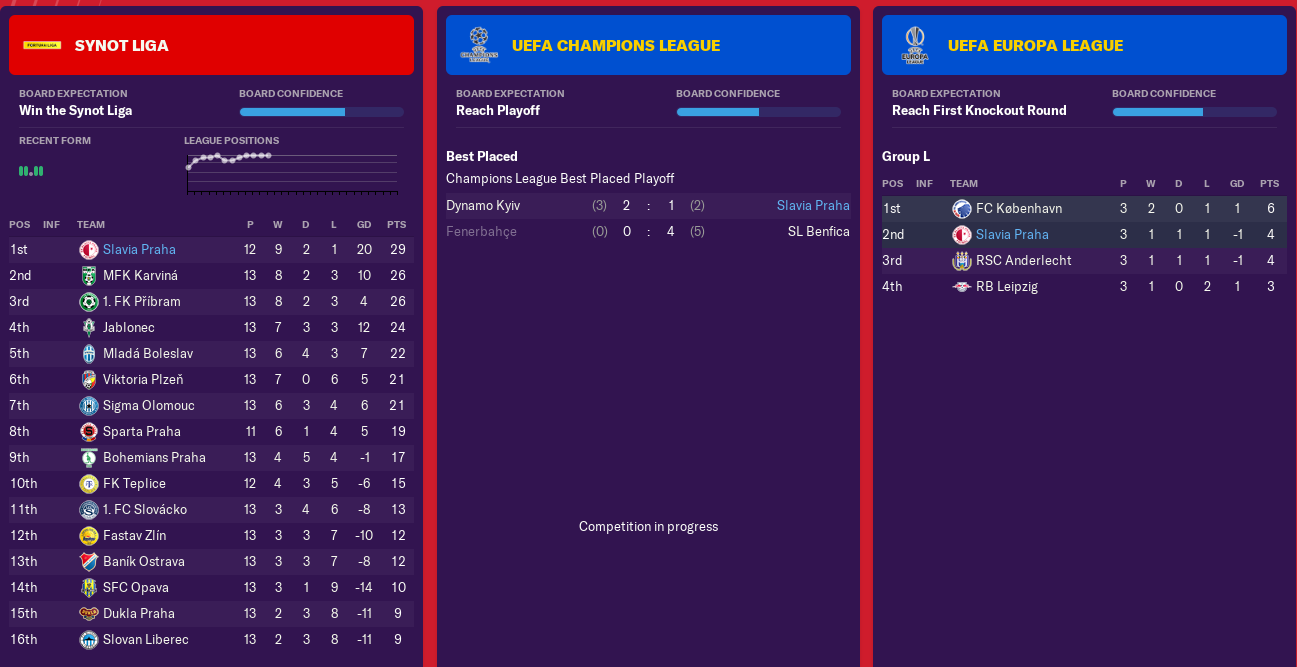 Karviná weren't able to keep pace with us following our draw, as a loss to Teplice sees them three points behind us and with one more game played. Pribram have moved up a place and are level on points with Karviná, continuing their own surprise run. Jablonec had a shaky month and slip below them. Plzen and Sparta continue to sit well below their expectations, though Sparta won all three of their games this month and still have two games in hand on most of the league, so they could very well be a contender soon. Dukla have slipped perilously close to the bottom, as they sit above Slovan Liberec only on alphabetical order. I really hope they don't get relegated, but there's still plenty of time to turn it around.
As mentioned before, the win against FCK took us into a qualification place for the next round in the EL, as we are now halfway through the group campaign. The win crucially kept FCK within reach, as they had won both games previously. We sit above Anderlecht only by virtue of having one less yellow card, as everything else is equal. Leipzig have unexpectedly slipped, as they lost to both FCK and Anderlecht after routing us on Matchday 1. They're now bottom of the group, though I would still expect them to be getting out of the group, as I don't see us faring much better against them in East Germany than we did in Prague. Instead, I'm hoping we can do the double over FCK and take three points from Anderlecht at home, which might just be enough, but we'll have to wait and see.