November 2018

We made a misstep away at Teplice, as we were poor going forward and failed to break down the home side's stubborn defense. While our defense was strong and denied Teplice a single shot on target (and two shots in total), we struggled to create quality chances and could not dominate possession either. A disappointingly boring match that we were eager to put past us.
We recorded another scoreless draw in our next game, this time in one we really needed to win against København in the Europa League. While we had a bit more going for us offensively in this game than in the previous one, there was still no way through the Danish defense at Eden. The most notable chances of the game came from a missed Milan Skoda free header just a few minutes in, two efforts from FCK's 16-year-old striker Mohamed Daramy that hit the bar, and a crossbar-rattler of our own from Jaromir Zmrhal in the second half. I feel like we performed slightly better than our opponents, but just couldn't find the all-important goal to get things rolling.
In what became a worrying trend this month, we were limp up front for a third straight match, but instead of a third straight goalless draw, we ended up dropping all three points to fellow title chasers Jablonec at Eden, which was undoubtedly a shot in the foot. Both sides again struggled to create anything for most of the match, and this probably deserved to be another 0-0, but Alex Kral gave Jablonec a penalty in the 82nd minute thanks to a stupid handball, which midfielder Michal Travnik finished without trouble to put us behind. We pushed hard for an equalizer, but that didn't make any difference, as we whimpered to our second league defeat of the season, which also made it four matches in a row without a win in all competitions.
We got back on track after the international break with a home win against surprise high-flyers Pribram, though I would certainly have liked to see more goals to convince me that we'd shrugged off our attacking issues this month. At least the goal was easy on the eye. On 37′, some great vision from Peter Olayinka enabled him to pick out the overlapping run of Jan Boril, whose cross was cleared only as far as Josef Husbauer on the edge of the area, who arrowed the ball into the top-right corner with his second touch. The rest of the match was rather quiet, as our defense held Pribram to a single shot on target, though Husbauer narrowly missed grabbing another goal in the second half. Good to be in the green again, but there is still more work to be done to get back to where we need to be.
Our most important fixture of the month came at the end, in a Europa League six-pointer against RB Leipzig in the former East Germany. Sadly for us, "Die Roten Bullen" once again showed us their quality by matching their 4-1 triumph in the reverse fixture here. We found ourselves two goals behind very early, with Amadou Haidara scoring with a menacing drive on 5′ and Jean-Kevin Augustin outpacing our defense and beating Ondrej Kolar in a one-on-one just two minutes later. Our frustration caused further problems for us, as Simon Deli hauled down Yussuf Poulsen in the box on 26′ to give Leipzig a penalty, which was converted by Augustin. We would pull one back soon after, however, as a long ball from Kolar surprisingly unlocked Leipzig's defense enough to see Stanislav Tecl smash one into the top-right corner as a result. But Poulsen would complete a rampant first half for the energy men with his fourth goal against us over the two games and Leipzig's fourth of the match, glancing in a header from Lukas Klostermann's bullet cross on 41′. Our defense improved in the second half, as it stopped the bleeding and kept them off the scoresheet, but we could not find a way back into the game on our part and left the Red Bull Arena with a defeat that seriously damages our chances of advancing from the group.
Tables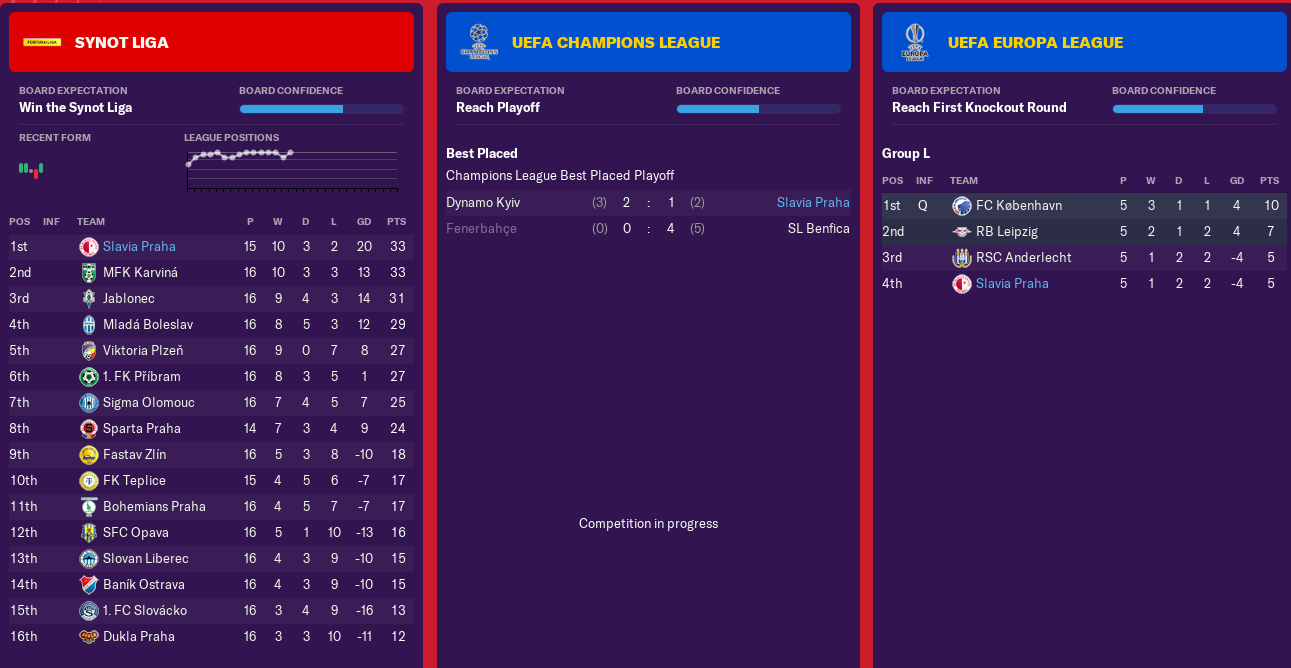 Karviná continue to just about keep pace with us, and Jablonec's win over us has pulled them closer to the top. Pribram have slipped below an in-form Mladá Boleslav and Plzen, whose form remains seriously unpredictable. Sparta's two games in hand and long unbeaten run keeps them a threat to break further into the top half. There's been a significant shake-up at the bottom, as Liberec have got themselves off the foot of the table and have been replaced by Dukla, who score plenty of goals but have a horrible defense. Slovácko's dreadful winless run has also seen them sink into the relegation picture, with the rest of the bottom half clubs still in danger of suffering the same fate. Certainly plenty to keep an eye on there.
København have qualified for the Round of 32 with a game to spare, leaving the other three sides to battle for the second ticket out of Group L. Leipzig have the clear advantage, as they are two points clear of us and Anderlecht and could secure passage with either a win over FCK (if Anderlecht beat us) or a draw (if we beat Anderlecht). Therefore, we'll need FCK to do us a FCKing favor and beat them, and hope we hold our end of the bargain against the Belgians at Eden. It's unlikely to go our way, but we'll give it a go.