Fiorentina / Belgium – 2045/46 Season Review
The sudden disappointment at Sampdoria's usurpation last year has been replaced with elation.
In the absence of a 2nd front to battle on, all of our focus could remain on the league.
And we finished 4th. Glorious 4th.
No Europa League for us. The Europa Conference League can ***** ** ******* **** ****** **** Roberto Mancini's *** ****** ** ***. [We, the editors, apologize for this extreme profanity. Not to mention the gross, vile slander of Roberto Mancini and his good name. We hope that his cat is well, in this dark hour.]
It's time to battle up for La Viola, lads. The Champions League is back on the menu.
Some have asked if I'm kidding, suggesting that I'll eventually forgive Sampdoria when the time comes to manage them again.
I'm not so sure about that. I'm not in a forgiving mood…
But that's enough about that. The World Cup is up next. South Korea 2046, where the Belgians are heavy favorites, sitting on a 39-match unbeaten run, before their final warm-up matches.
The sad thing is that the World Cup may need to wait a few days, though, as I take on an FM-related side project that will be detailed in due course.
Goals for 2046/47:  Not embarrass ourselves in the Champions League. Qualify for the 2047/48 Champions League.
European Review
In the Champions League, Marco Rose's West Ham followed up last year's Europa League title with Ol' Big Ears, beating Ognjen Vranjes' Gladbach, 1-nil.
Champions League: Overview | Knockout Rounds
In the Europa League, Bruno Lage's Atalanta avenged their loss in last year's final to West Ham, defeating Srdjan Plavsic's Lazio, 1-nil, after it was an all-Italian affair in the semifinals.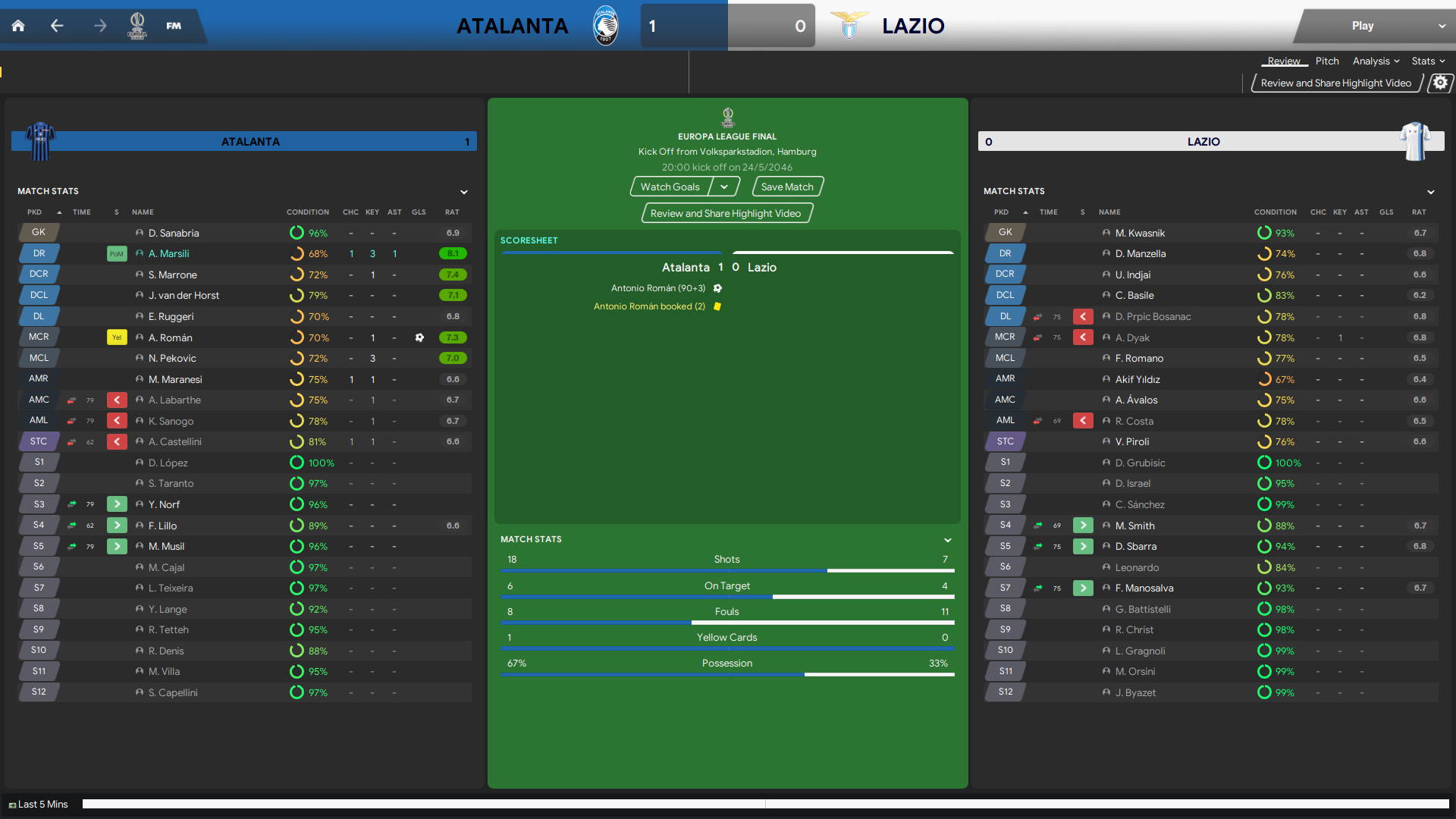 Europa League: Overview | Knockout Rounds
In the Europa Conference League, Quim Ramon's Barcelona beat Konyaspor, 1-nil.
Europa Conf. League: Overview | Knockout Rounds
In the active leagues, Frank Lampard's Wolves claimed the Premier League title. Ognjen Vranjes' Gladbach reclaimed the title from Miguel Beaza's Schalke, who fell to a distant third behind Vranjes' men and Cristiano Ronaldo's Stuttgart. Thomas Tuchel's Sevilla won their 9th straight La Liga title, after the retirement of Paulo Fonseca. Thierry Henry's Monaco secured the Ligue 1 title with a 3-1 win over Matthias Kaltenbach's Stade de Reims on Matchday 38…brutal. Marcelo Gallardo's OH Leuven won their second Belgian title in club history on the heels of last year's triumph. Baba Toure's Panathinaikos won their 22nd straight SuperLeague title, but it was a narrow win — a mere 3 points clear of Arturo Vidal's Aris. Marko Arnautovic's Partizan won their 14th straight title. Finally, Kim Hellberg's AIK won the 2045 Allsvenskan title.
Save/Challenge Overview
If you've stumbled upon this post and are finding yourself a bit confused… Don't worry.  The basic concept behind the Nearly Men save is explained here.  Just need to catch up? Each installment in Nicolaj Bur's story can be accessed through the Nearly Men Archive.
And if you just can't get enough…join us for The Ballad of Toothless Bob, a series that explores the world of Nicolaj Bur, away from the pitch. What is Project Arcturus? What lies beyond the twisted redstone door, deep in the bowels of the Santiago Bernabéu?
---