Way back in the mists of time, there existed a book that described how you could have travelled throughout the European continent for the princely sum of $5 a day. Budget friendly thrills.
I figured this could translate to FM as I continued my search for a save to get my teeth into. The Premier League is one of the toughest leagues to win in the current climate. I will make it even harder by only spending a maximum of £1million on any player. Add to that, I will only make one or two free agent signings per season. Finally, any loans I get in will have to have no fee.
There seemed to be only one team to pick to make it a little harder. Norwich City
Season Review
August saw end up with a 2-0-2 record with an opening day 0-2 defeat to Arsenal, but come roaring back with back-to-back wins, including a good 4-0 win over Swansea and a 1-0 win over Chelsea. Sadly, September wasn't as kind. going 1-0-2, including losses to Wolverhampton Wanderers (1-3) and to Manchester United (1-5), proceeding a 2-0 win against Fulham. We then played very poorly throughout October and November, only picking up 3-0 wins against Brighton & Hove Albion and West Ham. December saw a loss from a winning position against Brentford before we imitated Annie Oakley and became a draw specialist. SIX draws in a row took us into January before snapping that streak with a stunning 4-0 win over Manchester United, including the fan-voted* Goal of the Season. We then pepper-potted the rest of the season with wins and losses only to end the season in May with two consecutive 0-0 draws against Wolverhampton Wanderers and Fulham to finish two places below last season's finish in 11th .
Our FA Cup exploits this season ended at the Quarter Final stage. An early goal saw off our feeder Gillingham in the Third Round as we dispatched them 3-1, before the Fourth Round saw us beating Crystal Palace after a 2-0 win at Selhurst Park. Todd Cantwell was the hero at Carrow Road as we saw Tottenham Hotspur off 1-0. The Fifth Round saw us lose in added time to Manchester United as we went down 1-2.
Next up was the Carabao Cup. A 3-2 win against Aston Villa saw us pass through the Third Round easily. In the Fourth Round, we struggled against Sky Bet Championship side Cardiff City before triumphing on penalties after a 0-0 draw. Our Quarter Final draw saw us paired up with Manchester City. Despite going down to 9 men, a Thierry Ambrose double against his old club saw us gain passage, 2-0, to the Semi Finals. There we faced Everton over two legs and over two legs we triumphed, drawing 1-1 away at Goodison, before winning 1-0 at Carrow Road to send us through to the Final. The Carabao Cup Final saw us face Arsenal. And with the score tied at 1-1 late on, ex-Arsenal youth product Kaylen Hinds followed up his heroics in last season's FA Cup with the winner here, outpacing the defence on 85 minutes to give us a 2-1 win and our second cup success in two years.
Finally, we embarked on Norwich's first European adventure since 1994. We were drawn in Group L of the UEFA Europa League with FC Kobenhaven, AZ Alkmaar & Atalanta. A relatively easy passage through the group stage was had, with our only points dropped in away draws against Atalanta and FC Kobenhaven. Finishing top of the group meant we had a First Knockout Round date with Russia's Zenit St. Petersburg. A tough 1-0 win away in Russia was built on with a 3-1 win at home to give us a 4-1 win on aggregate. Our run ended however in the Second Knockout Round as we lost 0-2 home and away to Spanish heavyweights Sevilla C.F, going out 0-4 on aggregate.
Transfers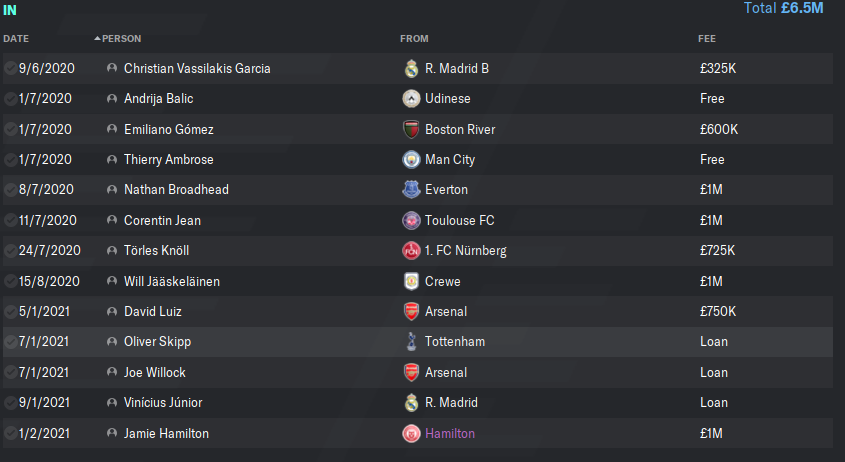 A LOT of players in, none over £1m paid. Let's look at the permanent signing's performances. (TPG: Tackles per game; DPG: Dribbles per game)
Christian Vassilakis Garcia: Games: 20, Goals 4, Assists 4, TPG: 2.43, Pass%: 83%, DPG: 2.62, Avg Rating: 7.02: 'Vassi' was signed from Real Madrid Castilla. He was sequestred in the U-23 team, but came up when the second XI was needed to play. Hopefully, he can kick on to become a major player
Andrija Balic: Games: 40, Goals 3, Assists 4, TPG: 3.05, Pass%: 86%, DPG: 1.78, Avg Rating: 7.11: Andrija came in on a free transfer and became an integral cog in the midfield over the season. Going into next season, he'll be first choice.
Emiliano Gomez: Games: 0, Goals 0, Assists 0, TPG: —, Pass%: —, DPG: —, Avg Rating: —: Emiliano was signed without a work permit. So he was loaned out to FC Dordrecht to play until he gets a work permit, where he scored 16 goals in a full season. However, due to the conditions of the current Brexit, I'm hoping that he'll be grandfathered in.
Thierry Ambrose: Games: 39, Goals 19, Assists 6, TPG: 0.97, Pass%: 87%, DPG: 2.40, Avg Rating: 7.22: 'The King' was signed on a free from Manchester City and given the job of first choice striker. He repaid us with goals in every tournament he played in and cemented his first choice status.
Nathan Broadhead: Games: 2, Goals 1, Assists 0, TPG: 4.05, Pass%: 84%, DPG: 4.05, Avg Rating: 7.00: Nathan was loaned out to Coventry City as he was brought for squad depth. He sat on their bench, before suffering a broken ankle. He was recalled and made two appearances, but did nothing to convince me he could be a starter next season.
Corentin Jean: Games: 32, Goals 10, Assists 3, TPG: 1.32, Pass%: 84%, DPG: 3.27, Avg Rating: 7.05: Corentin was a target of mine all last season, scouted to death. His first season as the backup right winger/striker was very good, as he was our joint top league scorer with 7. He'll continue being backup and playing in rotation games.
Tories Knoll: Games: 0, Goals 0, Assists 0, TPG: —, Pass%: —, DPG: —, Avg Rating: —: Tories was spotted on a scouting mission last season and signed with the provision that he would be loaned back to 1.FC Nurnberg. Whilst in Germany, he hit 27 goals as they secured promotion. He'll be fighting with Ambrose for the main striker role this season.
Will Jaaskelainen: Games: 0, Goals 0, Assists 0, TPG: —, Pass%: —, DPG: —, Avg Rating: —: Will was signed and immediately loaned back to Crewe Alexandra. He'll return and make Tim Krul obsolete.
David Luiz: Games: 18, Goals 3, Assists 1, TPG: 1.69, Pass%: 87%, DPG: 0.23, Avg Rating: 7.21: David was signed on an 18-month deal from Arsenal. We were severely stuggling to get league results, conceding late goals, so Luiz was a good stop-gap. He had an excellent season and I'll be said to see him go at the end of next season.
Jamie Hamilton: Games: 0, Goals 0, Assists 0, TPG: —, Pass%: —, DPG: —, Avg Rating: –: Jamie was signed from our feeder club Hamilton Accademicals after a long campaign of scouting, destabilisation and promotion. Again, he was signed and loaned back to his club where he had a decent season. He's still not Premier League standard, so he needs another loan or two.
Signed Players Out
Emilano Gomez > FC Dordrecht (loan)
Tories Knoll > 1. FC Nuremberg (loan)
Will Jaaskalainen > Crewe Alexandra (loan)
Nathan Broadhead > Coventry City (loan)
Joaquin > SD Huesca (loan)
Tyler Blackett > Blackburn Rovers (loan)