Way back in the mists of time, there existed a book that described how you could have travelled throughout the European continent for the princely sum of $5 a day. Budget friendly thrills.
I figured this could translate to FM as I continued my search for a save to get my teeth into. The Premier League is one of the toughest leagues to win in the current climate. I will make it even harder by only spending a maximum of £1million on any player. Add to that, I will only make one or two free agent signings per season. Finally, any loans I get in will have to have no fee.
There seemed to be only one team to pick to make it a little harder. Norwich City
Season Review
August saw again end up with a 2-0-2 record with an stunning opening day 5-1 win over Everton looking to set the tone, but back-to-back losses to Manchester City (0-1) and Chelsea (1-3) dampened the mood before a morale-boosting 1-0 win over Aston Villa ended the month. Sadly, September was also the same as the season before. going 1-0-2, including back-to-back losses to Southampton (0-1) and to Manchester United (0-2), before a 3-0 win against Crystal Palace lightened the mood. October saw us lose our first game of the month to Tottenham Hotspur (0-1) before going unbeaten through the rest of the month and November too, only picking up our next defeat in mid- December which saw back-to-back losses against West Ham (0-1) and Liverpool (0-2). We closed out the year with two more wins. January saw us win three of four, with 2-0 wins over Manchester City and Tottenham Hotspur the most important, only to have a poor 0-1 loss to Stoke City blot our copy book. February saw us sandwich back-to-back defeats against the Merseyside clubs with big wins against Crystal Palace (4-1) and West Ham (5-0). We then went unbeaten in March, to win/loss all the way through April, before losing the opening game of May to Chelsea (0-2). But we came back strong to go the rest of the season unbeaten (including a stunning two-goal come back to draw 2-2 with Manchester United) to leapfrog an ailing Manchester City and finish four places above last season's finish in 7th.
Our FA Cup exploits this season sadly ended at the Semi Final stage. A huge 8-0 win saw off Portsmouth in the Third Round replay as we drew 2-2 at Carrow Road, before the Fourth Round saw us again being taken to a replay, this time winning 3-0 against Tottenham Hotspur after a 2-2 draw at Carrow Road. The Fifth Round saw us stroll to a 2-0 win over Barnsley, before we triumphed in the Quarter Final against Burnley by the same score. Our Semi Final was against Liverpool and, although we fought hard, a late Liverpool equaliser and a missed Todd Cantwell penalty saw us exit the competiton on penalties, 4-5, after a 1-1 draw.

Next up was the Carabao Cup. A 3-1 win against Sky Bet Championship side Aston Villa saw us pass through the Second Round easily. In the Third Round, we knocked out Sky Bet Championship side Portsmouth out of another domestic cup by the same scoreline as last round. Into the Fourth Round and we piled on the misery for last season's relegated club Brentford, winning 6-0. Our Quarter Final draw saw us paired up with Tottenham Hotspur and, as with the FA Cup 4th Round, they were sent packing with a 2-0 defeat.. In the Semi Final, there was more than a whiff of deja vu as we faced Everton again over two legs and over two legs we again triumphed, losing 1-2 away at Goodison, thanks to a 95th minute red card by Rocky Bushiri and a 96th minute winning goal from the resulting free-kick before winning 1-0 and then 4-2 on penalties at Carrow Road to send us again through to the Final. The Carabao Cup Final saw us face Southampton. David Luiz scored a penalty early on in the second half to put us 1-0 up, only to concede a late goal to take the game to extra time. However, in extra time, Southampton crumpled like a wet paper bag and four goals meant that we eventually coasted to a 5-1 aet win and our first ever back-to-back cup wins.

Finally, we embarked on Norwich's first European adventure in the new UEFA tournament. We kicked off in the Best Placed Fourth Qualifying Round against Irish side Dundalk and identical 3-1 wins both home and away saw us easily into the Group Stage. We were then drawn in Group F of the inaugeral UEFA Europa Conference League with Schalke 04, Vojvodina Novi Sad & Shamrock Rovers. And it was Schalke who gave us our sternest test as we finished top with a 100% record. Finishing top of the group meant we had a Second Knockout Round date with Turkey's Galatasaray A.S. A good 3-1 win away in Istanbul was built on with a 2-0 win at home to give us a 5-1 win on aggregate. Switzerland's FC Basel were our opponents in the Quarter Final and as we triumped 5-1 at home, a very youthful side beat them 3-0 at home and 8-1 on aggregate. We followed the same MO against our Semi Final opponents Red Star Belgrade. A good 4-1 win at home was followed by the youth team winning 2-1 away in Serbia. This put us into the Final against Italian giants A.C Milan. Christian Vassilakis Garcia put us 1-0 up within the first minute and Vincius Junior doubled our lead inside 10 minutes. From the, it was plain sailing as we coasted to a 4-2 win and became the first ever winners of the UEFA Europa Conference League.
Transfers

A look to the future this season, with a look towards Brexit. Let's look at the permanent signing's performances. (TPG: Tackles per game; DPG: Dribbles per game)
Ruben Goncalves: Games: 0, Goals 0, Assists 0, TPG: —, Pass%: —, DPG: —, Avg Rating: —: Attacking midfieler Reuben was signed with an eye to either the future or a good profit.
Jack Arrowsmith: Games: 0, Goals 0, Assists 0, TPG: —, Pass%: —, DPG: —, Avg Rating: —: Attacking midfielder Jack was signed as a punt on a lower league player. Recommendations were good from our scouts and at £100k, a inexpensive flyer on a may/may not prospect who will need retraining to MC
Ben Wiles: Games: 17, Goals 2, Assists 3, TPG: 3.50, Pass%: 85%, DPG: 2.84, Avg Rating: 7.13: Utility central midfielder Ben was signed as depth for the central midfield roles and played his part well for the most part, appearing in every competition. I think he's limited in his development, but will serve until we can source better players/youth for his role.
Matt Cain: Games: 6, Goals 3, Assists 3, TPG: 2.41, Pass%: 76%, DPG: 1.55, Avg Rating: 7.93: Central midfielder/striker Cain was scouted playing in Wales, but a talent like that was too good to waste away there. We swooped in for a ridiculously low fee and Cain will compete for a first team slot next season
Tom Curran: Games: 6, Goals 2, Assists 2, TPG: 2.21, Pass%: 83%, DPG: 1.48, Avg Rating: 7.38: Tom was part of a long, drawn-out transfer battle between me and Oxford United who did not want to let him go. Finally, the player himself declared he wanted out and we snapped him up for the maximum amount. Curran looks to have bags of talent and will, at the very least, play the Second XI role in the upcoming season.
Signed Players Out
Emilano Gomez > FC Dordrecht (loan)
Kaylen Hinds > Wigan Athletic (loan)
Demetri Mitchell > New England Revolution (loan)
Nathan Broadhead > Gillingham (loan) / Vancouver Whitecaps (loan)
Joaquin > SD Huesca (loan)
Tyler Blackett > Preston North End (loan)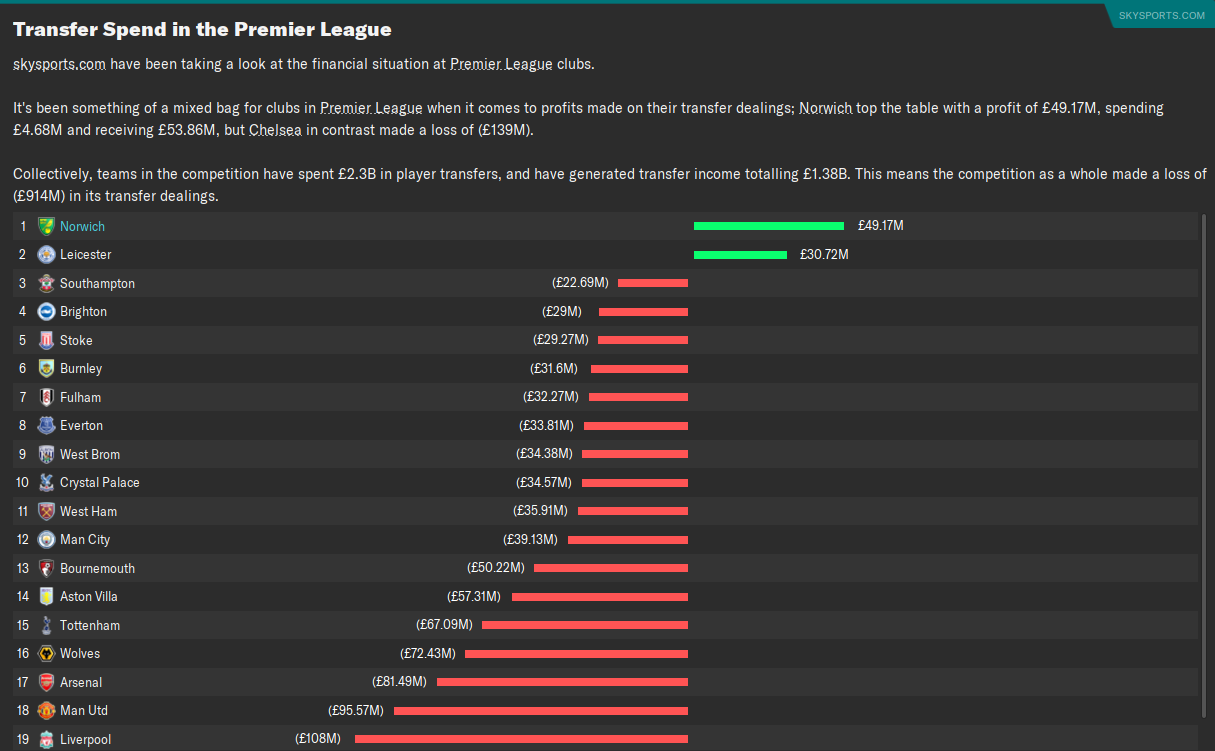 This graphic tells me that our plan is working. With the sales of players we had to begin the career with and the (hopefully) judicious signing policy, we look very healthy for the upcoming seasons.