Way back in the mists of time, there existed a book that described how you could have travelled throughout the European continent for the princely sum of $5 a day. Budget friendly thrills.
I figured this could translate to FM as I continued my search for a save to get my teeth into. The Premier League is one of the toughest leagues to win in the current climate. I will make it even harder by only spending a maximum of £1million on any player. Add to that, I will only make one or two free agent signings per season. Finally, any loans I get in will have to have no fee.
There seemed to be only one team to pick to make it a little harder. Norwich City
Season Review
August saw us win the opening match against Leicester City, 2-0, before managing a point against our nemesis, Liverpool after a 3-3 draw. The theme of no defence continued as we won a wild one against Watford, 5-4 to end the month as Andrea Belotti hit 4.
September saw us batter Huddersfield Town, but only come away with a point in a 0-0 draw. before reeling off three wins in a row to end the month, including an excellent 2-0 win over Arsenal at home.
October was a mixed bag of a month, a 1-1 draw at Tottenham Hotspur was followed by our first defeat of the season in a 0-1 reverse against Manchester City. We completed the month and our Manc double-header by beating Manchester United 3-0.
Identical 3-0 wins over Newcastle United & Crystal Palace kicked off November before our customary struggle away to Burnley happened with a 1-1 draw to end the month.
From December to February, we dropped just 7 points; two draws away to Bournemouth (0-0) and Manchester United (1-1) and a late 1-2 loss away to Manchester City.
March started so promisingly with a 5-0 win over West Ham United, before March Madness set in and we lost 0-1 to Chelsea and then, even worse, lost 0-2 to Wolves. This run concinded with an injury to Stephen Goode, which put him out for a month..
April saw us go a perfect 5-for-5 for results with only the one goal conceded as we disposed of Newcastle United, Crystal Palace, Sheffield United, West Bromwich Albion and Burnley.
May saw us level with City on points, but behind on goal difference. A 4-1 win over Watford saw us improve our goal difference, then a whopping 6-1 win over Huddersfield Town while City lost 0-2 to rivals United. This saw us 3 points clear at the top of the league with one game to go. But our game with Arsenal didn't go the way we'd planned, as we lost 0-1. Luckily, Southampton beat City 0-1 too and we won the first Premier League title in the club's history!!
Our FA Cup exploits this season saw us start in the Third Round as we faced recently relegated Brighton and Hove Albion, 2-0, before the Fourth Round saw us paired up with seemingly unstoppable Liverpool. A battling 2-2 draw at Carrow Road saw us into a replay. There was precious little hope for it, but we upset the form book at Anfield, beating them 2-0 with one of the goals, the fan-voted Goal of the Season by Todd Cantwell. The Fifth Round saw us play Stoke City and an easy 3-0 win saw us into the Quarter Final where we dispatched Wolverhampton Wanderers by the same score. Our Semi Final saw us face Aston Villa at Wembley and we monstered them as we swept into the Final, winning 5-0. As the day loomed, we would face Bournemouth in the FA Cup Final. Stephen Goode had his first start since his injury and it was his goal that tied it up at 1-1 at half-time. Andrea Belotti scored his 29th goal of the season to put us 2-1 up in the second half, only to be pegged back to 2-2 by full time. Extra time beckoned and the first half of it was dull, until the second half of ET exploded. First Todd Cantwell saw a straight red for a two-footed lunge on 107 mins, then Jamie Hamilton stabbed in from close range following a badly defended corner on 115 minutes to put us up 3-2. Bournemouth flooded forward, only to see Andrea Belotti break the offside trap and finish for his 30th goal of the season and to win the FA Cup for us, 4-2 AET.

Next up was the Carabao Cup. We were reigning holders and winners of three on the bounce, so I was looking for a fourth. A 4-1 win against Sky Bet Championship side Hull City saw us pass through the Third Round easily. In the Fourth Round, we struggled against another Sky Bet Championship side Cardiff City, only triumphing on penalties after a 0-0 draw. Our Quarter Final draw saw us paired up with West Bromwich Albion and we again struggled to put them away, winning on penalties after another 0-0 draw. In the Semi Final, we faced Burnley over two legs. A tight 1-0 win at home saw us go to my unhappy place and so it proved again, as we had to triumph on penalties again as we lost 1-2 away with 10 men, seeing David Brormann get a debut red card. That sent us again through to the Final. The Carabao Cup Final saw us face Arsenal for the second time in the cup final. Arsenal beat Everton to get to the Final, which stopped us facing them for a fourth year in a row.. Stephen Goode was our hero in this, rising up to head home on 2 minutes to seal a fourth consecutive Carabao Cup trophy, 1-0.

Finally, we embarked on Norwich's first-ever European adventure in the UEFA Champions League. We kicked off being drawn in Group G with Atletico Madrid, SL Benfica & FC Kobenhaven. And it was Atletico who gave us our sternest test as they thumped us twice, 1-4 and 1-3 which meant we qualified second in the group. This meant we went in to the First Knockout Round for a date with…. AFC Ajax Amsterdam.... We showed them our true quality in the home leg, thumping them 4-1, whislt playing the youth away and drawing 1-1. French giants Paris Saint-Germain were our opponents in the Quarter Final and I had a decision to make. Priortise the CL and miss out on possibly three domestic trophies, or sacrifice the CL and triumph domestically. I chose the latter and we lost 0-2 at home and 1-4 away to send us out.
Transfers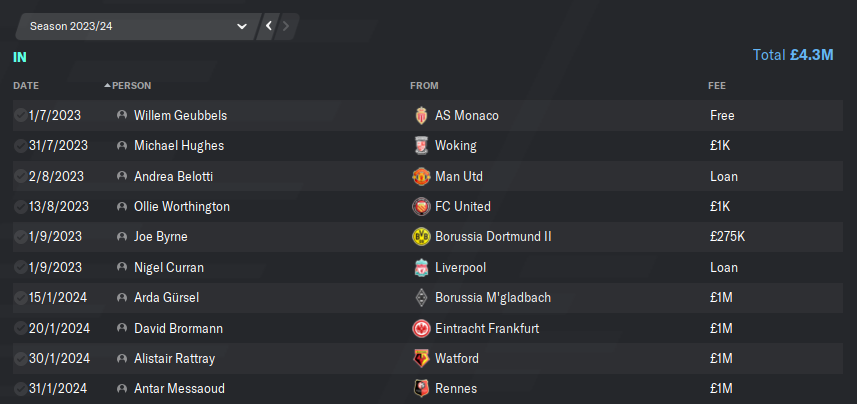 We started small, but got out of control spending for the future. Let's look at the permanent signing's performances. (TPG: Tackles per game; DPG: Dribbles per game)
Willem Geubbels: Games: 0, Goals 0, Assists 0, TPG: —, Pass%: —, DPG: —, Avg Rating: —: Striker Willem came with a decent reputation from Monaco, but was sent out on loan to Crewe to see if he could hack it. He'll have to rapidly improve if he's going to stay at the club. let alone push Goode and Garcia.
Michael Hughes: Games: 0, Goals –, Assists 0, TPG: —, Pass%: —, DPG: —, Avg Rating: —: Left-sided defender Michael was signed as a low-cost, low-risk development project. He'll hothouse in the youth teams until he's sent out on loan.
Ollie Worthington: Games: 0, Goals 0, Assists 0, TPG: —, Pass%: —, DPG: —, Avg Rating: —: Attacking midfielder Ollie was again signed as a low-cost, low-risk player. I'm not sure he'll ever amount to anything, but we should at least make a profit.
Joe Byrne: Games: 1, Goals 0, Assists 0, TPG: —, Pass%: 88%, DPG: 1.00, Avg Rating: 6.90: Midfielder Joe was signed as a talent that may help us, much like Ben Wiles did. However, he played just the one game, a 1-0 win over FC Kobenhaven in the UEFA Champions League.
Arda Gursel: Games: 0, Goals 0, Assists 0, TPG: —, Pass%: —, DPG: —, Avg Rating: —: Striker Arda was signed as a decent striking prospect, but he needs game time, preferably on loan
David Brormann Games: 3, Goals 1, Assists 0, TPG: 3.46, Pass%: 81%, DPG: 2.77, Avg Rating: 6.80: Attacking midfielder David didn't make the most auspicious start to his Norwich career, as he was sent off on his debut. At 19 years old, he has a few years of loans ahead of him before he can look at being a first-teamer.
Alistair Rattray: Games: 0, Goals 0, Assists 0, TPG: —, Pass%: —, DPG: —, Avg Rating: —: Winger Alistair was poached from Watford after unsettling him and getting Watford to sell him at an absolute steal. At 18, he's got a few years ahead of him, but he looks like he could make it.
Antar Messaoud: Games: 0, Goals 0, Assists 0, TPG: —, Pass%: —, DPG: —, Avg Rating: —: Attacking central player Antar has the potential to play up the middle in all attacking roles, so it was quite a coup to steal him from France. He was immediately loaned back to previous club Stade Rennais FC for the season
Signed Players Out
Willem Geubbels > Crewe Alexandra (loan)
Deniz Demir > Cardiff City (loan)
Jorge Rivera > Seattle Sounders (loan)
Ben Wiles > Rangers (loan)
Christian Vassilakis Garcia > Real Valladolid C.F (loan)
Nathan Broadhead > Sheffield Wednesday (loan)
Sonny Hilton > Gillingham (loan)
Torles Knoll > Lokomotiv Moscow (loan)
Thierry Ambrose > Sporting Gijon (loan)
Antar Messaoud > Stade Rennais FC (loan)
Claudio Gomes > RB Leipzig (loan) / RB Leipzig (sold for £7m) Gomes was heralded as a great coup from Manchester City when he was signed, but on his arrival at the club, he'd already been superceded by some of the youth players, so he was farmed out on loan, until RB Leipzig took him in and made a £7m bid. He wasn't one of the worst signings, because he still had talent, but it was a mistake to bring him in at the end of the season where he came obselete. However, we made £6m profit on his move so, really this is a middle-of-the-road signing: Signing Rating: 5
Manolo Portanova > Crewe Alexandra (loan)
Reuben Goncalves > Angers SCO (loan)
Matt Cain > Huddersfield Town (sold for £20m) Matt was signed from lower league Wales and was a good player for us in his time here. But the huge fee being offered and the surplus of talent in the midfield meant that we were happy to let him go. He was still a first team player at the time of his sale and the near-on £20m profit means that he goes down as one of the best signings I've made so far. Signing Rating: 9
Corentin Jean > Burnley (sold for £15m) Corentin was an early buy for the club and had a decent career with us as a backup, winning 5 trophies. Again, he was victim of my talented youth players needing game time and Burnley came in with an excellent offer. He was still perfectly servicable at the time of sale, so he rates highly as a signing. Signing Rating: 7
So the second wave of players that we signed by me have departed the club. These were actually good players who I was sad to lose (apart from Gomes) and we ended up much better off in the bank balance