The Aim
I'm going to be honest here: starting a project like the Red Jackals of Prague was a bad idea. I was home from college on winter break and wanted a new save and story to dive into for the six weeks I was home. I created a detailed story outline, wrote profiles for north of 20 characters, and had even started figuring out which weird references I was going to start shoehorning in. But I just wasn't in the right frame of mind to write narrative, and before I knew it, I was back at school. I haven't been able to get in that frame of mind since, but with my studies now done for the year, I'm confident I will at some point this summer.
But I'm almost always in the frame of mind to play FM. So a little while back, I started a new save that would keep me engaged with FM without having to worry about constructing a narrative, which is guaranteed to hold me back because of how much effort I put into my narratives. I've decided to document that save here, and it's called From Ajax to Ajax. This means I'll be beginning my career down in the South African second tier with Ajax Cape Town, with the goal of managing Ajax Amsterdam in the future. I wanted some change from the usual European routine that I'd gotten used to (this is the first time I've ventured out of Europe since my Aldosivi save three years ago), but the goal will be to get back to that routine eventually. However, I don't anticipate the path from Ajax to Ajax to be a perfectly straight line, so there will be three distinct stages to this save, each with its own set of goals:
Ajax Cape Town– Gain promotion to the Premiership, win the Premiership, win the CAF Champions League
Unknown second-tier Dutch club– gain promotion to the Eredivisie, qualify for European football, win a trophy of some kind
Ajax Amsterdam– Dominate Dutch football, sign South African youth, win the UEFA Champions League, win the FIFA Club World Cup
As I've never managed in the Netherlands before, I'd like to experience all the country has to offer before taking the step up to the giants from Amsterdam. I think each of these stages will be loads of fun in its own way, as there are unique challenges to fulfill in all three.
Game Setup
I've loaded only the top two tiers in South Africa and the Netherlands as playable, with the top two leagues in the major European nations and the top tier in Portugal and Belgium on view only. The other leagues will be added as playable once the save reaches European territory. All African and European internationals are in the database, as well as all South African players.
So without further delay, we shall begin the first leg of this journey in beautiful Cape Town!
---
The Club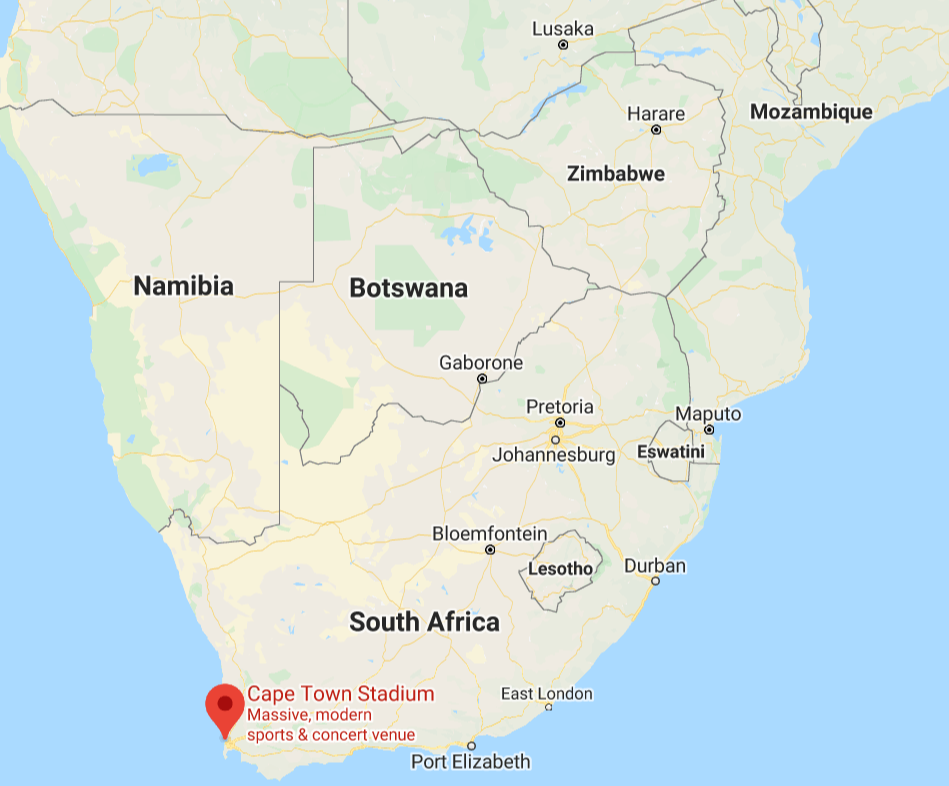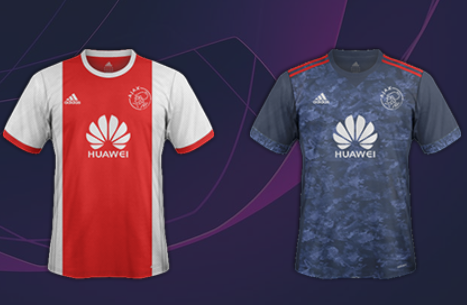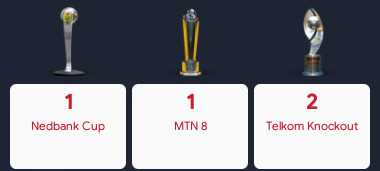 We've won all three of South Africa's main cup competitions in the past, but never a Premiership or a continental title. This must change.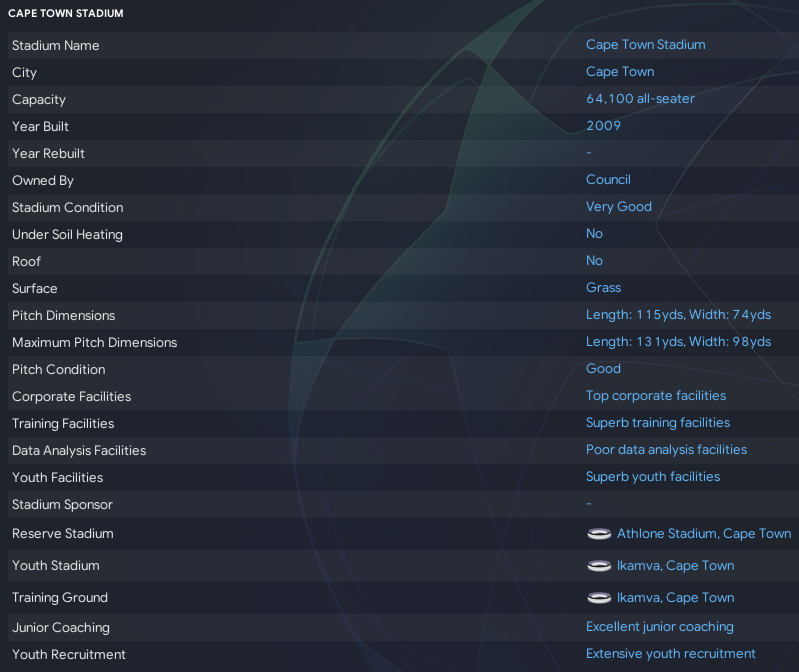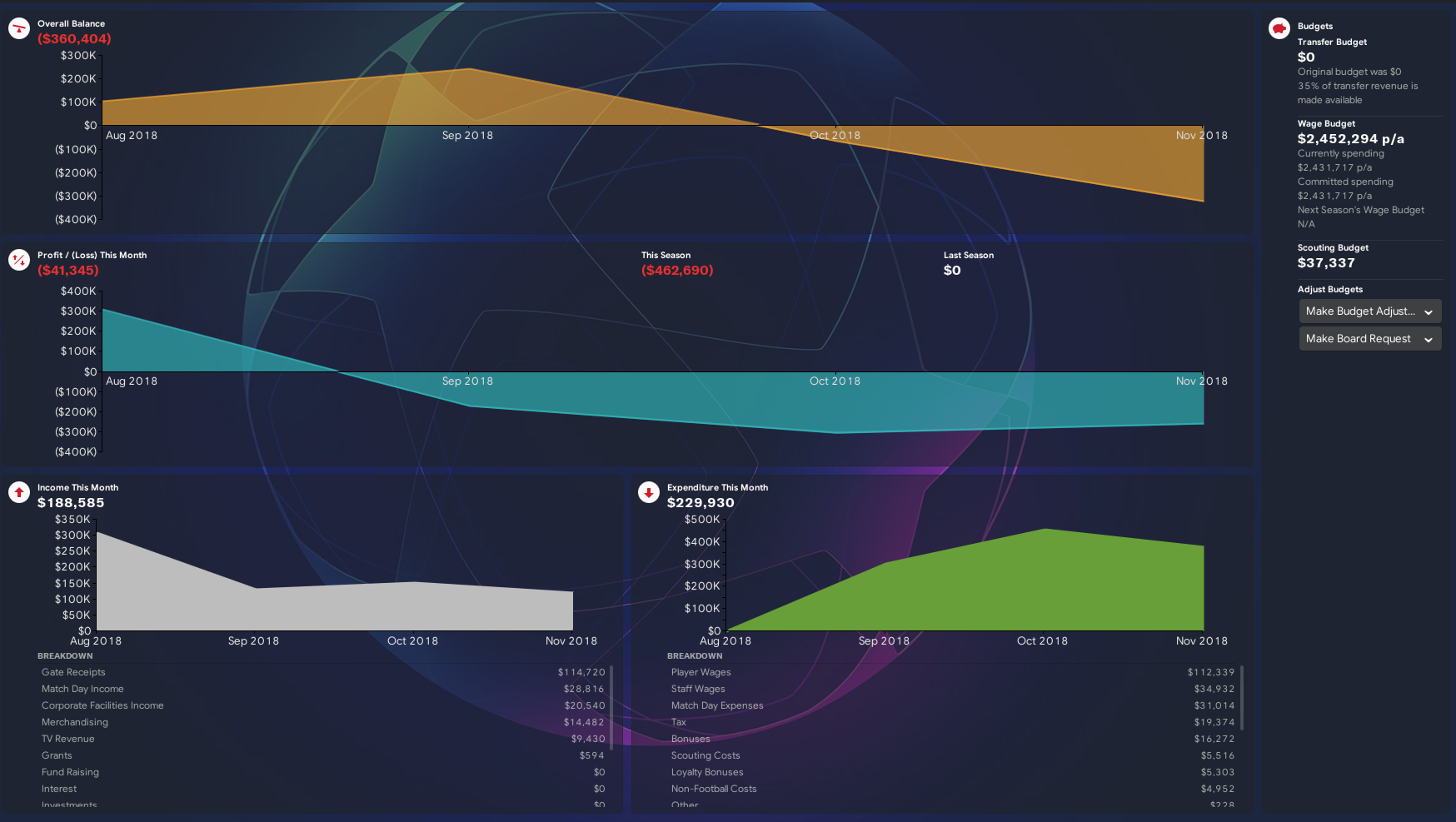 We're very well-endowed with our facilities, as we have excellent ratings in all the important facility categories. After all, we're a cog in the wheel in one of the best youth systems on the planet! The 64,000 capacity Cape Town Stadium was built for the 2010 World Cup, where it hosted eight matches up to the semi final stage. We share it with our foremost rivals Cape Town City, with whom I hope we will be contesting the Ikapa Derby soon.
We're not doing too well financially, however, as we've slipped into the red after just a few months. Hopefully promotion to the Premiership will right the ship.
---
The Squad and Tactics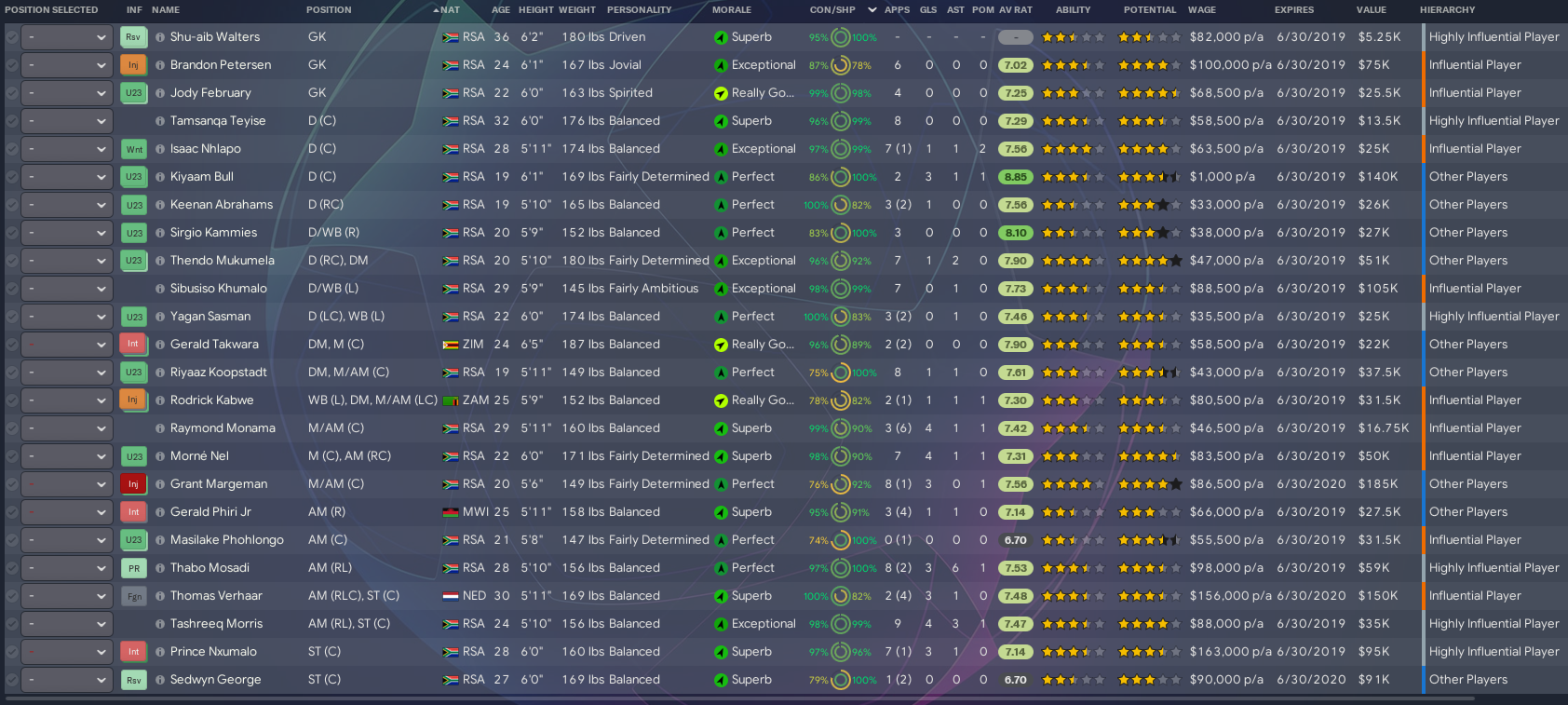 I'm pretty happy with the squad's balance; there's no gaping holes I need to worry about filling. Instead, I can focus on building for the future when the transfer window comes around. We have the maximum of four foreign players allowed for the second tier, and since none of them are first choice and three of them are out of contract in the summer with strict rules in place for foreign players' contract renewals, I can see some change coming there. Also, we have two high-quality players whose transfers are already arranged for the summer in keeper Brandon Petersen and striker Prince Nxumalo, both of whom will be moving to Bidvest Wits for a measly sum. That's disappointing, but hopefully they'll put in a good shift in their last season here. Here are five of our most exciting young players:
Kiyaam Bull | Thendo Mukumela | Riyaaz Koopstadt | Grant Margeman | Tashreeq Morris
I think all of these players will be very successful for us, and have the potential to follow me to Europe as well. Margeman and Mukumela in particular look like they could become really good players if given the right platform to develop. We have even more young talent in our Reserve and U19 teams, which I'll address when those players earn promotion to the senior squad. If I receive a reasonable bid from a European club for any of my players, I won't stand in the way of their dreams, but other African clubs will have to look elsewhere. Overall, this squad is more than good enough for promotion and should easily get us back to where we belong, but a good amount of work will be necessary to turn it into the best side in Africa. I look forward to that process.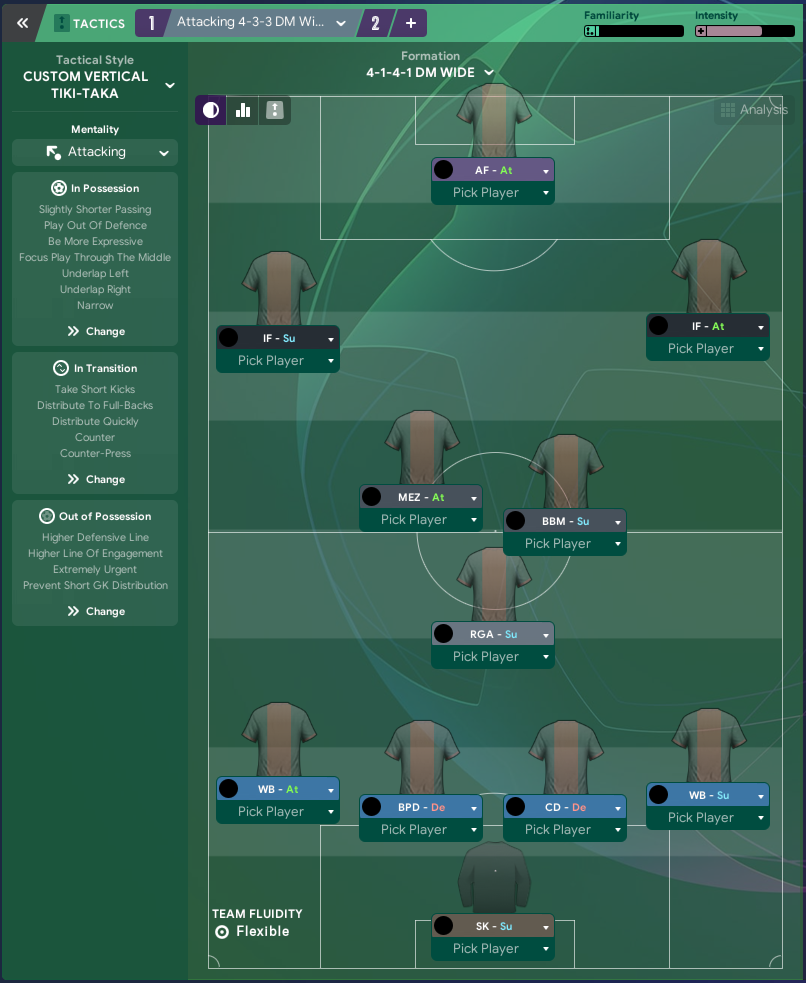 Tactically I'll be using a similar setup to what I used on a community save over on FMCU, which is a 4-1-2-3 Vertical Tiki-Taka tactic with a Regista as the main creative outlet, two Inside Forwards, overlapping Wing-Backs in the defensive strata, and a lone AF up top. We're planning on attacking everybody in the second division with impunity, so I don't really have a settled second tactic yet. That'll be something I'll revisit after we're promoted, when we'll start to face tougher sides.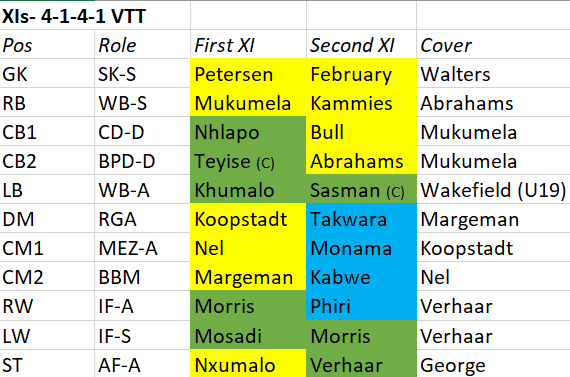 And this is how I plan to arrange the squad this season, between a first XI that will play two thirds of our games and a second XI to cover the remaining third and to come off the bench for the first XI. While we only have the league and Nedbank Cup to deal with this season, I'm a firm believer in using two XIs to make the most out of an entire squad and to develop as many younger players as possible. I'll be updating these XIs after each transfer window, to keep tabs on how the squad is progressing and share my opinions on players.
To explain my rating system, red denotes a player who isn't good enough to play for me (none at the moment, thankfully), blue denotes an expendable squad player, green denotes a quality starter or a good prospect, and yellow denotes a star player or a top prospect that I wouldn't sell for any price (to another African club at least). Morris will be the lucky player who gets to feature in both XIs, switching between wings. Masilake Phohlongo is the odd man out at the moment- he's an AM and doesn't fit the tactic- but he has good potential and I've started retraining him as a striker, where he will hopefully be ready to play a part next season.
---
The Manager

As this won't be a narrative-based save, I won't be giving my manager a story to follow along with, but nonetheless I'd like to introduce you to one Shaka Roosevelt, a South African-Dutch dual national with grand ambitions on two continents. Born in Johannesburg, Shaka came up with Orlando Pirates as a central midfielder before moving to Ajax, where he stayed for ten seasons and gained Dutch citizenship until he moved back to Orlando Pirates to finish his career. Shaka has been hired at Ajax Cape Town on the strength of being a former Ajax player, and hopes to build an impressive enough CV to take on his dream job at his former club someday.

I've started off with a Continental B License, meaning I'll need to gain two more licenses along the way.
---
I'm excited to start this journey, it should be a lot of fun. Hopefully, some of you will stick along for the ride as well.
Gaan! Gaan! Gaan!