2018/19 Pre-Season

We're odds-on favorites to go up as champions, so you don't just have to take my word for it when I say we're going to be playing Premiership football next season. Furthermore, that's what the board expect as well, with any failure to do so sure to provoke some serious scrutiny. They also expect me to reach at least the quarter finals of the Nedbank Cup (South Africa's main national cup), so that means winning at least three ties there. No pressure, eh?
Mukumela and Margeman- who I rated as our two best prospects in the squad intro- are also predicted to be our key men this season, so go figure.

I didn't take charge of the club until before the first Zizwe United friendly, so let the record show that the scoreless draw with The Magic WAS. NOT. MINE. Why might I care about that, you might ask? You can see if you scroll down the page. Ikapa Sporting paid a heavy price in my second friendly, and we improved in our second outing against Zizwe after a lackluster performance in the first.
---
Opening Third

Well, there really isn't a start better than this. Ten wins from ten, six of them clean sheets, and four total smackdowns of the opposition.
It was a great sign when the first of those smackdowns came against Tuks in our opening match of the season at the Cape Town Stadium, as Prince Nxumalo opened our account 23 minutes on and Thabo Mosadi followed up with the first of several hat tricks we would see throughout these first ten games.
Supposed title rivals Cape Umoya gave us our toughest game of the season up to this point to start September, as we raced out to a 2-0 lead in the first half but conceded two brilliant goals in the early stages of the second half. However, a stoppage time trip on Mosadi gave Nxumalo the opportunity to win it late from the spot, which he took well. We then breezed through the rest of September with easy wins over Witbank Spurs*, Maccabi, and Uthongathi, the last of which saw Morne Nel record our second hat trick of the season.
October began with another big win over relegation-threatened Jomo Cosmos*, but fellow strugglers Mbombela gave us much more of a game. Tashreeq Morris bagged a brace in the first half thanks to two goalkeeper errors, but they got a goal back on 89′ and had an equalizer disallowed for offside, in a match where we also had two goals chalked off. We finished the month with a routine win over Richards Bay, the highlight being Riyaaz Koopstadt scoring a brilliant long-range goal to open his account for the club.
November started with our most dominant performance so far, a 7-1 thrashing of local rivals Stellenbosch* at the Cape Town Stadium. The second XI really showed their value here, as they recorded a result more explosive than anything the first XI have put up so far. There were a lot of good things to speak of here, but a particular highlight was our bright young center back Kiyaam Bull quite incredibly netting a hat trick and providing an assist for fellow young CB Keenan Abrahams. All three of Bull's goals came off headers from set pieces taken by Mosadi, who ended up with four assists in total. There was also an especially ruthless goal from our Dutch striker Thomas Verhaar, who has given a decent account of himself in this first third of the season. I suppose it was fitting that Stellenbosch's only goal came from a set piece as well, but it was only the most puny of consolations in a special victory for us. We did have a huge comedown in our next game against Ubuntu Cape Town, but we still managed to get our tenth consecutive win, with center back Isaac Nhlapo heading in his first of the season from another Mosadi corner to break the deadlock in a poor game.
* denotes a second XI match
---
League Table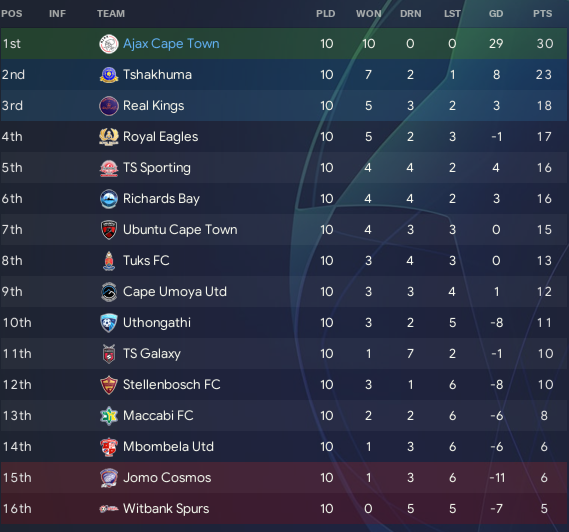 It shouldn't be hard to see why we're first. While promotion is expected and was always going to be likely, even I couldn't have seen us starting this well. While it'd be silly to predict that we're going to keep this exact form up, it doesn't look like we'll have any trouble going up based on these performances, and an unbeaten season isn't out of the question if we remain focused.
However, it's worth noting that we've yet to play second-placed Tshakhuma, who have also started very well and look like the only side close to our level in this division. We will face likely our toughest test of the season away to them in our last league fixture before the winter break. We're also yet to play third-placed Real Kings, who we will play the week prior to the Tshakhuma game. They're currently leading a very tight race for third place, which is the second promotion playoff spot. To provide a quick explanation, the champion of the First Division is the only team guaranteed to go up, with second and third joining the 15th-placed team in the Premiership in a four-game miniature league, with the team finishing top either retaining or gaining the right to play in the Premiership. I'm glad we're on pace to avoid that playoff so far.
At the other end of the table, Witbank Spurs, Jomo Cosmos, Mbombela, and Maccabi have all been particularly poor, with Witbank unable to find a win in their first ten games. It's also worth noting how TS Galaxy appear to have adopted Tony Pulis tactics, as they have drawn seven times with just one win but only two losses, having neither scored nor conceded more than two goals in a match so far. I hope we can put a dent in that record, in our favor of course.
---
The middle third of the season will take us through February and thus the winter transfer window. We'll also begin play in the Nedbank Cup and face several tests against top half sides in the league.
Gaan! Gaan! Gaan!