Way back in the mists of time, there existed a book that described how you could have travelled throughout the European continent for the princely sum of $5 a day. Budget friendly thrills.
Having conquered England with Norwich, I took my £1m buying philosophy to the home of bratwurst, the 1516 Purity Law and Hachez chocolate. With colossal juggernault FC Bayern Munich dominating and, in these times, a once-proud team were struggling at the foot of the league…
There seemed to be only one team to pick. SV Werder Bremen
Season Review
August saw us win the opening match of my reign against SC Freiburg, 2-1, before managing a point against Fortuna Dusseldorf after a 1-1 draw. We ended the month with a brilliant 2-0 win over perennial European qualifers Schalke 04.
September saw us batter 1.FC Koln, but only come away with a point in a 1-1 draw. before a Toni Kroos double put away relegation strugglers Hamburger SV in a 2-0 win. Finally, we finished the month with our first defeat, a 1-2 loss against VfL Wolfsburg.
October was a good month, a poor 3-3 draw at TSG 1899 Hoffenheim after being 2-0 up was followed by a come-from-behind 3-2 win against 1.FSV Mainz 05. We completed the unbeaten month, putting away Borussia Monchengladbach 2-0.
November was a big month. We faced the 'Big 3' in Germany all at once, but before that, we warmed up with a 2-1 win over Hertha Berlin. First up was Borussia Dortmund, who escaped back to the Westphalia with a point after a 0-0 draw. Next up was Bayer 04 Leverkusen, with much the same result as we managed a 0-0 draw again. Finally this month, we survived a first minute red card to snatch a 1-1 draw against giants FC Bayern Munich.
Torles Knoll went goal crazy in December with six goals in two games, two in a 2-0 win over Rassenballsport Leipzig and all four in a 4-2 victory over Eintracht Frankfurt
January 2025 came around as did the transfer window. We kicked off the new year with back-to-back 1-1 draws against VfB Stuttgart and SC Freiburg before a very poor 0-1 defeat to Fortuna Dusseldorf ended January on a down-note
If January was bad, February was a sucker punch. A stunning 6-2 win over Schalke 04, punctuated by a hat-trick from youth academy winger Christian Baumann was swiftly followed by back-to-back defeats to 1.FC Koln (0-1) and Hamburger SV (1-3). Baumann popped up again with a 2-0 win against VfL Wolfsburg to stem the flow.
March, much like the season it was in, was a very changable month. A 0-3 thumping against TSG 1899 Hoffenheim was followed by a 2-0 win over 1.FSV Mainz 05 and then a comeback 2-2 draw against Borussia Monchengladbach when we had 7 first team players out in the defence. To end the month, we put five without reply past Hertha Berlin with another Christian Baumann hat-trick leading the way.
April saw us with only seven games left to play, but we had to face the top 5 in that period. A humbling 0-6 defeat to Borussia Dortmund was quickly followed by a 0-2 defeat to Bayer 04 Leverkusen. Fearing the worst, I sent the players out to do their best against FC Bayern Munich and we came within a 98th minute equaliser of a famous victory, drawing 1-1. January window signing Hendrik Bohm finally getting his first goal for the club in his 17th match. We finished April with another 1-1 draw, this time against Rassenballsport Leipzig, with Bohm again on target.
May saw us thump Eintracht Frankfurt for a second time, 4-2. Bohm continuing his hot streak with a double, then another comeback 2-2 draw, this time against FC Augsburg with Bohm against on target. Our final match of the season saw us play as many of the youth players available as we could against VfB Stuttgart. We exploded into a 2-0 lead, before full back Oktay Yalcin got his marching orders and Stuttgart pulled one back. Happily, that's the way it stayed in the second half and we finished my inaugaral 1.Bundesliga season in 6th place, snatching a UEFA Europa Conference League spot.
Our DFB-Pokal exploits this season came to a shuddering half in the First Round, as we lost 0-1 to FC Ingolstadt
Transfers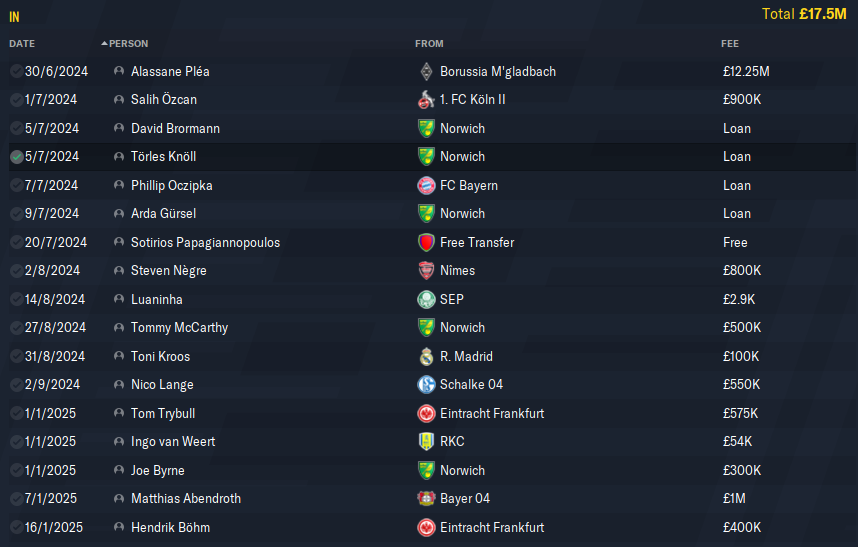 There was a lot of buys this season as I looked to stamp my authority on the squad. A quick note on the first signing. This was set up before I joined the club and the player was CLEARLY not worth the money, so he lasted 14 days at the club before I shipped him out to Lokomotiv Moscow for £9.75m. (TPG: Tackles per game; DPG: Dribbles per game; CON/90: Conceded goals per 90 mins)
Salih Ozcan: Games: 28, Goals 3, Assists 3, TPG: 3.63, Pass%: 82%, DPG: 1.77, Avg Rating: 7.10: Midfielder Salih was my first signing at the club as we seriously lacked for decent central midfielders. Salih was solid for the season, without being spectacular and will end up being a good squad player for a year or two to come.
Sotirios Papagiannopoulos: Games: 6, Goals 1, Assists 0, TPG: 2.34, Pass%: 88%, DPG: —, Avg Rating: 6.93: Central defender Sotirios was signed again as a solid centre back for cover, this time as a free agent after being released by Norwich. His age and declining skills meant he was no longer fit for long-term duty, but he aquitted himself well in the injury crisis we had. He signed a new deal which included a coaching role as I hope he'll transition into it soon.
Steven Negre: Games: 2, Goals 0, Assists 0, TPG: —, Pass%: 61%, DPG: 2.67, Avg Rating: 7.40: Left winger Steven was signed as a scouted prospect who looked to be a real asset for the team in the future. How he'll fare with Baumann's emergence is a tricky prospect.
Luaninha: Games: 2, Goals 0, Assists 0, TPG: 5.00, Pass%: 86%, DPG: 1.50, Avg Rating: 6.80: Brazilian midfielder Luaninha came into the club with high hopes that he could eventually be our Juninho. His work-rate could be an issue for our plans, but at 18, he has a lot of room to grow.
Tommy McCarthy: Games: 7, Conceded 12, Assists 0, Clean Sheets: 1, Pass%: 76%, CON/90: 1.71, Avg Rating: 6.96: Goalkeeper Tommy was a decent backup at Norwich City, but the victim of the log jam in his position when I left the club, so I swiftly returned to the club to swoop for him. He'll be the backup needed
Toni Kroos: Games: 31, Goals 7, Assists 11, TPG: 2.29, Pass%: 79%, DPG: 1.02, Avg Rating: 7.31: German legend Kroos was a massive coup for the club. He was clearly desperate for an out from Madrid and wanting to come home. To only pay £100k for him was robbery! His physicals have declined shockingly, but he was still able to play a lot of games this season. Hopefully he can still contribute next season and then transition into the backroom staff.
Nico Lange: Games: 0, Goals 0, Assists 0, TPG: —, Pass%: —, DPG: —, Avg Rating: —: Full back Nico was signed as a youth prospect and will continue to be so for a few years before he's eligible for the first team.
Tom Trybull Games: 10, Goals 1, Assists 1, TPG: 3.94, Pass%: 84%, DPG: 0.26, Avg Rating: 7.00: Defensive midfielder Tom joins the ol' home for ex-Norwich players after being sold early on in my reign there. However, we were in desperate need of a DM and Tom was available. For what amounts to a six-month rental, he was invaluable.
Ingo van Weert Games: 2, Goals 0, Assists 0, TPG: 1.50, Pass%: 70%, DPG: —, Avg Rating: 6.90: Defender Ingo was signed purely as a personal favourite.
Joe Byrne: Games: 13, Goals 1, Assists 0, TPG: 2.13, Pass%: 76%, DPG: 2.69, Avg Rating: 6.82: Attacking midfielder Joe ticked a few boxes for us. Young, German national and, errr… ex-Norwich player.. He'll be a good squad player for us hopefully until we got better players.
Matthias Abendroth Games: 3, Goals 0, Assists 0, TPG: 6.21, Pass%: 72%, DPG: 0.78, Avg Rating: 6.67: The biggest money signing of the season, we picked him up for the maximum £1m allowed. He'll start to feature more often in season 2.
Hendrik Bohm Games: 16, Goals 5, Assists 0, TPG: 0.53, Pass%: 83%, DPG: 3.79, Avg Rating: 7.01: Striker Hendrik was signed on a pre-contract agreement in Jan, but I paid Eintracht Frankfurt £400k to take him early. He endured a torrid start to his career before catching fire over the course of 5 games. Sadly he sustained an injury which put him out for the season. Depending on what happens in the off-season, he could be anywhere from first choice to third choice.
Signed Players Out
N/A