January Transfer Window
It's about time I spoke about the contract rules in the First Division. The rules state that players can only be signed to one-year contract extensions, unless there is an extension clause negotiated with the player included. With nearly all of our senior players out of contract in June, this meant I wasted no time getting to work on offering new contracts to everyone I plan on keeping next season. Everyone I approached agreed to a pre-contract deal beginning at the end of the season, including key players/prospects Thabo Mosadi, Tashreeq Morris, Thendo Mukumela, Isaac Nhlapo, Raymond Monama, Riyaaz Koopstadt, and Kiyaam Bull.
As I mentioned in the previous update, South Africa also has strict foreign player rules that make it difficult to keep those players at the club. In addition to a four-player registration limit (five in the Premiership) and a First Division stipulation that only three of those four can be in the same team sheet for matches, there is also a rule in both divisions that in order for a foreign player's contract to be renewed, he must play in 70% of the team's games in his previous contract period. As none of my foreign players are in the first XI and three of them- Gerald Phiri (Malawi), Gerald Takwara (Zimbabwe), and Rodrick Kabwe (Zambia)- are out of contract in June, I put those three players in the shop window hoping to make some money off them before I lost them for nothing, but there were no suitors for them or first XI left back Sibusiso Khumalo, whose wage demands were far too high for my liking. I even failed to loan out our fourth-choice keeper in what seemed to be a frigid January market, despite January being a hot summer month down here…
Therefore, there is no January business to speak of. However, I have secured two (and potentially more) exciting future transfers for next season, who I will describe in detail when they arrive in July.
---
Middle Third

Though we certainly weren't as dominant as we were in the first ten league games, winning seven out of our next ten is nothing to be ashamed of.
November finished with a routine win over top half side Royal Eagles away, where Mosadi scored a screamer from outside the box and Prince Nxumalo tapped in a rebound to propel us to victory.
December began with two narrow 1-0 wins, despite total dominance over TS Galaxy* and Real Kings. An early goal from our captain Yagan Sasman settled the former while a late point-blank winner from Mosadi settled the latter. I knew the away fixture against second-placed Tshakhuma was going to be difficult, and it did indeed serve as our first dropped points of the season. Things started spectacularly on 2′, when our outbound keeper Brandon Petersen- who is also one of our best free kick takers- slammed one in to become the first goalscoring keeper I've managed in my FM career. Tshakhuma would find an equalizer on the counter on 25′ though, thanks to some poor hustle and marking from our back line. Things looked to be going downhill when Morris was sent off for a two-footed lunge on 50′, but our opponents didn't do much with their man advantage and we instead regained the lead on 81′ from Monama, who superbly fired into the bottom-right corner from 25 yards out. It was Tshakhuma who had to settle for a draw, as although they found their second goal quite brilliantly three minutes later, we gave a better account of ourselves overall in Thohoyandou. Our last game of the year saw us take part in the Preliminary Round of the Nedbank Cup, in which all 16 First Division sides face off for a spot in the competition proper. Our opponents were strugglers Maccabi*, who we dispatched easily with brilliant long-range goals from Takwara and Monama, plus a late cushion from our third-choice striker Sedwyn George, who scored his first goal of the season. We will play Cape Umoya in the First Round at the end of February.
After the 16-day Christmas break, we returned to action in the new year, but January is where our form took a dip. We battered TS Sporting, but only won 1-0 by way of a long-range thumper from Nxumalo. Then came our first loss of the season, a total FMing away to Tuks where we outshot them 47-5 and their goal came from a free kick. Sometimes it just happens like that, I suppose. We got back to winning ways against relegation-threatened Witbank Spurs* courtesy of a brace from Phiri, but we still shouldn't have been conceding two goals against them. That was quickly erased by another rough loss, this time to Cape Umoya at the Cape Town Stadium in what became our first dropped points at home this season. We again dominated- outshooting them 27-4- but we did ourselves no favors, as Nxumalo missed a penalty in the first half and Morris had a goal called back for offside in the second half. By contrast, all four of Cape Umoya's shots were on target and their winning goal was taken well on the volley. So while this wasn't as undeserved as the Tuks loss, there was actually more reason to be disappointed to finish January.
February has started very well, however, as we swept aside Maccabi again in the league, this time thanks to twin 20-yarders from Grant Margeman, a second free kick goal for Petersen, and a token (but excellent) goal for Masilake Phohlongo, who's been limited to only bench appearances this season. We then smacked down on Uthongathi* as well, with a Thomas Verhaar hat trick and a Monama screamer serving as highlights in a simple 5-1 win.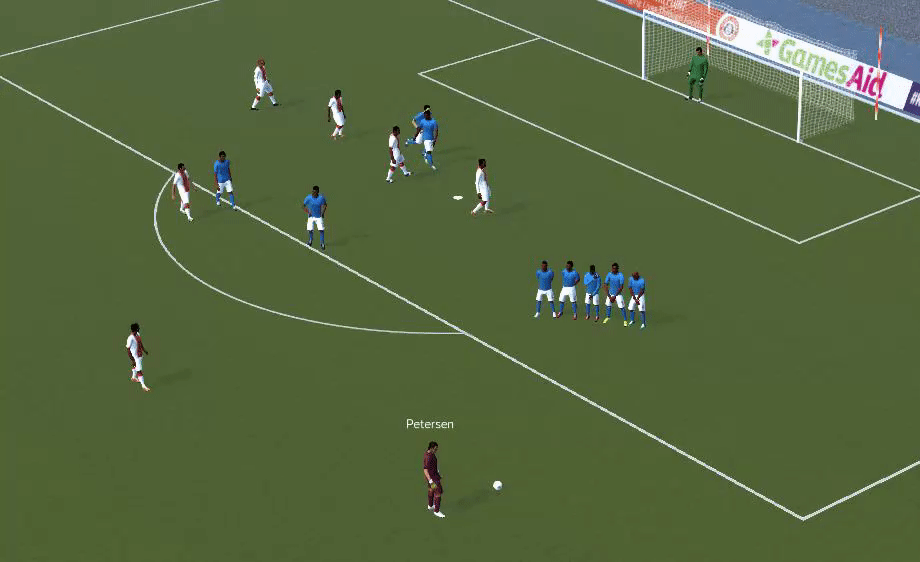 ---
League Table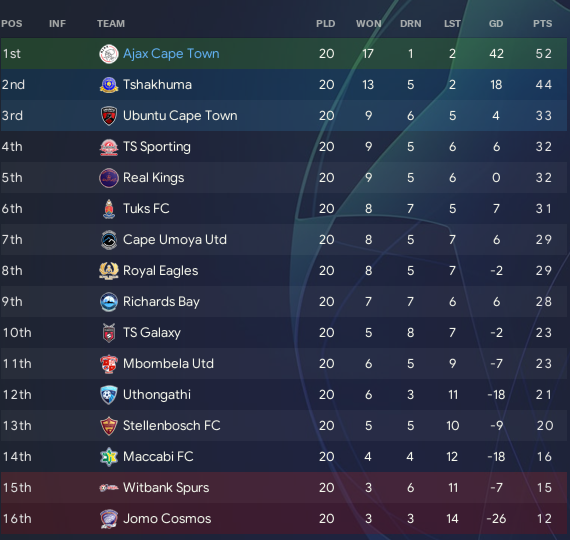 Our solid form has kept us comfortably clear atop the table, but we did lead Tshakhuma by more than eight points at some stages of our most recent run-in. It's still a larger gap than it was after 10 games though, so I'm happy with that. It's a shame the boys from Limpopo Province won't get automatically promoted for finishing second, as they have been a cut above everyone else except us so far, and we even have the same number of losses through 20 games.
The fight for third place is the real promotion battle, as seven teams still have a chance of claiming it with 10 games to play. Ubuntu Cape Town currently hold that spot, but that could change in an instant.
Mbombela's form has drastically improved to move them out of the relegation picture, whilst Uthongathi and Stellenbosch could afford to be safer and Maccabi, Witbank Spurs, and Jomo Cosmos are the trio in the thick of it.
---
The closing third of the season will see us continue to compete in the Nedbank Cup and face a tough May slate of exclusively promotion chasers, but I'm hoping we'll have the title as good as wrapped up by then.
Gaan! Gaan! Gaan!