Way back in the mists of time, there existed a book that described how you could have travelled throughout the European continent for the princely sum of $5 a day. Budget friendly thrills.
Having conquered England with Norwich, I took my £1m buying philosophy to the home of bratwurst, the 1516 Purity Law and Hachez chocolate. With colossal juggernault FC Bayern Munich dominating and, in these times, a once-proud team were struggling at the foot of the league…
There seemed to be only one team to pick. SV Werder Bremen
Season Review
August saw us kick the season off with back-to-back 1-0 wins against VfL Wolfsburg & Darmstadt 98 before getting our backdoors kicked in against FC 1.Mainz 05, 1-3.
September was not a great month. We lost a two-goal lead in the first game, drawing 2-2 against 1.FC Koln then lost in the 95th minute, 2-3, against league-leaders Borussia Dortmund. Finally this month, we lost 0-1 away to RB Leipzig.
October wasn't much better, a scrambled 1-0 win over Eintracht Frankfurt looked like we'd got back on track, however it was followed by an 0-4 thumping against FC Bayern Munich. A late goal saw us end the month on a down note, conceding late to draw with Fortuna Dusseldorf 1-1.
November was the absolute worst in my management career so far. We first faced TSG Hoffenheim 1899 and they came away from Bremen with all three points, winning 1-2. Next came Borussia Monchengladbach who sent us back home with our tail between our legs after a 0-3 mauling. A shaft of light came through as we snatched a 93rd minute point in a 2-2 draw with FC Augsburg. Bayer 04 Leverkusen, with much the same result as we managed a 0-0 draw again. However, it was cruelly snatched away in the worst fashion as we were dismantled 0-5 by Bayer 04 Leverkusen.
I was not looking forward to December, but we snapped the poor form streak with a 4-2 win over Schalke 04, got lucky with an 87th minute equaliser to draw 1-1 against VfB Stuttgart and sent Hertha Berlin packing with a good 3-1 win.
January 2026 came around and from then until the end of March, we only had three games which were not wins. First was another two goal collapse in a 3-3 draw with VfL Wolfsburg in January, next was a 2-2 draw with Rassenballsport Leipzig at the end of February and finally, TSG Hoffenheim 1899 took us to the cleaners again with a 1-3 defeat.
April was a bumper month with 5 games to play. Another 1-0 win against Eintract Frankfurt set the scene nicely. A TV appearance against Borussia Monchengladbach saw us draw 0-0. However, we then reeled off a couple of wins in a row, a 2-1 win against FC Augsburg and a great 3-0 win over Bayer 04 Leverkusen. We finished April with another howler, losing 0-5 against Schalke 04.
May saw us beat VfB Stuttgart 3-1 to begin the month. We then beat Hertha Berlin 2-0 to have a Europa League spot in our sights. Sadly, a makeshift side lost 0-1 to FC Ingolstadt 04 and we finished my second 1.Bundesliga season in 6th place again, snatching a UEFA Europa League spot.
Our DFB-Pokal exploits this season *HAD* to be better than last season's surely? We kicked off the campaign with a 5-0 win over Eintracht Braunschweig. We then produced a brilliant performance in the midst of our poor form to knock out title challegers Borussia Dortmund 2-0 in the Second Round. 1.FC Nurnburg were then knocked out of the Third Round in a poor 1-0 win. We then faced our third 2.Bundesliga side in the Quarter Finals, knocking out DSC Arminia Bielefeld 2-0. We thought our season had come to an end, as we drew FC Bayern Munchen away in the Semi Final. However, we rose to the occasion and beat them 2-0, with the second, a terrific solo goal by Hendrik Bohm. This sealed our place in the Final and on course for our first Pokal win since 2009. The Final was held at the Olympistadion in Berlin against Rassenballsport Leipzig and a tense game saw us take them to ET with a 1-1 draw and then onto penalties. It was left to Luca Plogmann to save the first sudden-death penalty for Leipzig and win the DfB Pokal!!
Our first time back in continental football since the 2010/11 UEFA Champions League saw us in at the Group Stage of the UEFA Europa League. In Group E, we faced Olympique de Marseille, Lokomotiv Moscow and RSC Anderlecht and came unstuck against Marseille, only picking up a point in the two games, whilst running wild over Anderlecht and Lokomotiv. This qualified us in second place and gave us a First Knockout Round tie against FC Porto. We triumphed 2-1 away in Portugal, before comfortably booking our place in the next round with a 2-0 win. We then faced Valencia C.F in the Second Knockout Round where another comfortable 2-0 home win was followed by a 90th minute loss in Spain, which gave us a 2-1 aggregate win and a Quarter Final berth. This pitched us against AC Milan and turned out to be a bridge too far as we won the first leg at home, 1-0, but got kerb-stomped away in Italy, losing 0-3 to go out 1-3 on aggregate.
An infographic of our preferred XI is below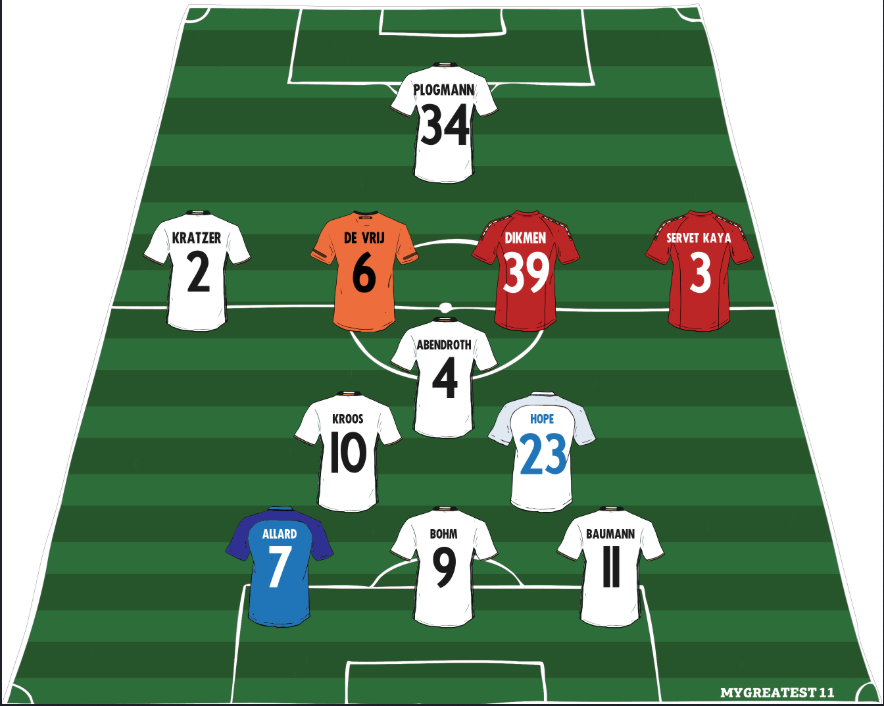 Transfers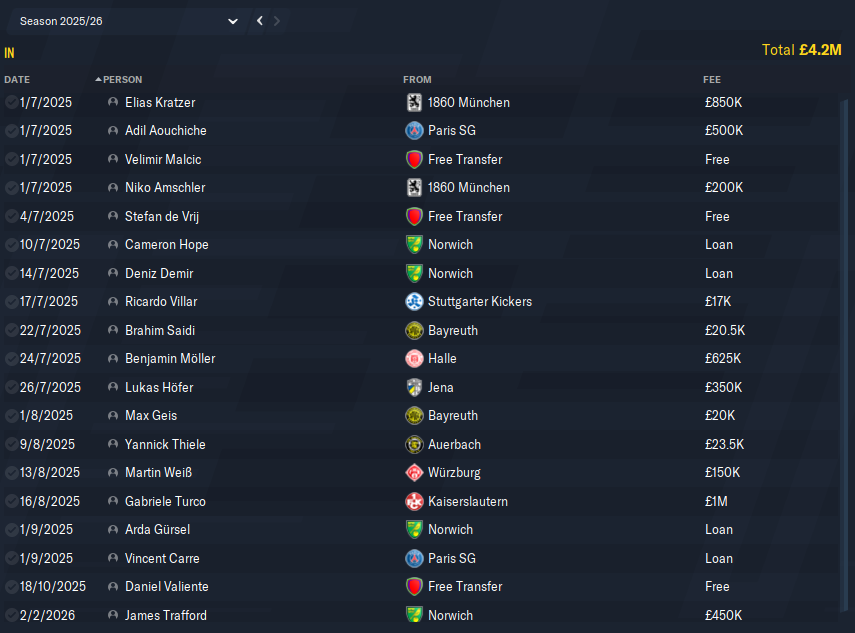 There was another lot of buys this season as I looked towards the future in snapping up a lot of youth talent. (TPG: Tackles per game; DPG: Dribbles per game; CON/90: Conceded goals per 90 mins)
Elias Kratzer: Games: 15, Goals 0, Assists 0, TPG: 4.00, Pass%: 77%, DPG: 2.83, Avg Rating: 6.91: Fullback Elias was brought in to be my new #1 right back and before he sustained torn knee ligaments that put him out for 3 months, he was extremely solid, if unspectacular.
Adil Aouchiche: Games: 0, Goals —, Assists —, TPG: —, Pass%: –%, DPG: —, Avg Rating: —: Central midfielder Adil was signed again as a talented midfield prospect in the January signing period. However, on his arrival in the summer, he didn't seem to have worked out in the pre-season, so he was loaned to FC Sochaux-Montbeliard in France for the rest of the campaign
Velimir Malcic: Games: 0, Goals —, Assists —, TPG: —, Pass%: –%, DPG: —, Avg Rating: —: 16 year old Velimir was offered to me by his agent as he was without a club. I took him on trial, then snapped him up when it looked like he could be a real talent. We'll see when he turns 18 if that faith was justified.
Niko Amschler: Games: 0, Goals —, Assists —, TPG: —, Pass%: –%, DPG: —, Avg Rating: —: Niko was signed as a development project for the lone striking role. The two years before he is eligible for the first team should give us an indication of his direction and talent.
Stefan de Vrij: Games: 34, Goals 1, Assists 1, TPG: 1.75, Pass%: 84%, DPG: 0.33, Avg Rating: 6.96: Experienced centre back Stefan was brought in to bridge the gap between our current defence and our defence of the future which would be ready the next season. And he did his role admirably, only taking 6 weeks out of the season due to injury.
Ricardo Villar: Games: 0, Goals —, Assists —, TPG: —, Pass%: –%, DPG: —, Avg Rating: —: Midfielder Ricardo was part of the huge youth wave coming into the club. Low cost from a lower division club, he's a bargain, even if he is released.
Brahim Saidi: Games: 0, Goals —, Assists —, TPG: —, Pass%: —, DPG: —, Avg Rating: —: Midfielder Brahim was signed as a youth prospect from a lower team and will continue to be so for a few years before he's eligible for the first team.
Benjamin Moller Games: 0, Goals —, Assists —, TPG: —, Pass%: –%, DPG: —, Avg Rating: —: Attacking midfielder Benjamin was a pretty big money signing from a lower-league side, but with the talent he's shown so far, he could become a serious cog in the first team in a few years time.
Lukas Hofer Games: 0, Goals —, Assists —, TPG: —, Pass%: –%, DPG: —, Avg Rating: —: Striker Lukas was again signed to bolster our youth side and will hopefully make the first team in a few seasons.
Max Geis: Games: 0, Goals —, Assists —, TPG: —, Pass%: –%, DPG: —, Avg Rating: —: Attacking midfielder Max was signed under the same conditions as the rest, just with a lower fee
Yannick Thiele Games: 0, Conceded —, Assists —, CON/90: —, Pass%: –%, CS: —, Avg Rating: —: Our youth team was missing a talented goalie and we managed to raid yet another lower league club for one of their gems
Martin Weis: Games: 0, Goals —, Assists —, TPG: —, Pass%: –%, DPG: —, Avg Rating: —: Midfielder Martin was signed as part of my craze for signing young midfielders. He'll either be money on the pitch or money in the bank for us.
Gabriele Turco: Games: 0, Goals —, Assists —, TPG: —, Pass%: –%, DPG: —, Avg Rating: —: Attacking midfielder Gabriele was our biggest monetary signing of the season at £1m. If he delivered on his undoubted promise, we would have a good winger in a few years.
Daniel Vallente: Games: 0, Goals —, Assists —, TPG: —, Pass%: –%, DPG: —, Avg Rating: —: Uruguayan left-sided attacker Daniel was signed on a free and will probably fetch us a profit rather than become a first-team player.
James Trafford: Games: 4, Conceded: 1, Assists 0, CON/90: 0.25, Pass%: 90%, CS: 3, Avg Rating: 6.90: Goalkeeper James was signed as a replacement for the departed Tommy McCarthy. He'll be a decent backup until Thiele or another youth keeper takes over.
Signed Players Out
Luaninha > Holstein Kiel (loan)
Adil Aouchiche > FC Sochaux-Montbeliard (loan)
Tommy McCarthy > Brighton and Hove Albion (sold for £1.5m) Tommy was signed as a backup from Norwich and he performed adequately in the games he played for the club. I was happy for him to stay at the club, but on turning down the first bid from Brighton, Tommy's agent played hardball and I wasn't interested in entertaining that, so when Brighton offered me a good deal, I took it. The £1m profit, along with the decent performances meant that, despite his short time at the club, he was a decent signing: Signing Rating: 7
Injuries
This deserved it's own catagory this season. I have never suffered injuries like I had this season. First off, our POTS last season, Toni Kroos suffered a damaged cruciate ligament which put him out for virtually the whole season. Next blow was first team right back Elias Kratzer who was out for 3 months with torn knee ligaments. Joining him on the treatment table late on in the season was first team left back Servet Kaya who suffered a broken lower leg. Joining him in the broken limb department was youth team player Velimir Malcic. Brazilian midfielder Luaninha was recalled from his loan due to a torn calf muscle that would keep him out for the rest of the season (3+ months). The last major injury suffered by our first team was 2 months out with a fractured lower leg, suffered by backup winger Steven Negre.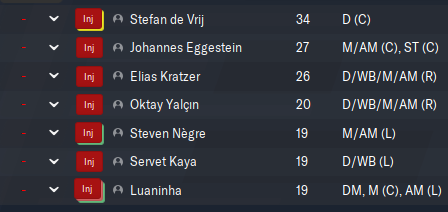 At one point, we were seriously screwed as these 7 players were all part of the 25-man squad. I'm hoping for better in the offseason, maybe with more of a focus on fitness.