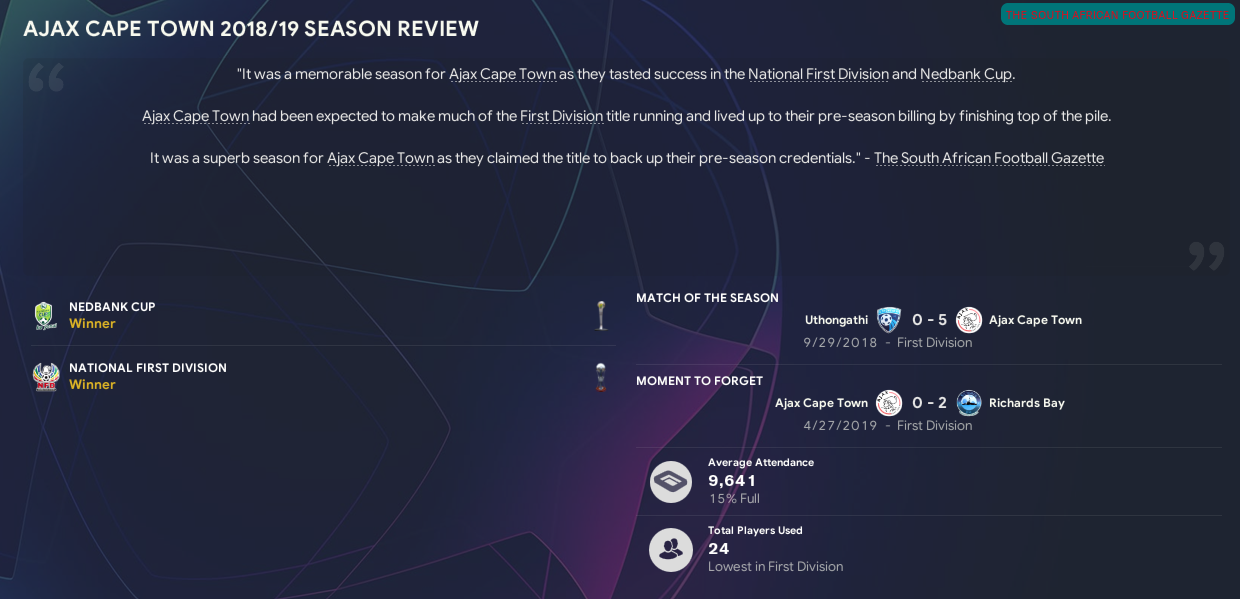 This was the best season we ever could have hoped for before we started, as we conquered the First Division with ease to return to the Premiership, and then shocked everyone by defeating four Premiership teams en route to lifting the Nedbank Cup. I've already won as many trophies this season as I have in four previous years of playing FM, so that should tell you how happy I am at how this season went!
---
Awards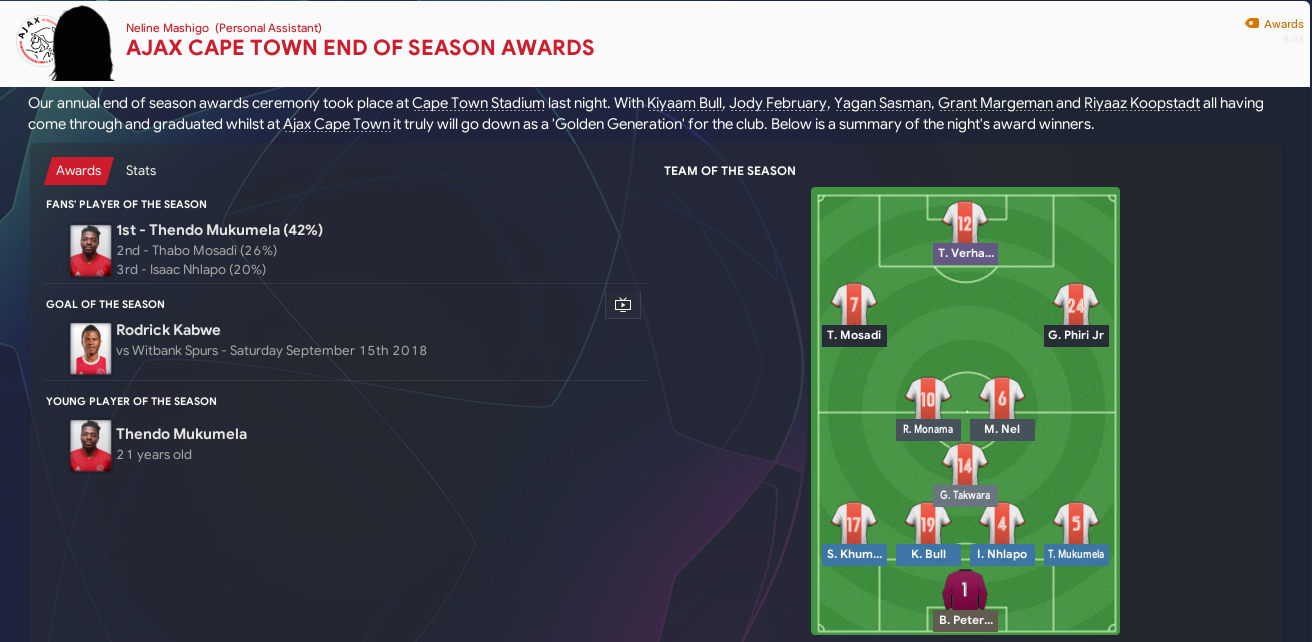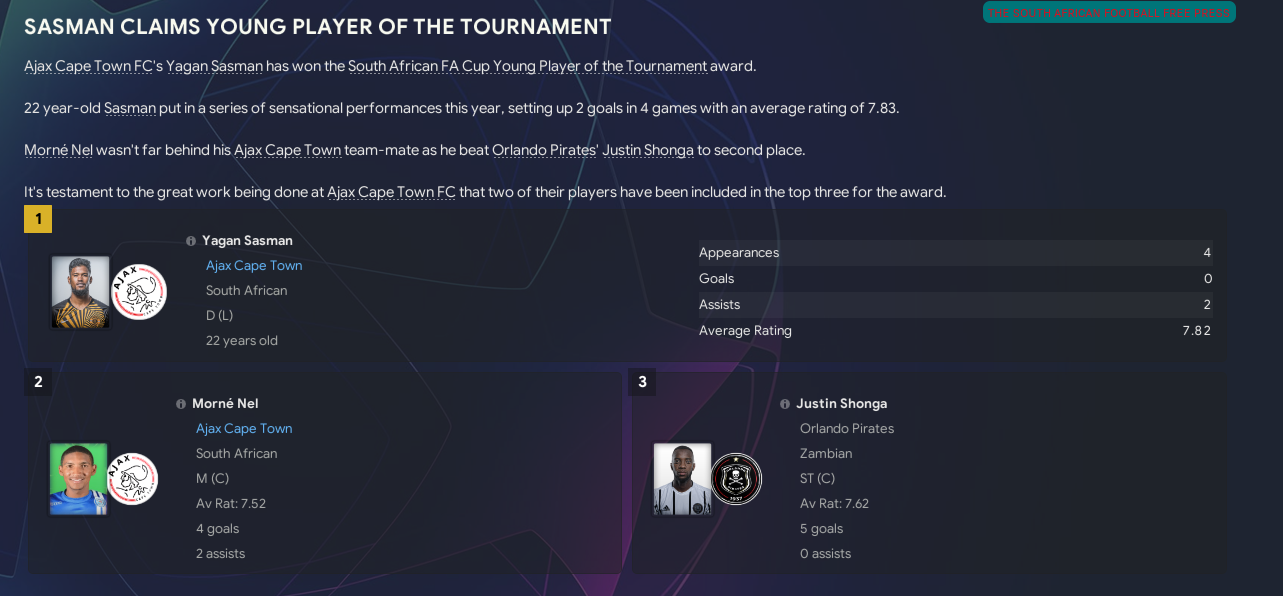 ---
Squad | League Overview | Fixtures 1 | Fixtures 2 | Finances
Cape Umoya finished top of the mini-league ahead of Tshakhuma and Chippa from the Premiership, so they will be going up alongside us despite finishing 15 points behind Tshakhuma in the regular season. After being rock bottom earlier in the season, Mbombela finished an incredible 5th. Witbank Spurs were the second and final team to go down, losing on the final day while both teams they could have surpassed won.
The only big negative surrounding the club at the moment is our financial situation, as we're nearly a million dollars in debt, but the projections say we'll be back in the white by the end of next season as a result of our promotion to the Premiership. That's a relief.
---
Youths
Our youth and reserve teams were very successful this season, as the reserves played 28 friendlies throughout the season and didn't lose any, and our U19s obliterated their regional league, winning every single game en route to the title. They also reached the U19 Cup final, where they suffered their only loss of the season against Wits' academy. The reserves will be in a proper reserve league next season, and the U19s will almost certainly defend their title. I plan to promote multiple members of the youth academy to the first team next season, which will be detailed in a transfer/squad update.
---
Contracts
After our mass contract renewal in December that saw the vast majority of our players signed up until next season, there were still a few decisions to make in regards to who would continue on with us into the Premiership.
Zambian Rodrick Kabwe and Zimbabwean Gerald Takwara were the first out the door, as they would have failed to obtain a work permit. I wish I could have kept Takwara though, as he performed very well for us in the 2nd XI and Registas are hard to come by. Malawian Gerald Phiri would have been able to get a permit, and he provided a decent return of 7 goals this season from the right wing, but I already have two new wingers lined up to join in July and he had little room for growth at 26, so he leaves the club as well to free up all but one of our foreign player spots, occupied by our free scoring Dutchman Verhaar.
The two tougher decisions came with regular starters Sibusiso Khumalo and Tamsanqa Teyise. Khumalo actually had the highest average rating of any of our players this season from left back, but his 2nd XI counterpart Sasman had far more end product, and I'd already decided he'd be moving into the 1st XI next season. Add that to that fact that Khumalo is 29 and was asking for a huge pay rise and key player status, and it wasn't hard to see that it was best to let him go. Teyise gave me the most thought, as although he's 32 and didn't contribute to the attack at all this season in the BPD role, he is our experienced vice captain and was willing to take a pay cut to remain at the club. However, with one particular center back prospect in the youth team ready for first team football, there was no room left for him in the squad, and he's too old to retrain anywhere else, so I reluctantly parted ways with Teyise as well.
And as for the most important contract of all:

I'm now under contract with the club until 2021! Considering how well this first season has gone, there might even be a chance I could have achieved all my goals at Ajax Cape Town by the time this contract runs out. That does sound overly optimistic, but having already won two trophies and secured continental football isn't something to sneeze at, so we very well could ride this train of momentum on to bigger and better things sooner rather than later.
---
Expectations for 2019/20
Premiership: The side I've been given is already incredibly strong, and will only get stronger with incoming transfers. Our results in the cup give me reason to believe we can immediately contend for the Premiership title next season, or at least break into the top half. The best thing is, the squad are even more ambitious than I am, and got upset when I suggested top half as a safety aim! That's how you know you've got a good group of lads.
Nedbank Cup: We've already won it, so I don't see any reason why we can't try and win it again. I'd like to return to the semi finals at least.
Telkom Knockout: This league cup type competition isn't that important, but I'd still love to reach the semi finals there as well.
CAF Confederation Cup: I don't really know what to expect from other teams on the continent, but we'll surely find out quickly enough once we start the qualifiers in December. I'd like to reach the group stage at a minimum, with passage into the quarter finals a more satisfying prospect.
Other Goals: Promote as many youth players to the first team as is reasonable, sign a (relatively) high profile player, do the double over Cape Town City, and increase attendance at the Cape Town Stadium.
---

Thank you for reading along this season, and I hope you will stick along for our adventure into the Premiership and all across Africa next season. I'm very excited for it, if I haven't mentioned it enough!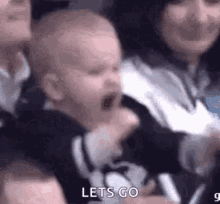 Gaan! Gaan! Gaan!