! stepped out of the the curiously sedate taxi this time and stretched. The driver charged me double as usual. Because of SEK. The ride to the location, just down the road from the festival site was pleasant enough, but when his eyes focused on the sight in front of him, his heart sank…
This.. did not look good. I was used to working under bad conditions in Mexico, but this looked even worse. A groundsman shuffled up to me and asked me out for a candlelight dinner. Or asked who I was. I don't know, I don't speak Danish. "WHERE. IS. THE. OFFICE?" I said my slowest and clearest English.
The aged gent cackled and extended a bony claw towards a shabby brick building. I thanked him and turned away to stride over to the building. As I approached, I could see a cracked and peeling sign over the door that said..
---
WELCOME TO
"This is going to be fun….", I thought. I opened the door and walked inside. The dilapidated state of the paintwork and rooms did nothing to lift his spirits. After checking in two or three rooms, he hit the jackpot as he saw his name on a nameplate on top of the desk. He walked round the desk and collapsed into the chair.. "Hmm, at least this chair is comfortable" I thought. He then spotted an envelope on the desk. He opened it, took out the sheet and began to read..
"Hello Raymondo, or should I say Besus Fufoon! This is your new job. Enjoy. They were promoted to this division for the first time this season, however, the title-winning manager had some….problems and had to leave quickly. Your job is here. Enjoy"
That bastard! I opened the newspaper that had been neatly folded on the desk only to see the back pages festooned with my face as the back pages excitedly reported on the hiring.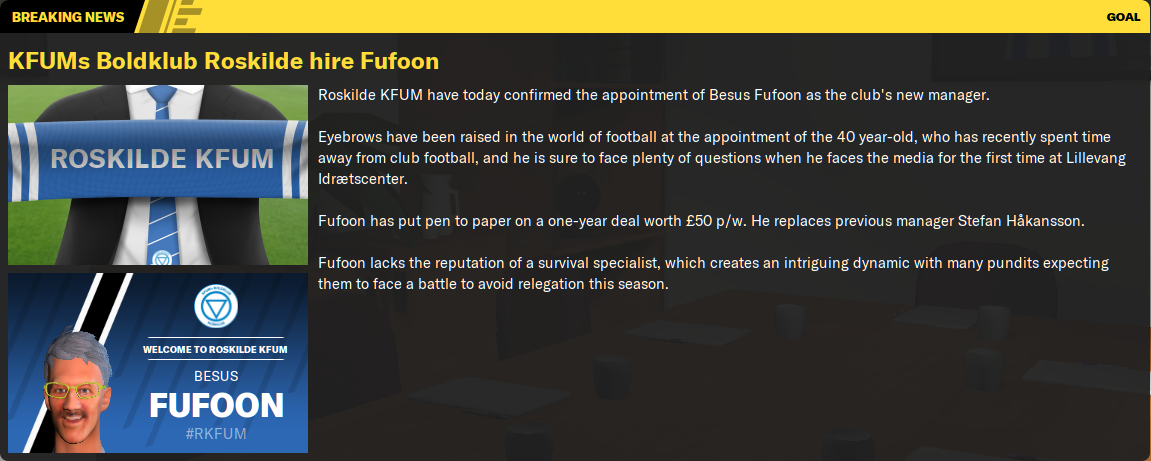 Well, at least they're happy about it, I mused. There came a knock at the door and in came my assistant manager Martin Laursen. The ex-Danish international and Aston Villa player. He looked at me with a mixture of horror and despair as he mumbled a greeting. Or an insult. I don't know, I don't speak Danish. I asked him to speak in English and he complied, handing me a buff folder. "Don't worry. We've both been screwed by the cartel. Let's just make the best of it, yeah?". He looked gratefully at me, as I looked into the folder.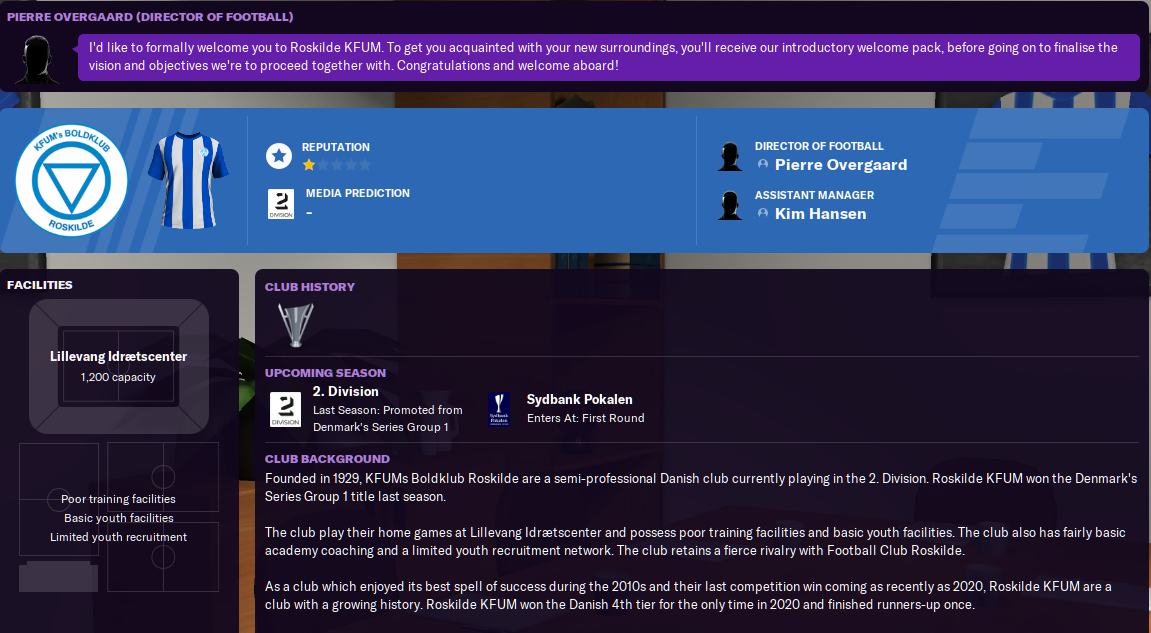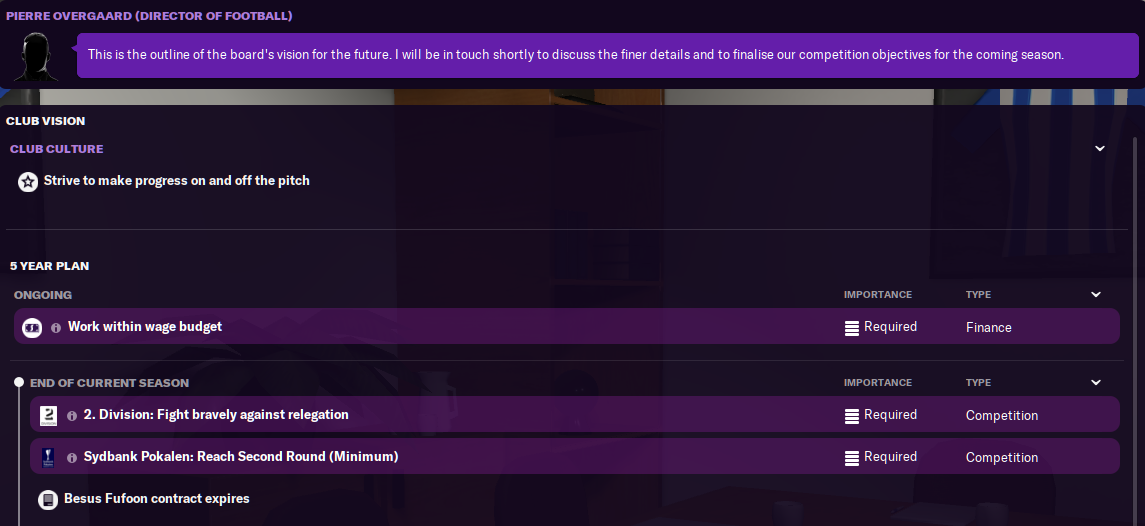 Team setups, training plans, board demands. Bloody hell, this was going to be a tough career. I asked Martin about the team itself, trying to hide the fact that I knew NOTHING about managing a soccer club. Sure, I'd watched LigaMX growing up and thrilled to Cahumentoc Blanco in the 1998 FIFA World Cup, but I had no qualifications at all. Martin grunted and gave me a team sheet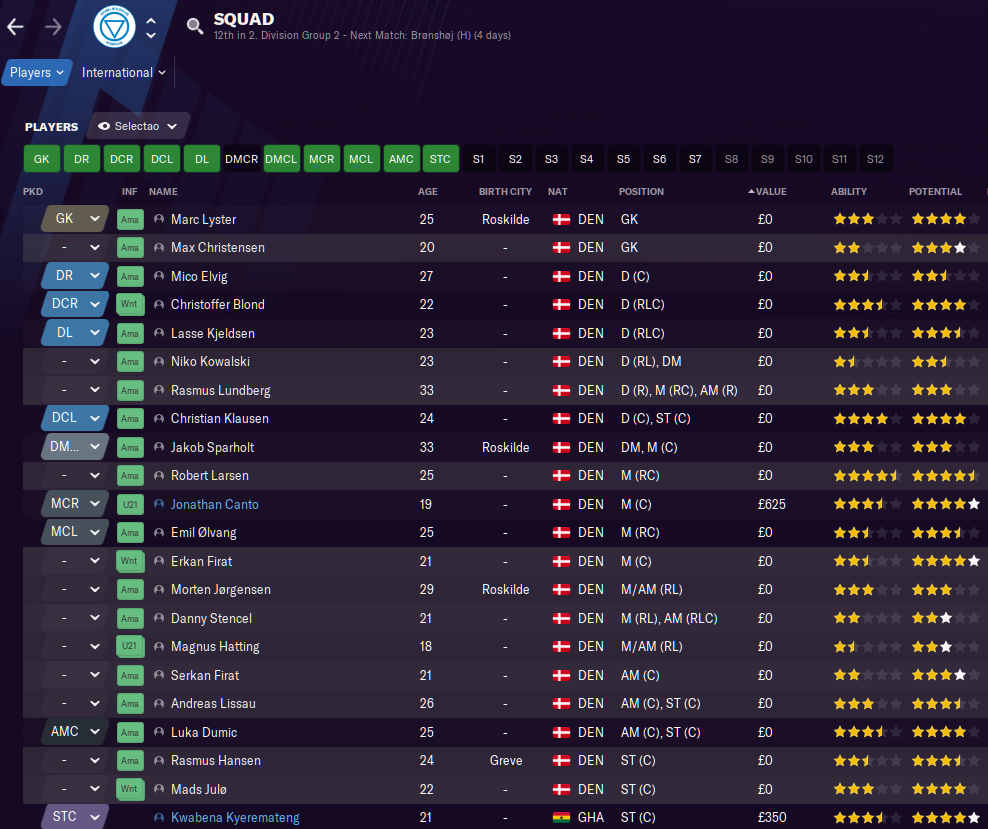 Seemed like a decent enough team for this level. Although we would need to work hard to stay into the division. I sent Martin down to take training and took a deep breath. This was going to be interesting…
---
December 2020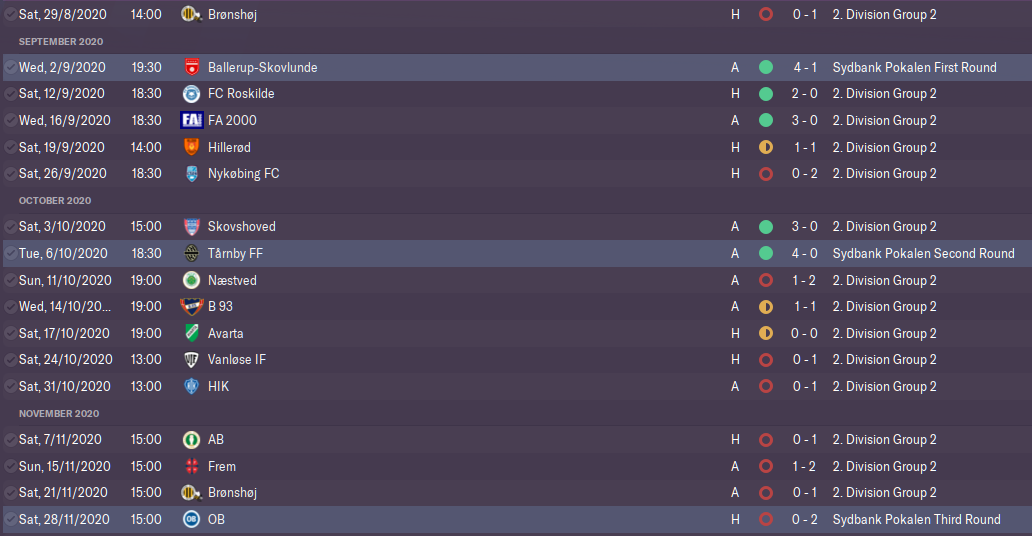 Sitting in that draughty office, Martin and I were reviewing how the season had gone. An uneasy truce had melted away to be a solid partnership in the face of adversity. Our form had fallen off a cliff by the end of the first half of the season, leaving us in perilous danger of being relegated. However, the small comfort was that we hadn't been blown out in any game this season and had only once been beaten in the league by more than a goal! Martin and I agreed that we needed better attack options after the winter break. Martin then slid over another buff folder saying it was our HOYD report on the new youth intake. Opening the folder, I began to read..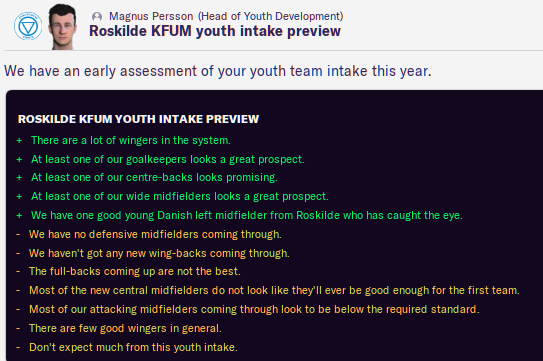 Eesh. This wasn't a great look. But with the way things were going, we wouldn't be able to splash any cash now for a few seasons. No strikers either. We just had to hope that there could be an outlier, otherwise this was a lost generation…
---
2021 Youth Intake
It was the day of the new youth intake from the academy and Martin and I were in our office with Magnus Persson, our HOYD, to talk about the new intake. Magnus handed over a folder and began to speak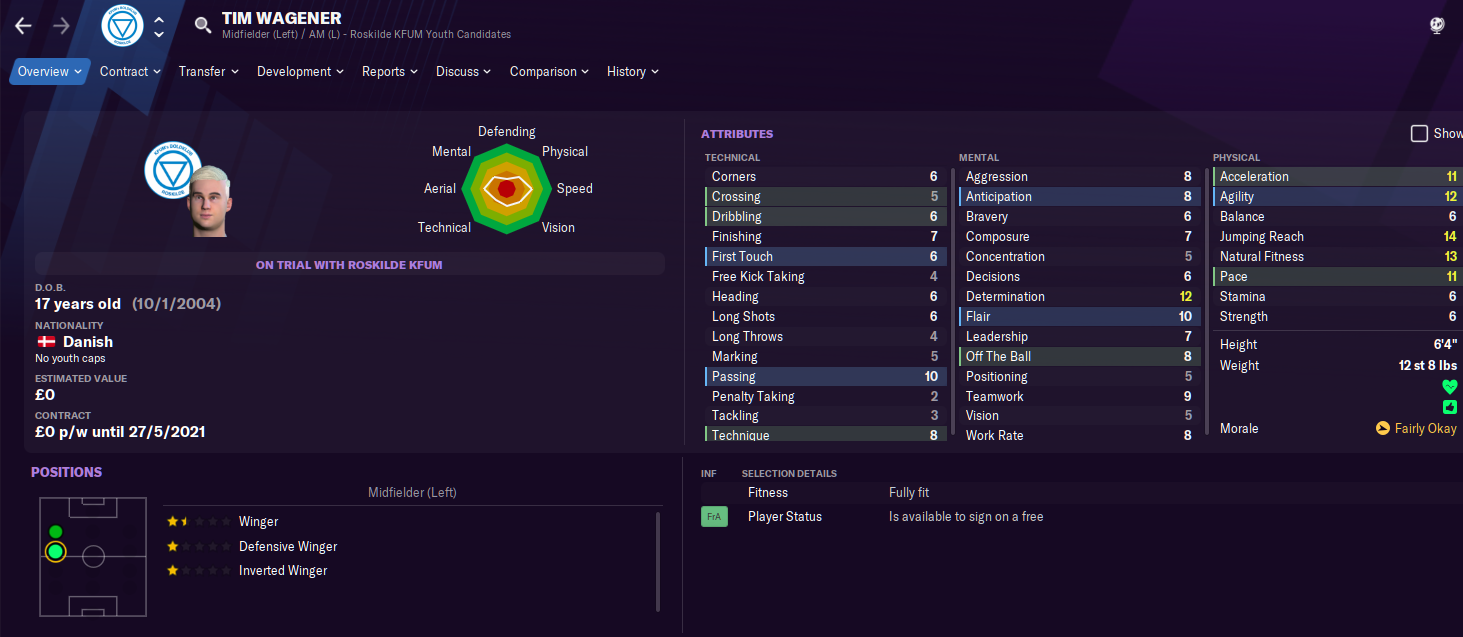 Martin and I looked at each other. If this was considered gifted, we were in serious trouble and it made me start to doubt Magnus' competence. I already doubted his intelligence as earlier in the season, I'd found him feeding the pigeons that infested the stadium's rafters. Shit everywhere!! I made a mental note to find a replacement ASAP.
---
June 2021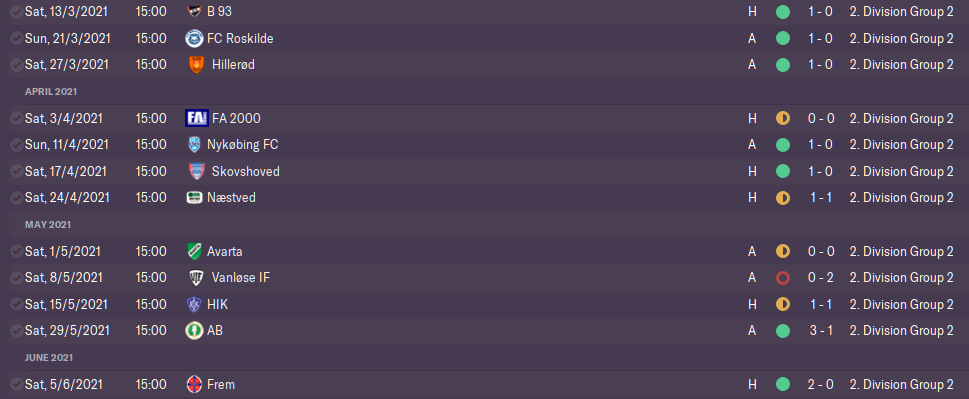 *Clink* The glasses tapping together made a ringing noise that sounded throughout the office. Martin and I drank deeply from the whisky I'd poured us out. It was the evening after the last game of the season and we had stayed up by the skin of our teeth. We *HAD* to win the last game of the season to have any chance to staying in the division next season, after the team rallied to concede just 5 goals in the rest of the season. A stunning 3-1 win over title-winners AB Gladsaxe and a combination of other results meant we'd have to win to stay up. Nothing else would do. We took an early lead through a Luka Dumic header and battled away to try and make the game safe. BK Frem, themselves in the last safe spot, were battling away to stay up and threatened constantly. Time was ticking away and I was getting ever more desperate. Suddenly, one of those moments in football happened where it's the agony and the ecstasy happening at the same time..
That's it!! We were safe!! In the 89th minute! Our side of the dugout, caught up in the frenzy of the excitement. The other, slumped in misery at the mistake. The whistle blew just a few minutes later and we were staying up! We'd only conceded a miserly 18 goals all season, but had only scored 24. An improvement was needed for next season, I fancy..