---
WELCOME TO
---
We'd had a lucky escape last season, so the fight was on to avoid being relegated from the newly re-organised 2.Division. To be honest, we were lucky to escape it last time. So I threw shit at a blanket and trialled too many players to count. Anyone who wanted to come in on an Amateur contract was hired, to be maybe released a week or two later. We had no hope and no money. What better way to start a season?
December 2021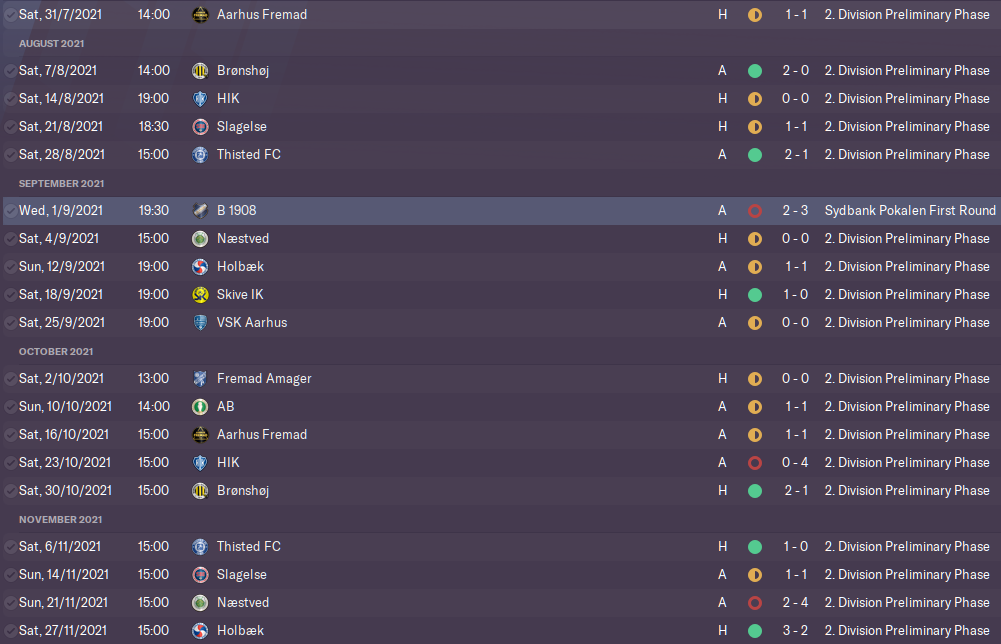 Sitting in that draughty office, Martin and I were reviewing how our second season had gone. We'd settled on a home and away formation, one of them being a formation I'd seen through binoculars on a trip to Chile in the off-season. We'd only been beaten twice in the league so far, but both had been hammerings. Like the kind you get when your ex-wife sends you pics of her and her new partner and you reach for the bottle. Far too many draws, but Martin and I agreed that if we're not losing, then we're not unhappy. Martin then slid over another buff folder saying it was our HOYD report on the new youth intake. Opening the folder, I began to read..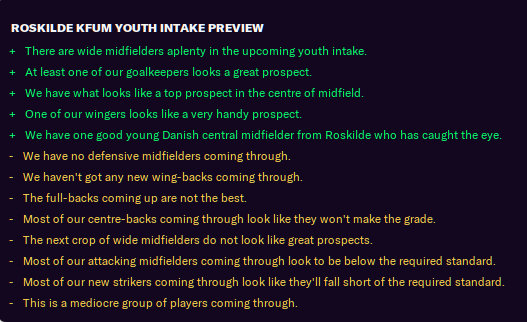 Eesh. This wasn't a great look again. But with the level of investment in the team (read: Zero), what else could we expect. We were stuck until we somehow came up with enough cash to invest and that would only happen if we got promoted. Martin and I took a moment to wipe out eyes after hysterically laughing at that idea.
---
2022 Youth Intake
It was the day of the new youth intake from the academy and Martin and I were in our office with Magnus Persson, our HOYD, to talk about the new intake. Magnus handed over a folder and began to speak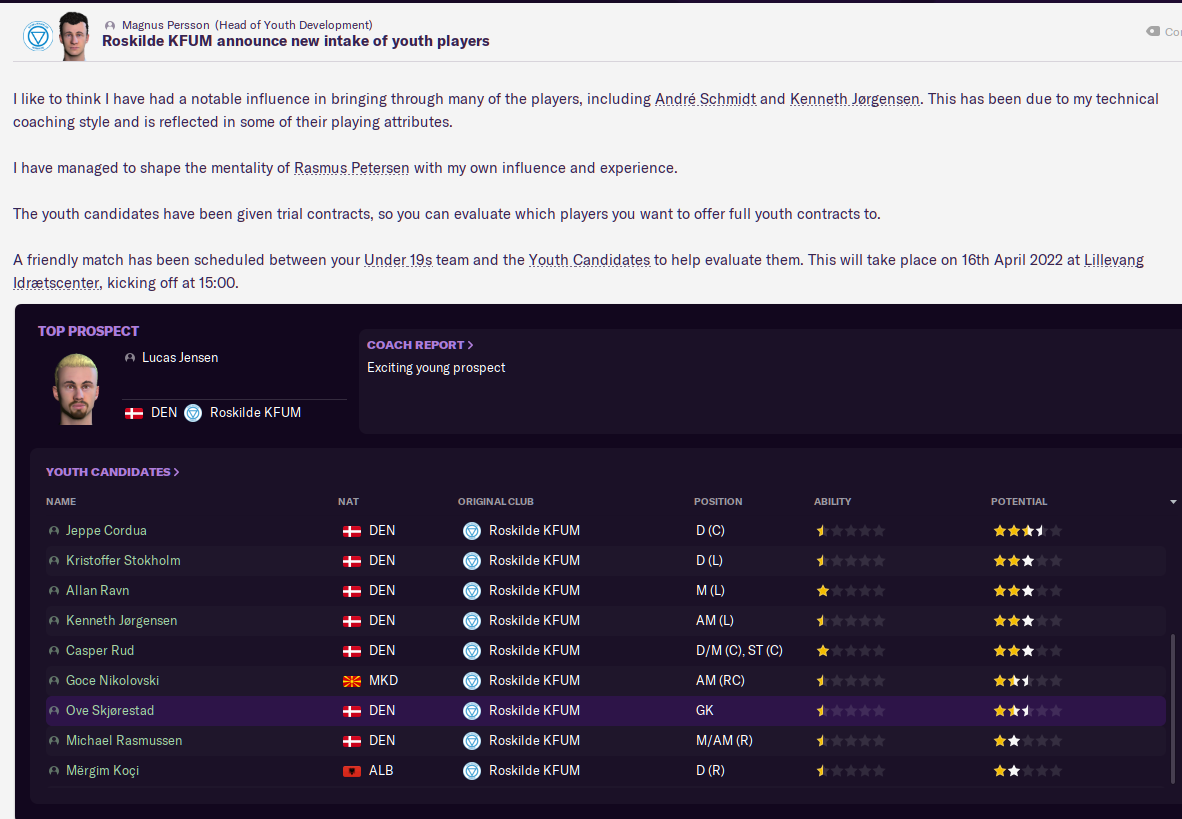 Martin and I looked at each other. This was deja-vu. Last season, I'd realised that Magnus was a washed out drunk and I'd not done anything about it. I needed a new HOYD and sent an email to the Chairman asking him for permission. I then went back to the scouting report. There wasn't a single player that looked like he could step up. Jesus wept.
Lost in all the April fun, I forgot to re-check my emails and when I did, I got the shock of my life. A new contract had been emailed to me. More money! I then looked at the attachment (FOOL! You never look at the attachments…). The cartel had already got their hands on the increase. Fuck's sake.

---
June 2022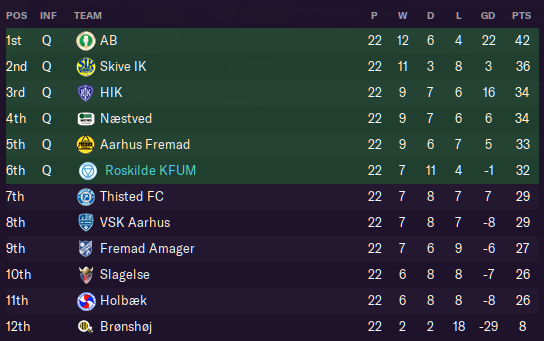 Martin and I were in my office, just sat in quiet disbelief. This team of relegation candiates had, against all known logic and reason, qualified for the Promotion Stage of the 2.Division. Negative goal difference and a draw column that matched our wins and losses combined. But we were here!
The Promotion stage did NOT start out well. We lost our first three games, 1-3 against both HIK and AB, with a slightly better 1-2 loss to Skive IK to follow.. Martin and I threw caution to the winds in the fourth game, going all out attack and picking up a 2-0 win over Aarhus Fremad. A late winner by Arman Taranis saw us beat Næstved 1-0 and we were starting to gain steam. A 0-0 draw in the return match with HIK saw us head into the match with the champions-elect AB. And we monstered them, getting the best result of my young career so far, winning 4-1! More revenge was had, as we then took out Skive IK, 3-1 to give us a fighting chance of promo….promotion?? What?? Madness. We came back down to Earth with a 0-0 draw against Næstved. But the early games on the final weekend saw everything go our way, Result? If we beat Aarhus Fremad, we would be promoted. We'd come too far to let it go now and I told the players so. And they responded magnificently, winning 3-1 from a goal down to seal our promotion!!!


2021/22 Post-Season.