---
WELCOME TO
---
This was to be a reloading season. We'd lost a number of players in order to satisfy the wage demands this season and after our flirtation with the Relegation phase last season, we needed to be much, much better. We managed to get some very good youth in over the summer, a direct consequence of travelling around Europe by InterRail and sleeping on park benches, spooning with homeless people, meeting interesting characters.
December 2024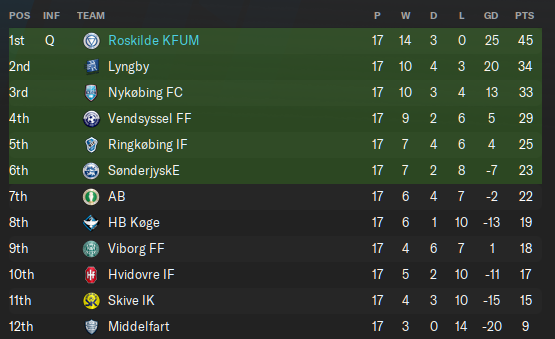 WOW. This was night and day from last season. Our new signings had bedded in and we were absolutely monstering the league, to the point where we qualified for the Promotion stage AT THE WINTER BREAK! Magnificent. We were celebrating in the office after the Hvidovre IF win when Martin then slid over another buff folder saying it was our HOYD's report on the new youth intake. Opening the folder, I began to read..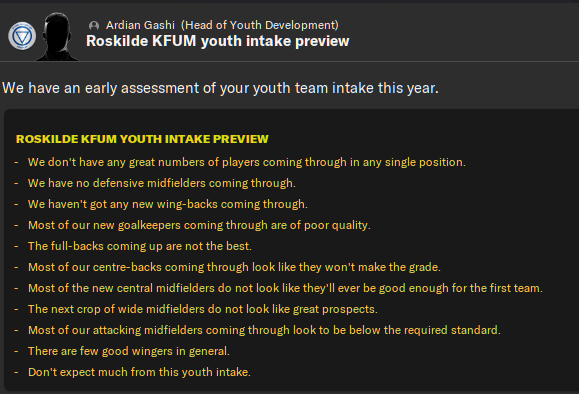 This is the worst yet. Not a single positive about the intake. We're dying here!
---
2025 Youth Intake
It was the day of the new youth intake from the academy and Martin and I were in our office with Ardian Gashi, our HOYD, to talk about the new intake. Gashi handed over a folder and began to speak

Well, more fodder for the Danish service industry…
---
June 2025
Just amazing. Beyond amazing. We'd stormed through the league, remaining unbeaten for the entire stint. We broke records for most points, most clean sheets, least defeats, most wins and we were unstoppable. Martin and I partied long into the night with some Danish whiskey and some friends by the hour. Despite our complete lack of any decent facilities, we managed to create history.!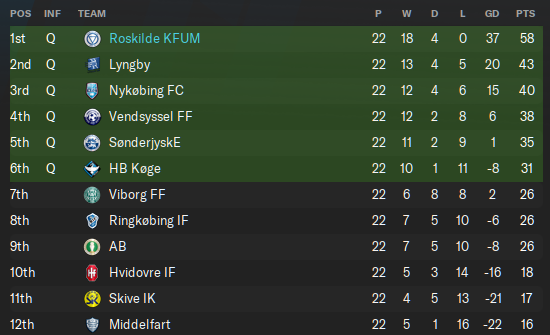 2024/25 Post-Season.