---
Martin and I blinked at the brightness. The sun was shining in Eindhoven as we stepped off the plane. We knew this to be Eindhoven, thanks to the big sign saying "Welkom op de luchthaven van Eindhoven"
Smacking our lips to get rid of that sour taste you get when you've stayed up too late, we stopped at a coffee cart on the way out to get some of that sweet, sweet caffeine. The vendor then proceded to give us a long spiel about the geo-political makeup of the area. Or charged us the price of two coffees. I don't know, I don't speak Dutch.
Exiting the terminal, we found a car waiting for us and drove away in silence. I had no idea what club awaited us, or who the cartel had influenced to get us this job. But, much like Roskilde, Martin and I had to make the best of it. We'd managed to convince a few staff to come with us and we'd be making bids for three Roskilde players the minute we could, but overall, we'd left in such a hurry that there was no chance for goodbyes.
After about an hour, and including passing what appeared to be a theme park, we pulled off the motorway into a torrential downpour and drove through a picturesque town. Martin and I looked at each other. This was nice. We pulled through some steel gates and there it was…
We were to be taking over at recently-relegated side RKC Waalwijk it seemed. We exited the vehicle, stretched and grabbed our bags. Walking in through the players entrance, Martin and I were struck dumb by the level of comfort in the facilites. Heating? Check! No draughts? Check! Constant hot water? Check!
We were met at the changing rooms by the Director of Communications, who proceeded to tell us about the time he was caught in a compromising position with a goat and a large tub of black cherry yoghurt. Or about the history of the club. I don't know, I don't speak Dutch. We finished 'This Is Your Life' / the tour at, what appeared to be my office. I smiled awkwardly, until he left and then we entered the office. It was warm, dry and comfortable! Martin and I high-fived! Jackpot!! Now, to work!
---
2026 Youth Intake Preview
OH MY GOD! This is the best preview I've had since I started managing. Despite there only being two positives of the group, it's far more than I've ever had. Martin and I did a little jig throughout the office.
---
January 2026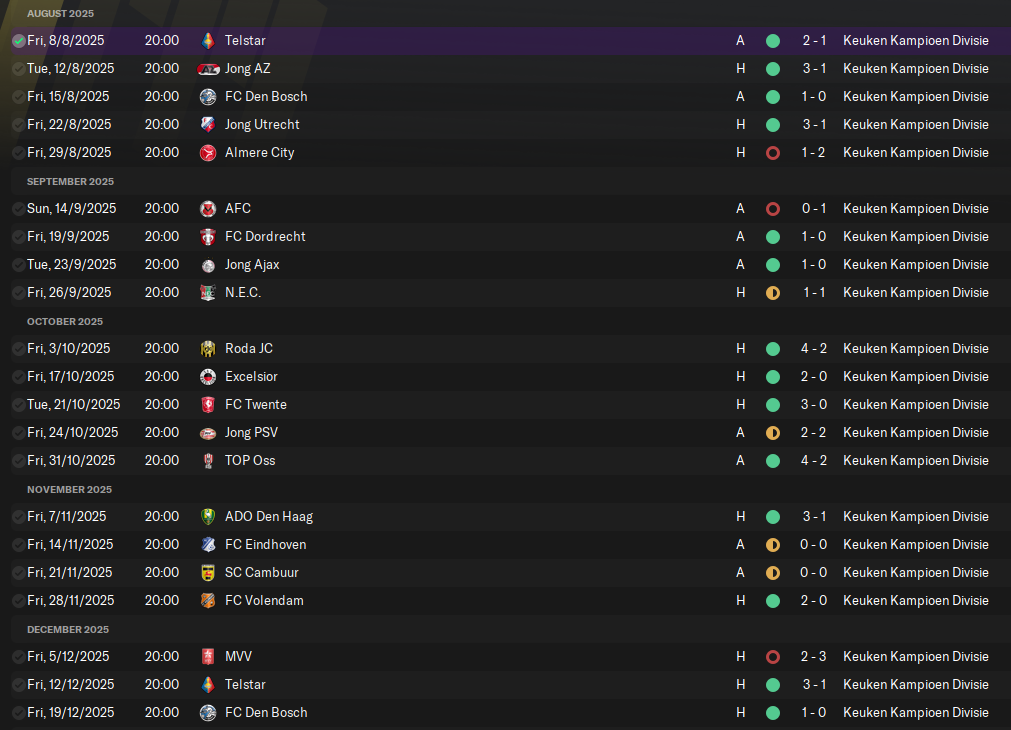 We've had a good run so far, but we've faltered against smaller clubs with all our points dropped, bar the draw with Jong PSV, against them. We've hit on a decent set of formations and hopefully can return to the Eredivisie at the first time of asking.
2026 Youth Intake
It was the day of the new youth intake from the academy and Martin and I were in our office with Ardian Gashi, our HOYD, to talk about our first RKC intake. Gashi handed over a folder and began to speak
Martin and I looked at each other, dumbfounded. We'd got so excited over the fact that there might actually be some decent youths, we'd ignored the fact that maybe Gashi was a complete idiot. Christ, I'm disappointed.
---
June 2026
Another season, another title. We'd proved that last season was no fluke by bringing RKC back to the Eredivisie at the first time of asking. Our Roskilde transplants had worked brilliantly and we were laying the groundwork to create something special here. Martin and I were enjoying our celebrations when we got word that our club improvements had been agreed upon as well. This was turning out better and better!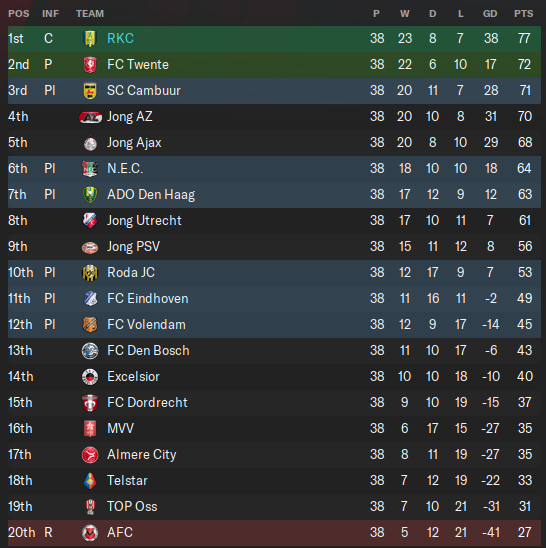 2025/26 Post-Season.